A seat at Cathy Graham's table has long been a coveted invitation. Beginning with the whimsical stationery she crafts by hand and continuing to the beguiling tablescapes she creates from flowers, vegetables, fruits and quirky miniatures, Graham is the antithesis of the Upper East Side hostess whose idea of throwing a party is ticking off a list of help to be hired.
If you're so honored as to receive one of her watercolored invites, delivered by messenger, expect to see more evidence of Graham's artistry when you arrive at her townhouse: a show-stopping bouquet featuring camellias, dahlias, peonies and garden roses in the center of the table accompanied, perhaps, by a diminutive bra, a 1950s cake-topper ballerina or a tiny can of roach killer. In place of a working chandelier, there may be crystal shards from a shattered one strung up with fishing line and refracting the light, or a DIY mobile of model World War II–era airplanes floating aloft.
After roughly three decades of entertaining, Graham, an illustrator by training, has captured her one-of-a-kind eye and dry visual humor in a new book, Second Bloom: Cathy Graham's Art of the Table (Vendome), peppered with her charming watercolors. The title is a reference to Graham's life post-divorce. As she wrote on Instagram back in September, "today I am officially divorced a new beginning hopefully a Second Bloom."
In 2015, Graham's husband, Stephen, a son of the late great Washington Post publisher Katharine Graham, walked out on their 28-year marriage. Devastated, she found refuge in her art studio in the East 70s. "It became a healing process," says Graham, wearing a blue smock and sitting in the sun-drenched studio, which is filled with her collections of vintage fashion magazines, dollhouses and miniatures. "No matter how horrible I felt about it — rejected, abandoned, all the things one would feel — I just came here and drew."
One day, she had lunch with her friend Joanna Coles, the powerhouse chief content officer of Hearst Magazines. "She said, 'You've got to do Instagram,' " Graham recalls, taking a sip of an Arnold Palmer. " 'You've got to post your artwork. Just do a drawing and post it every day.' I started doing that, and one thing led to another."
Soon, she was working on the book by throwing her regular dinner parties and luncheons at her townhouse down the street and having the photographers shoot her table fantasias before the guests arrived. Second Bloom is organized by season, with sumptuous photography of, for instance, Graham in the cutting garden of her Nantucket estate in summer. (Since the couple's breakup, Graham spends only the month of July there.) Inside, her pink roses and blue hydrangeas pop against the pale decor. Or she may forgo flowers for heaping bowls of cherries, peaches and lemons arranged down the length of the table.
The "Spring" chapter includes one of her signature looks: an assortment of small vintage glass vessels, each holding a single sensational stem. Interspersed among them are amusing miniatures — animals playing musical instruments, an ice truck, dollhouse furniture.
"I went on this medical thing recently," she says, digging through a box. "Why I find this amusing, I don't know. First-aid kits, Pond's cold cream. These are hotel and motel soaps. Anything with false teeth. Both my grandparents had false teeth they took out and put in a glass at night. I get a lot of false-teeth powder. I love miniature toy food, toilets. Everything I collect is generally under $200."
For one captivating motif in the "Autumn" chapter, Graham "drew" flowers directly onto the tablecloth for a luncheon using fresh vegetables as her medium: think radishes for petals encircling a brussels sprout center, with a long piece of chive for a stem and pea pods standing in for leaves. "I was having so much fun cutting up the okra and taking out the okra seeds, and I made beautiful little star-shaped flowers," Graham says. "I got great joy out of that."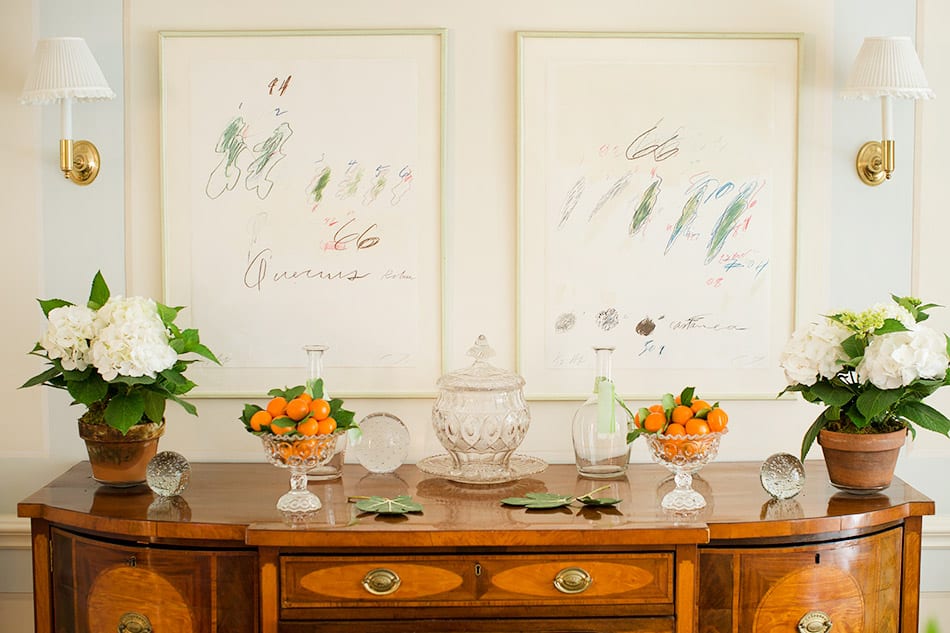 In "Winter," to toast her friend William Ivey Long, the Tony Award–winning costume designer, she painted his portrait for the invitation, then dressed tabletop mannequins in his flamboyant designs.
Graham isn't given to grand pronouncements, but from her years of entertaining she has been able to glean a few guidelines for throwing a successful dinner party. The cocktail hour, for instance, should be recalibrated. Graham keeps it to 45 minutes — if any guests still haven't arrived, she starts dinner without them. And she doesn't go overboard with the hors d'oeuvres. "I like everything to be very, very small. Bite-size," she says. "Not too messy."
Graham, whose dining room accommodates a maximum of 22 — "and that's kind of a tight squeeze" — prefers a guest list mixing true-blue friends with new acquaintances who seem amiable. "I don't think the numbers matter, like if you have more women or men," she says. She typically sets one long table. "I know some people would do three or four round tables, but since it's just me as host, I feel one table works better."
She is a strict adherent to placement and, per New York society style, never puts spouses together. "I don't do anything where you just go find a seat because it makes me very nervous as a guest, like, 'Oh, my God, who am I going to sit with?' " she says. "I like to be told what to do." Shy guests, she notes, do well to remember that "everybody has a story, everybody's interesting. It's a dinner party. Just ask a few questions."
As for the decor, don't stop with the flowers and china. "Lighting," she says, "should be enough that you see the food and not the wrinkles."
For dinner, Graham, who leaves the cooking to professionals, sticks to three courses, tries to keep it seasonal and always has a vegetarian option on hand. "I never serve bread and butter," she declares. Why? "Because I'll eat it." Her only other "steadfast rule" about the menu: "Don't put any flowers on food. I can't stand that. I do not want to eat a nasturtium flower. I'd rather have them on the table."
---
"Lighting should be enough that you see the food and not the wrinkles."
---
Graham developed her penchant for floral design and entertaining after she married, but her artistry reaches back to her childhood. Her parents divorced shortly after she was born, and she grew up splitting her time between her father in Chicago and her mother in the North Shore suburb Highland Park. Her mother, Rema Stone, an art teacher, enrolled her in a multitude of weaving, pottery and other classes, and her father, Richard Barancik, an architect, took the kids to galleries on Saturdays and the Art Institute of Chicago on Sundays.
"When I was about sixteen — this was really humiliating — he brought my work to show to the Phyllis Kind Gallery," Graham says. "I remember getting a not very good critique, and I was devastated."
Even so, she was accepted to the Rhode Island School of Design, where she studied painting. After graduating, she moved to New York and undertook an intensive one-year course in fashion illustration at Parsons. For almost a decade, Graham had a successful career as an illustrator, focusing on fashion, food and flowers. Showing in a gallery was never the goal. "I love having direction," she says. "I love having an art director. I love having an assignment. I adore having a deadline."
When she got married, in 1987, she let her career peter out. The couple lived uptown and spent time on their farm in Virginia and at their country house in South Kent, Connecticut.
"That's where my real passion began," she says. "I was lucky enough to hire Nancy McCabe, who did the most spectacular cutting garden."
In 1987, she met the preeminent society event planner Robert Isabell when her sister-in-law Lally Weymouth hired him to design Katharine Graham's 70th birthday party. "I had never seen such beauty," she says. "I was completely in awe."
Graham and Isabell clicked instantly. Graham tapped Isabell to do a birthday party for Stephen. Afterward, she recalls, "I said, 'Robert, I want to get better at doing flowers. What should I do?' He said, 'Come and work for me.' I said, 'When?' He said, "Tomorrow morning.'
Graham worked for Isabell part-time. When he designed, say, a master arrangement for a gala, she would create variations on the theme. "He never wanted everything to be cookie-cutter," she says. "He understood that [a party] was three hundred and sixty degrees. It's not the arrangement, it's the whole room, it's the ambience, it's the smell. It's every sense."
At one point, he gave her a studio in his building where she could concentrate on illustration again. "We would go have lunch every day at Florent," she says. "It was great fun."
Eventually, after becoming a mother to two children, now ages 20 and 18, she acquired her current studio, closer to home. But Isabell remained a dear friend until his death from a heart attack in 2009.
As Graham honed her entertaining skills, she became known for her one-of-a-kind invitations and reminders, which nod to the 1920s through the '50s. A madcap mix of floral watercolors, collaged recipes from old cookbooks, feathers, fabrics, vintage stamps, tiny three-dimensional objects or pictures of toilet paper or potato chips and a sprinkling of glitter, the cards are meant to provoke a chuckle. "I have all these cookbooks that I collect. Not because I'm a cook — quite the contrary," she says. "I cut out the worst-sounding recipes, and I'll say, 'Would you come to dinner for calves' brain pancake?' If it truly sounds ghastly, I cut it out."
She reaches for a box on a shelf and pulls out a recent example, made using her obsolete marital stationery. "I covered up the husband's name, sometimes with a chicken, a shark," she explains wryly.
Throughout the divorce process, she has tried to keep her sense of humor. "Everybody has something in her life that happens that's unexpected," she says. "Because I was married for such a long time, being alone has its challenges. But like anything, you get used to it. I made a couple of decisions early on. One was that I was not going to be bitter or angry, no matter what. Just go forward. I'm still so lucky. And all these great things have started to happen. I feel fantastic."
The biggest silver lining of the divorce has been "getting a chance for my creativity to flow again," she says. "For many years it didn't."
Now, in addition to publishing Second Bloom, Graham has launched a Second Bloom company with a slew of projects in the hopper, all featuring her illustrations. First up, her collaboration with Scott Potter of decoupage serving trays, vases and other containers, now available on Graham's 1stdibs storefront. She's also creating a line of note cards featuring her fashion illustrations that will be at Bergdorf Goodman. And she's still throwing about one dinner party a month, heading to Union Square and the flower district three days in advance to select the perfect blooms.
Her expertise notwithstanding, Graham has endured a few bombs. One night, she'd approved a menu of unusually rich food that was made all the heavier when the air conditioner conked out, leaving the house oppressively hot. But, she says, the point is to gather friends and enjoy a little conversation.
"I'm always a bit nervous," she admits. "But at the same time, it's just a dinner."
Or Support Your Local Bookstore