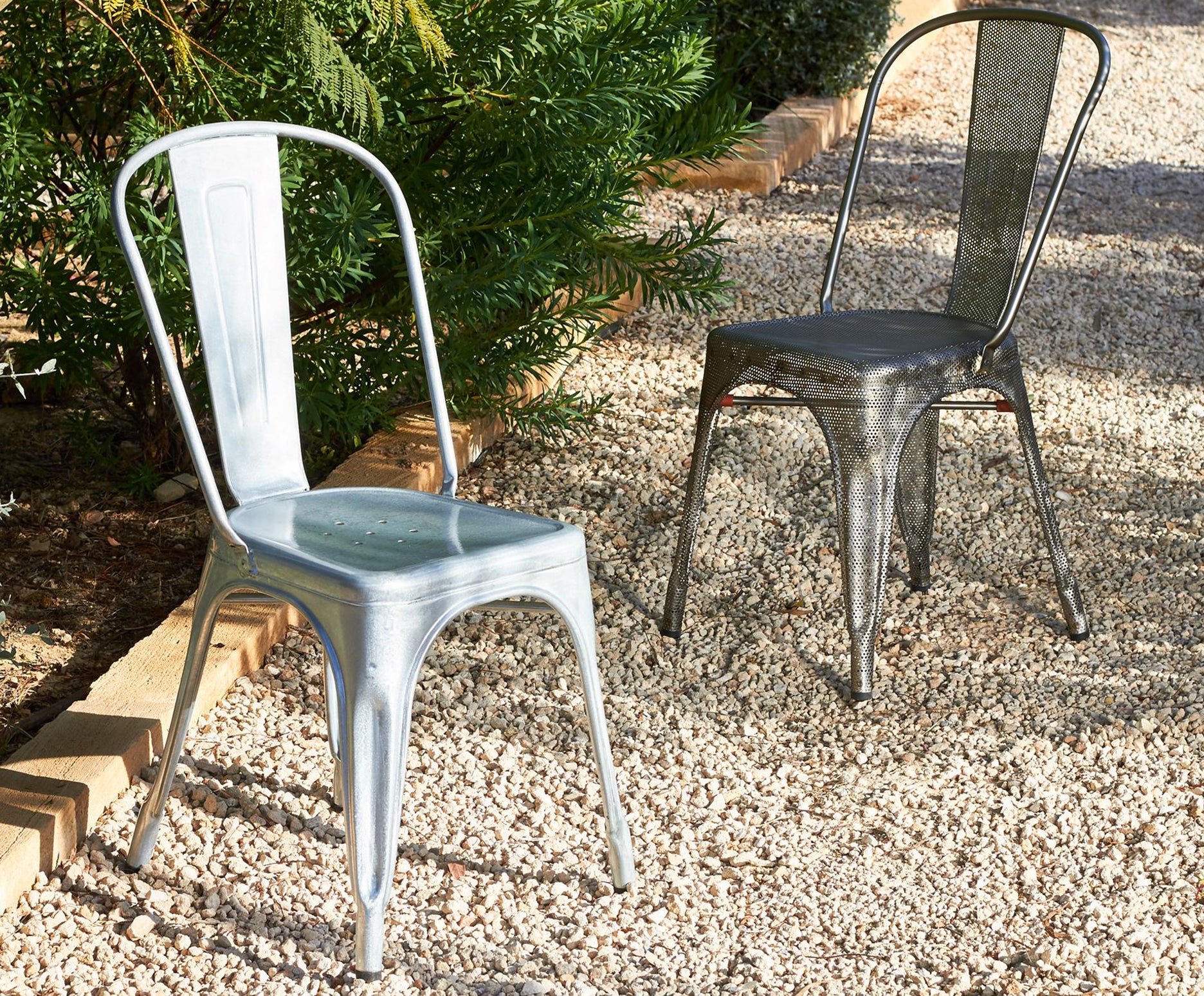 Iconic Designs
Model A Chair
About the Design
The brainchild of French metalworker Xavier Pauchard (1880–1948), the Tolix Model A chair revolutionized café spaces and kitchens around the world. And it began with a process for protecting sheet metal.
As a young roofer in rural France in 1907, Pauchard devised a way to prevent sheet metal from rusting. He discovered that he could coat a sheet of steel or iron with a durable protective layer by immersing it in molten zinc. This process, called galvanization, played a significant role in the creation of Pauchard's much-admired chair — as well as in his career as an innovative furniture maker — in the decades that followed. 
Pauchard learned the nuances of working with zinc from his father and grandfather, who were both roofers in France's Le Morvan region, where he grew up surrounded by woodlands, lakes and traditional farms. He joined the family business but left in 1917 to pursue furniture production.
Pauchard opened a small factory on the outskirts of Autun, in Burgundy, where he began manufacturing assorted metal furnishings for the home: stools, tables and chairs. Initially, Pauchard made each piece by hand, hammering and shaping the metal before dipping it in molten zinc to galvanize it. He eventually trademarked the name Tolix.
The first Model A chair was designed in the mid-1920s and featured Pauchard's cleverly (and effectively) placed signature: a pair of crossed bars — forming an X for the maker's first initial — placed beneath the seat to support it.
Pauchard created his high-backed galvanized-steel chair with the outdoors in mind: The first version featured holes in the seat to allow rainwater to drain through. It was lightweight and designed to be easily stacked, for restaurant use.
Things didn't go smoothly at first. The chairs that Tolix sold to cafés all over Paris in the company's first five years didn't stack properly. Tolix recalled them, and the company nearly closed as a result. Pauchard spent the next few years tweaking and adjusting his design, eventually coming up with a slimmer version in 1934 known as the Marais A chair, which Tolix guaranteed could be stacked 25 seats high. The design has not changed since. And still to this day, it takes 100 manual operations to make a single chair.
The Model A chair moved from cafés to hospitals and public parks, even becoming a fixture on the decks of transatlantic luxury liners, including the famed French S.S. Normandie, in the 1930s.
Tolix remained in the Pauchard family until 2004, when it was bought by its financial director, Chantal Andriot. Its pieces continue to be made in Autun.
More Xavier Pauchard Designs