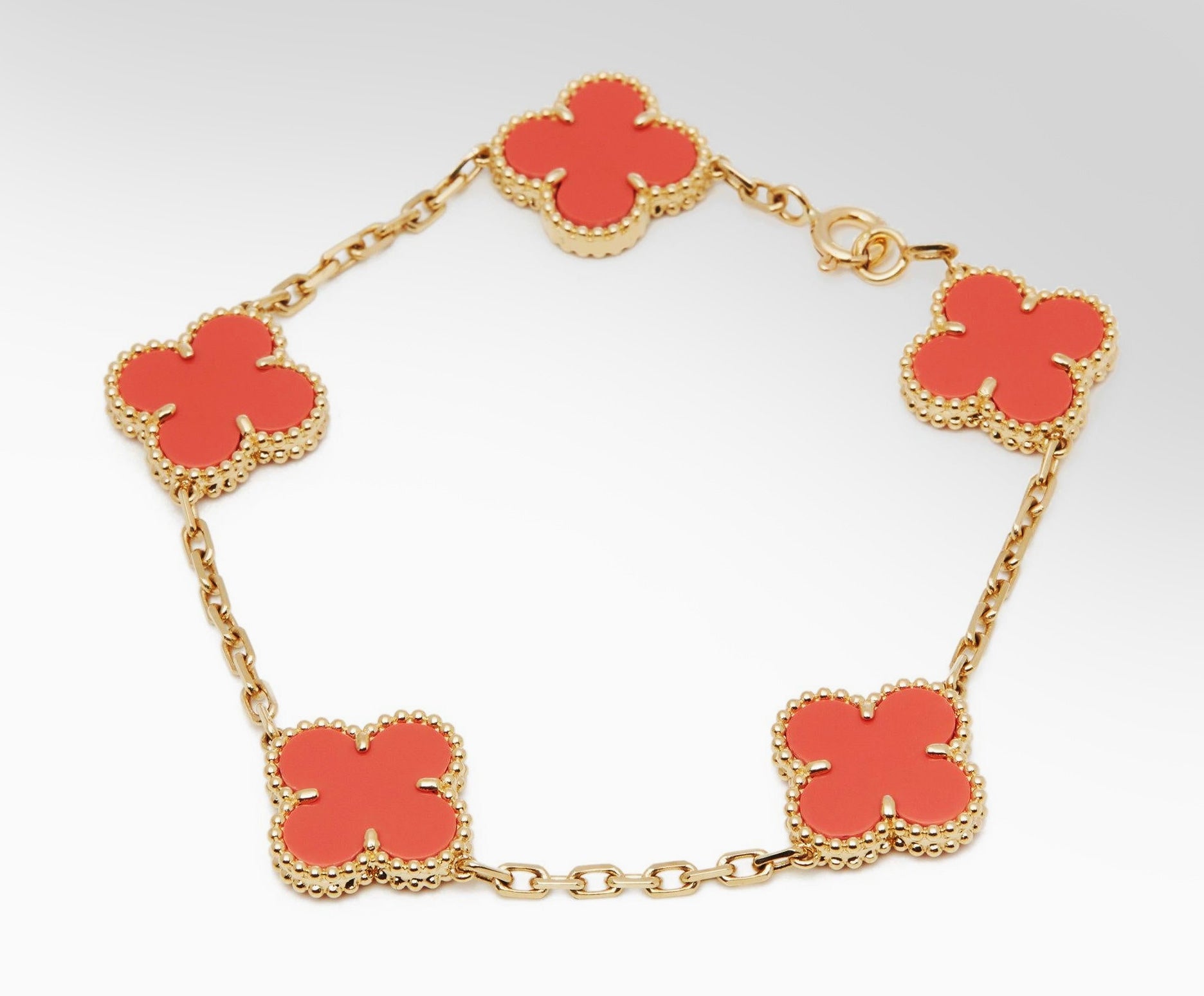 Iconic Designs
Vintage Alhambra Bracelet
About the Design
With its storied talismanic power, the quatrefoil — a clover-like pattern with roots in Moorish architecture — has become a status symbol in luxury jewelry, appearing in the collections of Cartier, Chopard, Louis Vuitton and more. But there's one brand with which the motif is practically synonymous, thanks in particular to the role that the symbol plays in accessories such as the widely beloved Vintage Alhambra bracelet. Since 1968, Van Cleef & Arpels (est. 1896) has been celebrated for the French luxury brand's four-leaf-clover-based Alhambra collection, and its throngs of admirers grow with each passing year.
The fine jewelry house Van Cleef & Arpels emerged in 1896 out of the marriage of Alfred Van Cleef and Estelle Arpels, both of whom had family roots in the gemstone business. Formed initially by Alfred and his father-in-law (and then helmed by Alfred and two brothers-in-law when the Paris shop opened in 1906), the company, known for its exquisite jewels, innovative techniques and designs inspired by the natural world, has become one of the most important jewelers in France. Estelle's nephew Jacques Arpels (1914–2008) guided the design of the original Alhambra piece, which initially took the form of an opera-length necklace in 1968.
The Alhambra and its variants are the brand's most celebrated collections, inspired by the quatrefoil motifs found in the architecture and decorative tiles of its namesake, the Alhambra Palace in Granada, Spain. Reminiscent of four-leaf clovers, the design was meant to function as a lucky charm. There are Alhambra pieces, Magic Alhambra — such as the Magic Alhambra necklace — and Vintage Alhambra, which sees the motif produced in a wide range of semiprecious and precious stones. The Vintage Alhambra bracelet features five clover-like charms at regular intervals, each bordered by the design's signature gold bead edge. The style became instantly popular with celebrities and royals, an affinity that continues to this day.
Vintage Alhambra Bracelet
More Van Cleef & Arpels Designs