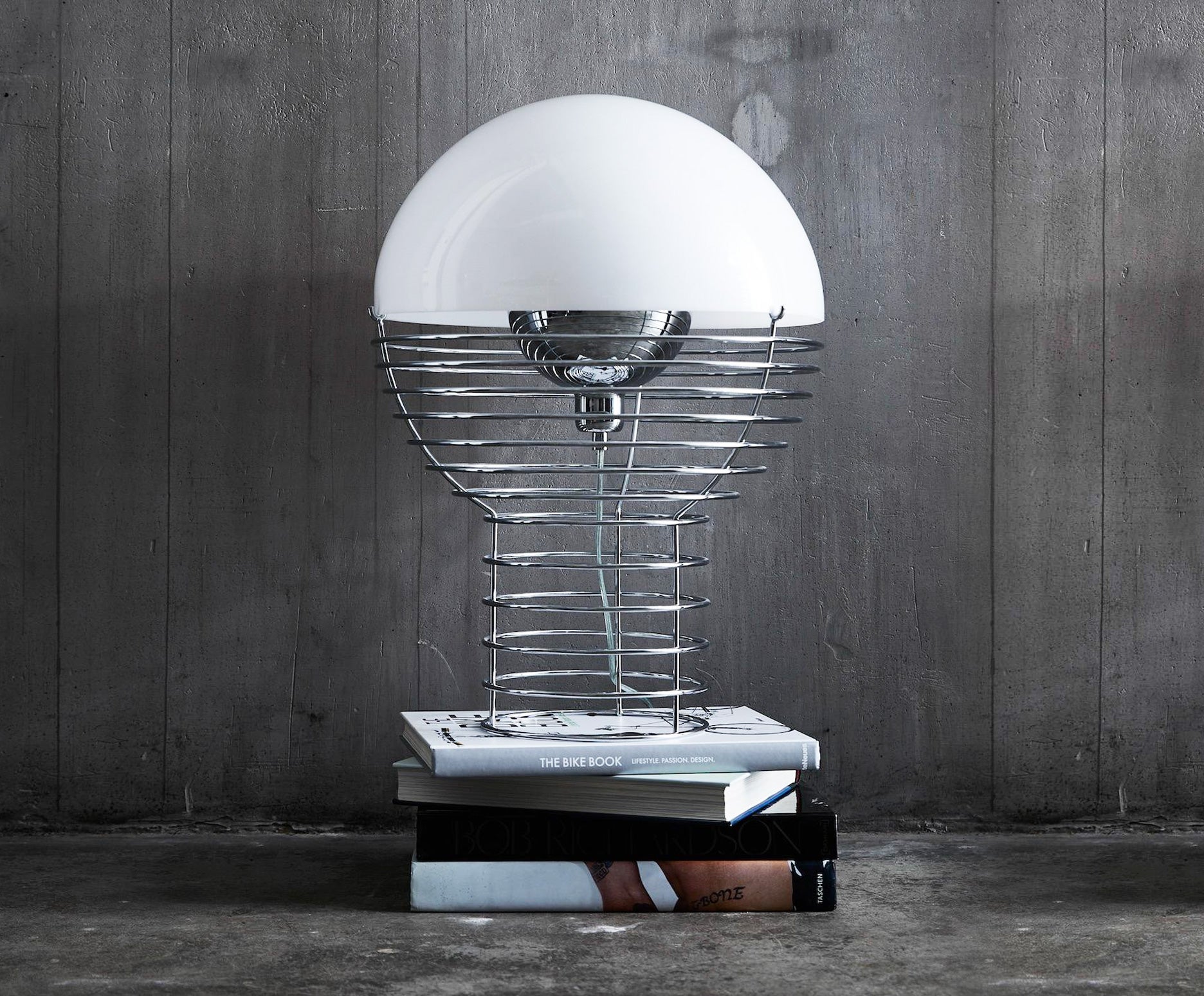 Iconic Designs
Wire Table Lamp
About the Design
The ambient light of 1972's Wire table lamp was well suited to the carefree tenor of its era. It was conceived for a new style of living, for people who had abandoned the old rules and embraced a spirit of experimentation and excitement in the new decade — people very much like the lamp's iconoclast designer, Verner Panton (1926–98).
In its inaugural chapters at least, Panton's story reads like that of his peers. The Danish furniture maker and interior designer studied architecture at Copenhagen's Royal Danish Academy of Fine Arts and went on to work at Arne Jacobsen's firm in the early 1950s, where he helped develop the Ant chair. While Panton considered that experience transformative, ultimately, he couldn't be constrained by Scandinavian design traditions. "The main purpose of my work is to provoke people to use their imagination," he famously declared. 
Panton's singular quality was disavowal of the status quo. He wanted to experiment with new materials, to use bold colors and to create biomorphic forms. He embarked on a life-changing European trip in his Volkswagen-bus-cum-mobile-studio and created a futuristic, fiberglass-reinforced polyester chair that shook up the design world. Panton popularized ideas like modularity, which he expressed in the Pantonova wire furniture he created for Danish restaurant Varna in 1971. Capped with a cylindrical plastic shade, his chrome-plated steel Wire lamp followed shortly thereafter and was a continuation of this series. Panton always looked ahead, and the success of his vision is evident in that much of his work — such as the Wire table lamp — continues to appeal today. It is available through Verpan.
Verner Panton Wire Collection Table Lamp
Wire Small Table Lamp in White by Verner Panton
By Verner Panton, Verpan
Located in Horsens, DK
A cylindrical wire framework that widens into a hemisphere at the top. Hemispherical white plastic shade. Material: Frame is made of steel (chrome-plated) Shade is made of whit...
Category
21st Century and Contemporary Danish Modern Table Lamps
More Verner Panton Designs