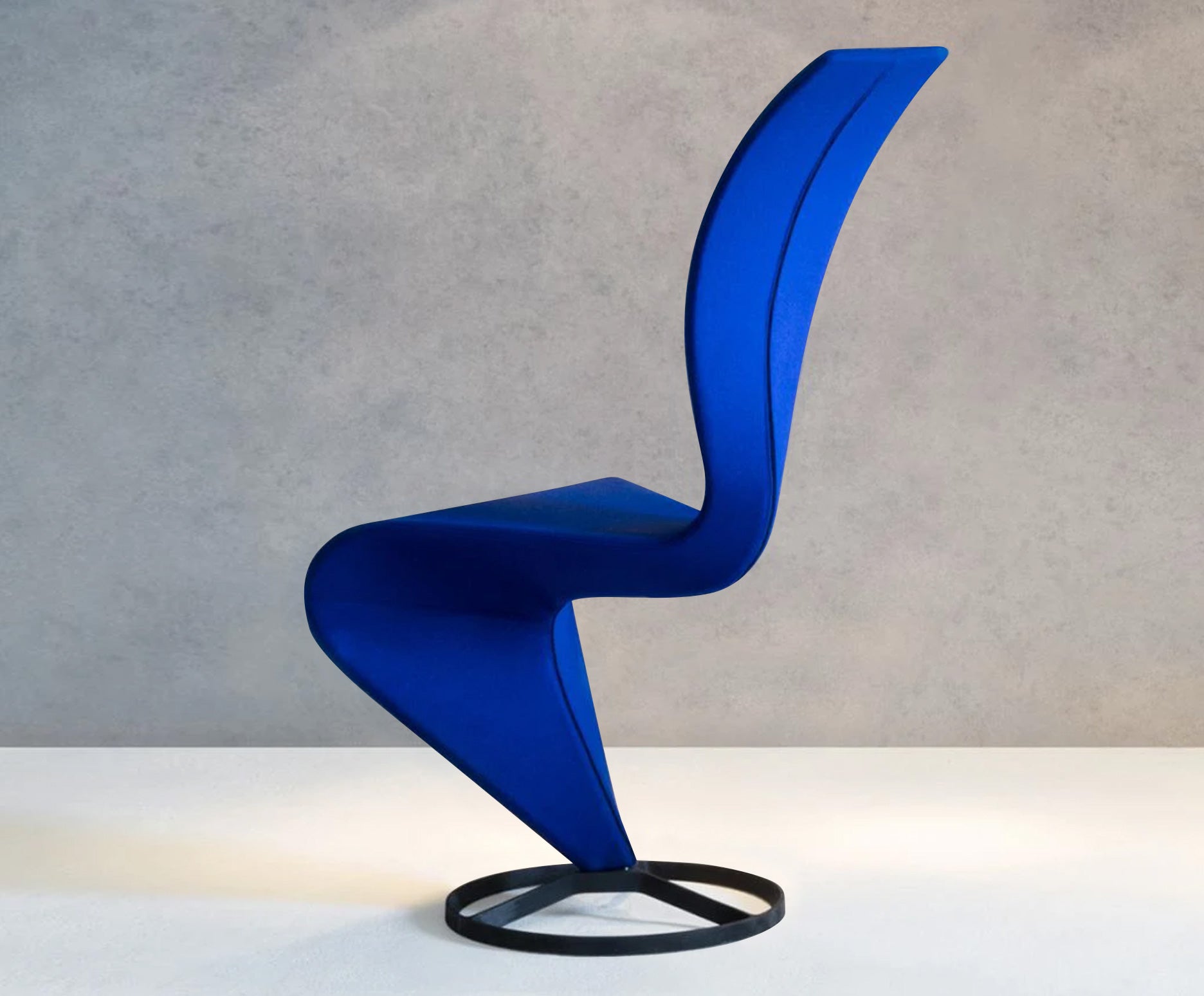 About the Design
Seeming to defy gravity, the S-chair springs upward from its base in a sinuous, fluid flourish. It's a sculptural yet practical masterpiece by British designer Tom Dixon (b. 1959), who saw it go into production through a collaboration with Italian manufacturer Cappellini in 1988. It began as a sketch that had bird-like qualities.
"I have often been asked what the inspiration was behind the S-chair and, honestly, the only memory I have is of drawing a small doodle of a chicken . . . and thinking that I could make a chair from it," said Dixon.
Born in Tunisia, Dixon moved to England as a child and enrolled in the Chelsea College of Arts at 18. He got into a motorcycle accident, dropped out and decided to pursue music with his band Funkapolitan instead of returning to school. He pivoted to design soon afterward in the mid-1980s, when he taught himself to weld. It was then that he built his first S-chair prototype made from a welded frame and upholstered with woven marsh straw.
"My slightly more successful designs seem to be ones that can be read in different ways, often quite opposite to their original intent," said Dixon. "If the original departure point for the S-chair for me was a chicken, it has often been described by others as a female form, by some as a flame or, frequently, as a 1960s-influenced Pop object."
It's hard to deny a connection to mid-century design, however — a cursory glance at Verner Panton's Panton chair from 1967, for example, reveals a cantilevered, free-flowing form similar to that of Dixon's chair. But the furniture maker distanced himself from such designers with his rough-around-the-edges approach — a DIY attitude that softened somewhat when Dixon went to work for Cappellini in the late 1980s. In the case of the S-chair, the mass-produced version saw the original straw upholstery removed in favor of leather, stretchy fabrics and wicker, which are the materials still available today.
Dixon would go on to become head of design and then creative director of furniture company Habitat. In 2001, he was awarded the Order of the British Empire by Queen Elizabeth for his services to design. Dixon established his own eponymous firm in 2002. His furniture, including the revered S-chair, is held in the collections of many museums around the world.
S Chair with Cast Iron Base by Tom Dixon
By Tom Dixon
Located in New York, NY
Born in Tom's 1980s London workshop, the S chair has been re-engineered. The original three-dimensional form is now moulded in an Industrial hard/soft form with a pure wool cover. Th...
Category
21st Century and Contemporary Modern Dining Room Chairs
Tom Dixon S-Chair with Marsh Straw or Wicker Upholstery for Cappellini
By Tom Dixon, Cappellini
Located in New York, NY
The iconic S-chair by Tom Dixon is an object with an artisanal core, successfully transformed into an authentic industrial masterpiece, without losing the essence of the original pro...
Category
21st Century and Contemporary Italian Modern Chairs