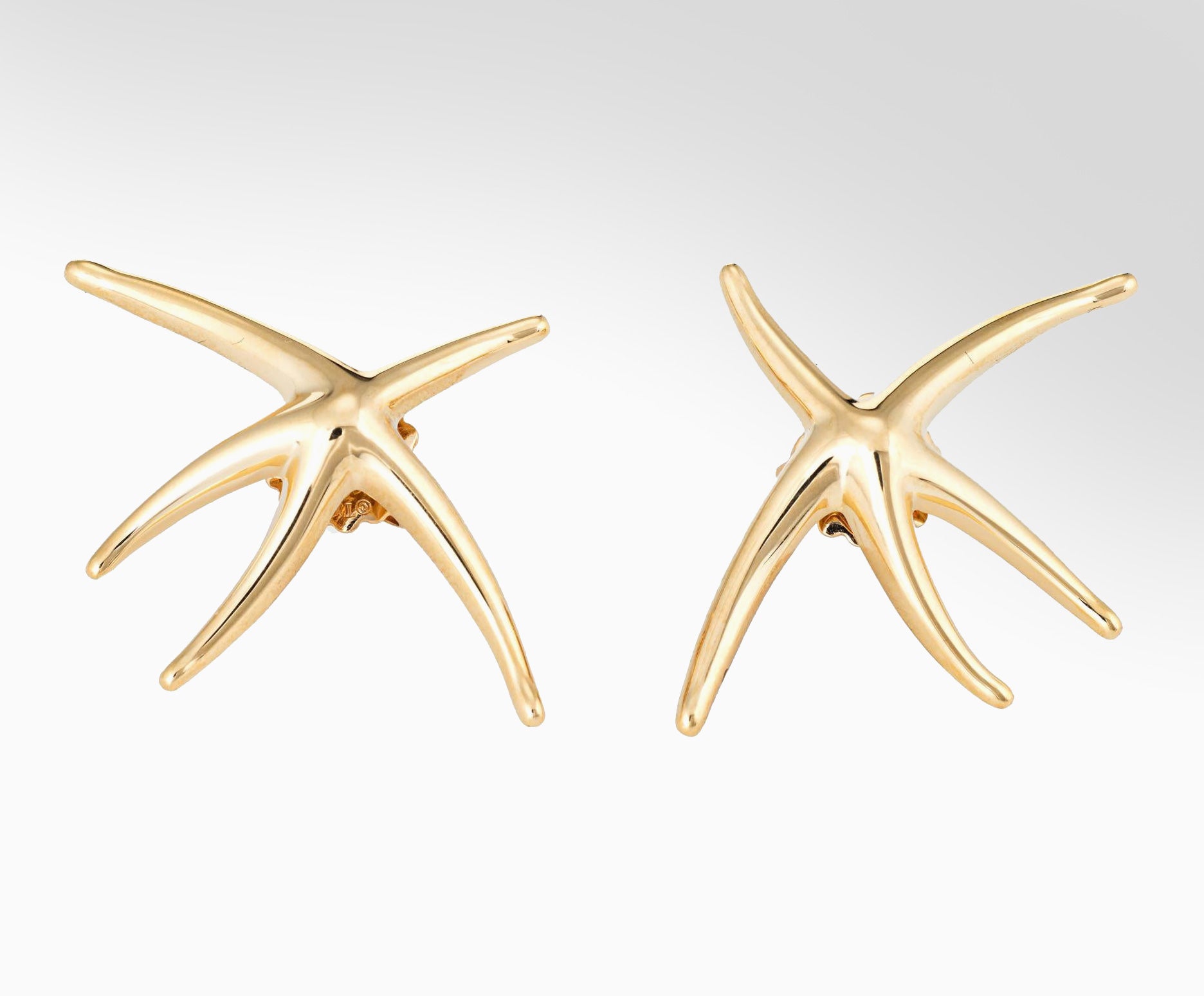 Iconic Designs
Starfish Earrings
About the Design
Elegant and uncomplicated, Elsa Peretti's Starfish earrings for Tiffany & Co. feel as good as they look. For Peretti (b. 1940), touch is an essential quality of good design. "I like objects to wear that you can put on a table as an art object," she once said. Recognized for her ability to distill nature down to its essence (other revered works include designs based on a scorpion, an apple, a bean and a snake), her sleek organic forms achieve purity by a fearless elimination of details.
Peretti's vision of the natural world is sophisticated, not sentimental — like the Italian-born designer herself. As a young woman, she left her wealthy but conservative Roman family and sought adventure in the wider world. She began a modeling career in Barcelona, where she posed for and befriended Salvador Dalí. In February 1968, Peretti arrived in New York City. There, in addition to frequenting too many clubs and parties — she was a Studio 54 staple — Peretti pursued greater opportunities in fashion and began to design jewelry. Her first piece was inspired by a flea market find — a sterling-silver bud vase on a leather strap. She had a silversmith in Spain render the first model, and when it debuted as a necklace as part of a show for Giorgio di Sant'Angelo, it was an immediate hit.
Peretti was fast becoming a favorite designer of luminaries such as Halston, and, in 1974, she signed a contract with Tiffany & Co. despite her sacrilegious choice of medium. "Miss Peretti works essentially in silver, and Tiffany has not carried silver jewelry for a quarter of a century," reported the New York Times. A fruitful partnership began, and a moratorium on silver met its end. Success followed.
Peretti's venturesome designs bridged costume and fine jewelry, and her dazzling creations were produced with affordability in mind. As for those Starfish earrings? The concept stems from her finding actual starfish in the Indian Ocean, and they're part of a line that Peretti designed for Tiffany in the 1970s that included a bracelet, a necklace and more. Today, the Starfish earrings are available from Tiffany in sterling silver, gold and platinum, with or without diamonds.
"My relationship with the sea is total," Peretti wrote in a limited-edition book celebrating 40 years with Tiffany. "As a little girl, I hunted for beautiful shells on the beach . . . I watched my friends fishing, fascinated by the things I saw. The fleeting, short-lived miracle never ceased to amaze me."
Tiffany Elsa Peretti Starfish Earrings
Tiffany & Co. Elsa Peretti Sea Star Yellow Gold Earrings
By Elsa Peretti for Tiffany & Co.
Located in Los Angeles, CA
Tiffany & Co Elsa Peretti large sea star yellow gold earrings circa 1990. Love them because they caught your eye, and we are here to connect you with beautiful and affordable jewelr...
Category
1990s Contemporary Stud Earrings
Materials
18k Gold, Yellow Gold
More Elsa Peretti for Tiffany & Co. Designs