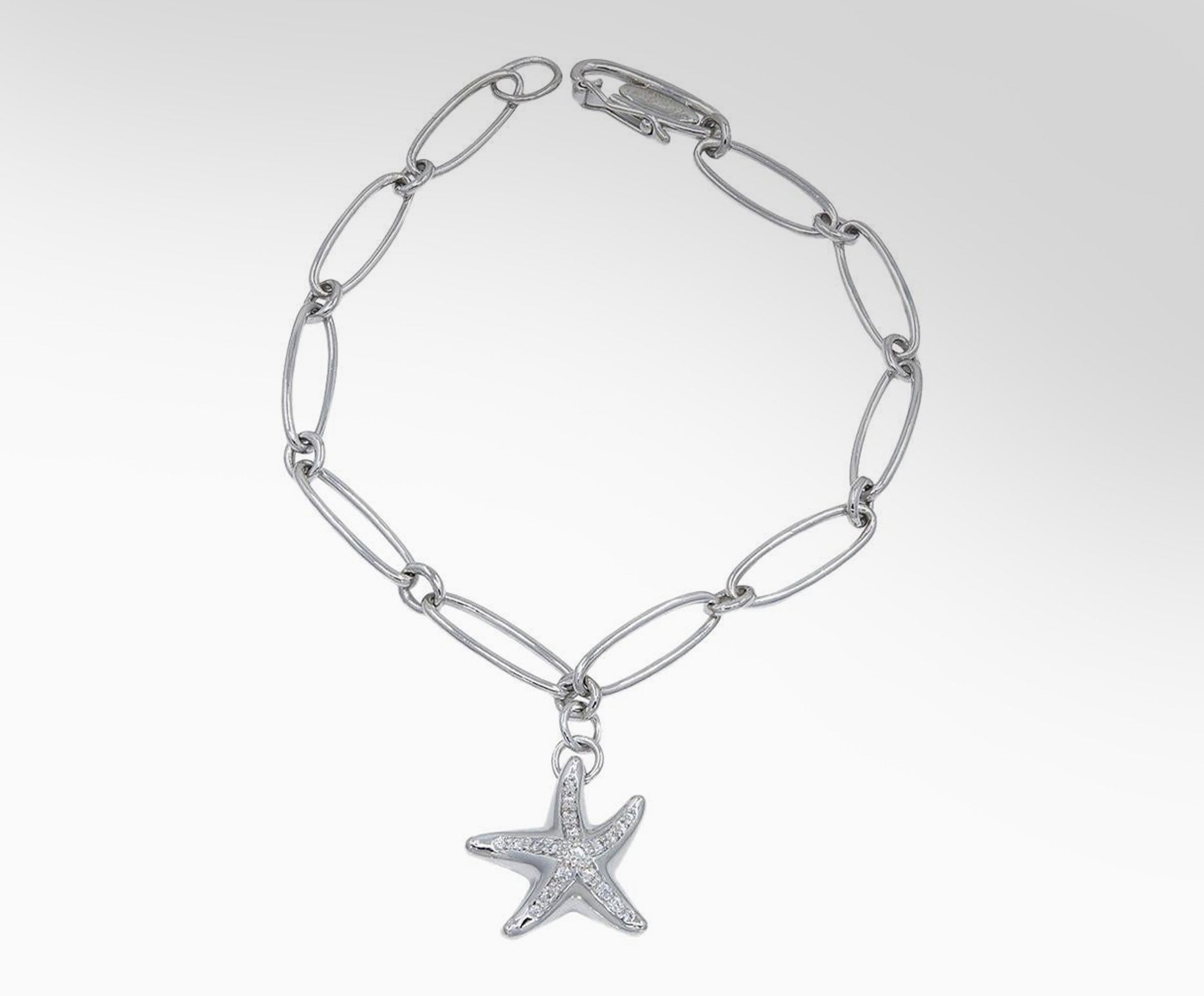 Iconic Designs
Starfish Bracelet
About the Design
That a piece of jewelry inspired by nature, made of silver and with an unpretentious and understated aesthetic should capture the world's imagination is testimony to how influential Italian-born designer Elsa Peretti (b. 1940) has been on how jewelry can be worn. One of the most beloved designs resulting from her decades-long association with revered luxury jewelry house Tiffany & Co. is the Starfish bracelet, an accessory based on a delicate motif that appears as organic and animated, as if it were freshly picked out of the water rather than cast in gleaming silver.
Elsa Peretti moved to New York City at the height of Studio 54–era decadence and worked as a model. However, influenced by the fashion world of which she was a part as well as by her friendships with designers like Halston and Giorgio di Sant'Angelo, she began to recognize an impulse to transform the everyday objects that captured her attention into jewelry. Her first piece was for Giorgio di Sant'Angelo in 1969. It was inspired by a flower vase she found at a flea market. Later, when models marched down di Sant'Angelo's runway wearing Peretti's two-inch sterling-silver vase suspended on a leather thong around their necks, the stir was enough to set her on the journey to jewelry designer stardom.
"To translate ideas is magic," Peretti said, and the magic is evident in her nature-inspired designs for Tiffany & Co. With the sensual simplicity that defines her Teardrop ring, Bone cuff and Starfish bracelet, Peretti introduced an elegant but everyday wearable look that hadn't been seen before. She is one of Tiffany's most treasured designers — her designs have long represented a significant percentage of the company's global net sales. Peretti was named "Accessory Designer of the Year" by the Council of Fashion Designers of America in 1996, and her designs are in the permanent collections of the British Museum and the Metropolitan Museum of Art in Manhattan.
For the Starfish bracelet, which is part of a mid-1970s collection that includes a necklace, earrings and more, Peretti was inspired by the tactile response jewelry could evoke. Like her other celebrated pieces for Tiffany, the Starfish bracelet's charm has a remarkable sculptural fluidity that is enhanced by the polished gleam of sterling silver, a material that was once deemed too "common" before she elevated it to luxury status. The Starfish bracelet is an enchanting representation of Peretti's incomparable, radical and yet entirely charming adaptation of the natural world for fine jewelry.
More Elsa Peretti for Tiffany & Co. Designs