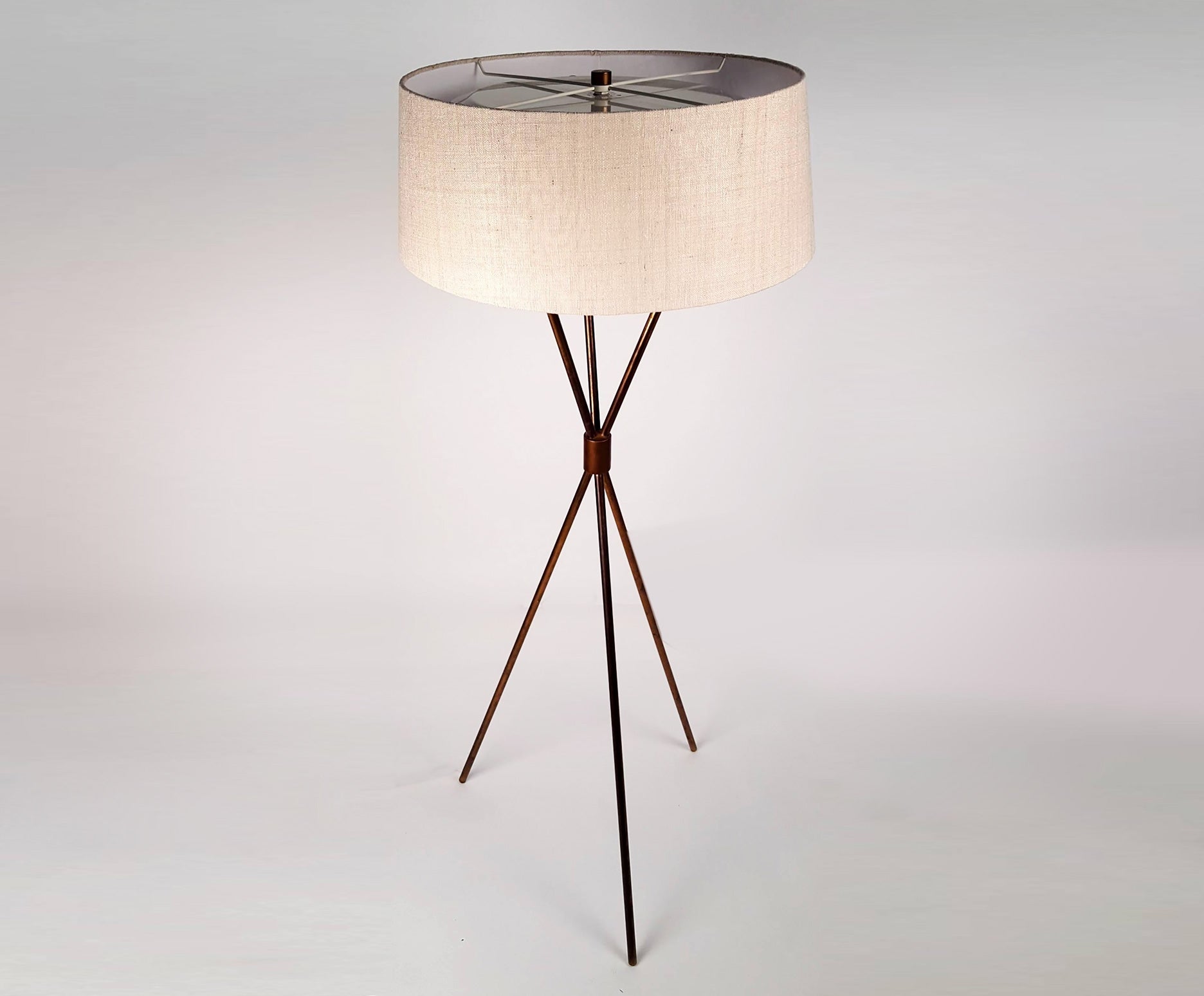 Iconic Designs
Tripod Floor Lamp
About the Design
At a time when much of the world was enraptured by modernism's anti-ornamental, function-forward aesthetic, Terence Harold "T.H." Robsjohn-Gibbings (1905–76) — "Gibby" to his friends and close clients — was something different: an unapologetic classicist. That said, you'd be forgiven for not recognizing as much in some of his work, such as 1950's refined Tripod floor lamp; the designer had a way of distilling classical forms to their essence so that the end result was actually similar to that of more modern designers of his time.
After studying architecture at London University, Robsjohn-Gibbings landed a naval job designing interiors for passenger ships. Later, he worked for antiques dealer Charles Duveen (younger brother to influential art dealer Joseph Duveen) and in 1929 was transferred to sell Elizabethan and Jacobean antiques out of the firm's New York City showroom. Robsjohn-Gibbings returned to London within a few years but came back to Manhattan in 1936 and opened his own plaster-walled studio, Robsjohn-Gibbings Limited, filled with furniture he'd designed based on drawings of British antiques. The shop attracted a certain set of well-heeled clients, among them Doris Duke, Elizabeth Arden and Alfred Knopf. During this time, Robsjohn-Gibbings also wrote frequently about the subject of modern design, bemoaning the lack of beauty in much of the current furniture, most notably in a much buzzed about 1944 book, Good-bye, Mr. Chippendale. His success in the Manhattan design scene also yielded a partnership with Hansen Lighting Co., which produced the 1950 Tripod lamp with a suite of elegant, low-slung furniture that Robsjohn-Gibbings designed for Widdicomb Furniture beginning in the late 1940s.
The Tripod lamp, no longer in production, features a three-pronged base in brass, with three svelte legs joined by a simple brass cuff in the center. A linen drum shade with a light diffuser gives the lamp a warm glow when lit, an apt symbol of Robsjohn-Gibbings's disdain for the "cold" look of Bauhaus-style modernism. Subsequent versions of the Tripod lamp include a brushed nickel and a polished chrome finish, all with the same white linen shade. The fixture is one of the last "modern-looking" pieces Robsjohn-Gibbings would create; by the early 1960s, he had embarked on a project with Greek cabinetmakers Susan and Eleftherios Saridis to reproduce Greek motifs in furniture, designing the Klismos collection. He would eventually move to Athens, where he worked for shipping magnate Aristotle Onassis. 
Th Robsjohn Gibbings Tripod Floor Lamp
More T.H. Robsjohn-Gibbings Designs