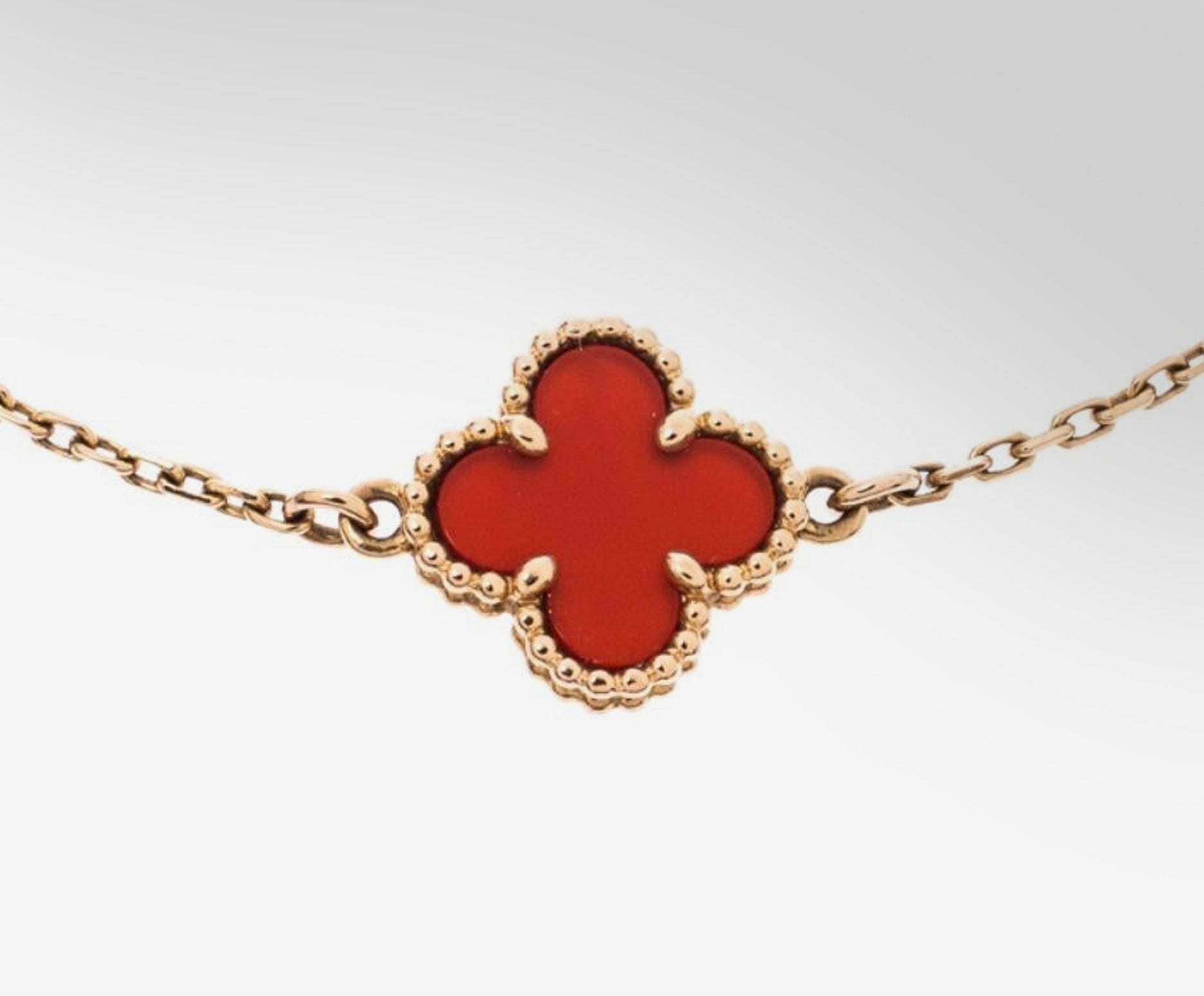 Iconic Designs
Sweet Alhambra Pendant
About the Design
One can't have too many good luck charms, or, in the case of good-luck-charm-inspired jewelry, too many classic Alhambra motif pieces. From French luxury jewelry house Van Cleef & Arpels, the Alhambra collection, which is centered around a universal symbol for luck, has remained so consistently popular since its launch as an all-gold necklace in 1968 that it has become emblematic of the jewelry brand at large. Nearly 40 years later, as part of a new collection, the Sweet Alhambra pendant followed in 2007 — a miniature riff on the original that offers all the appeal of the long-cherished motif, albeit discreetly.
The signature Alhambra concept — created by French jeweler Jacques Arpels (1914–2008), nephew of Van Cleef & Arpels cofounder Estelle Arpels — references a four-leaf clover, a plant long considered to symbolize good luck, health, fortune and love. Arpels reportedly sought them out in his yard as a child. The earliest Alhambra pieces were spare, quatrefoil-shaped motifs in black onyx strung on an opera-length yellow-gold necklace, but over the years a range of new materials, such as ivory and wood, as well as colored stones like malachite, lapis and more have been introduced. The white mother-of-pearl model is the Alhambra collection's best seller. In 2018, Van Cleef & Arpels marked the 50th anniversary of the successful clover motif, which has never gone out of production.
Given that the collection is named after one of the most famous palaces in Spain, it's unsurprising that Alhambra's most high-profile relationship is with royals. Princess Grace of Monaco was an early adopter. The introduction of the house's most-revered collection is widely considered to be integral to the origins of wearable, everyday jewelry that is simple but striking as well as representative of meticulous craftsmanship — all characteristics of the unassuming Sweet Alhambra pendant. With Van Cleef & Arpels resurrecting once-retired signature styles and variations of long-beloved designs, such as this pendant, a stylish undersized iteration of a classic, the brand's popularity endures.
In line with tradition, both collectors and casual enthusiasts delight in the versatility of the Sweet Alhambra pendant today. It's ideal for formal or daily wear, and is available in yellow gold with white mother-of-pearl, white gold adorned with round diamonds or rose gold with a center of deep rust-red carnelian stone, which is sourced largely from Brazil. In the spirit of the original, carnelian is believed to protect its wearer against misfortune. These days, one can't have too many good luck charms.
More Van Cleef & Arpels Designs