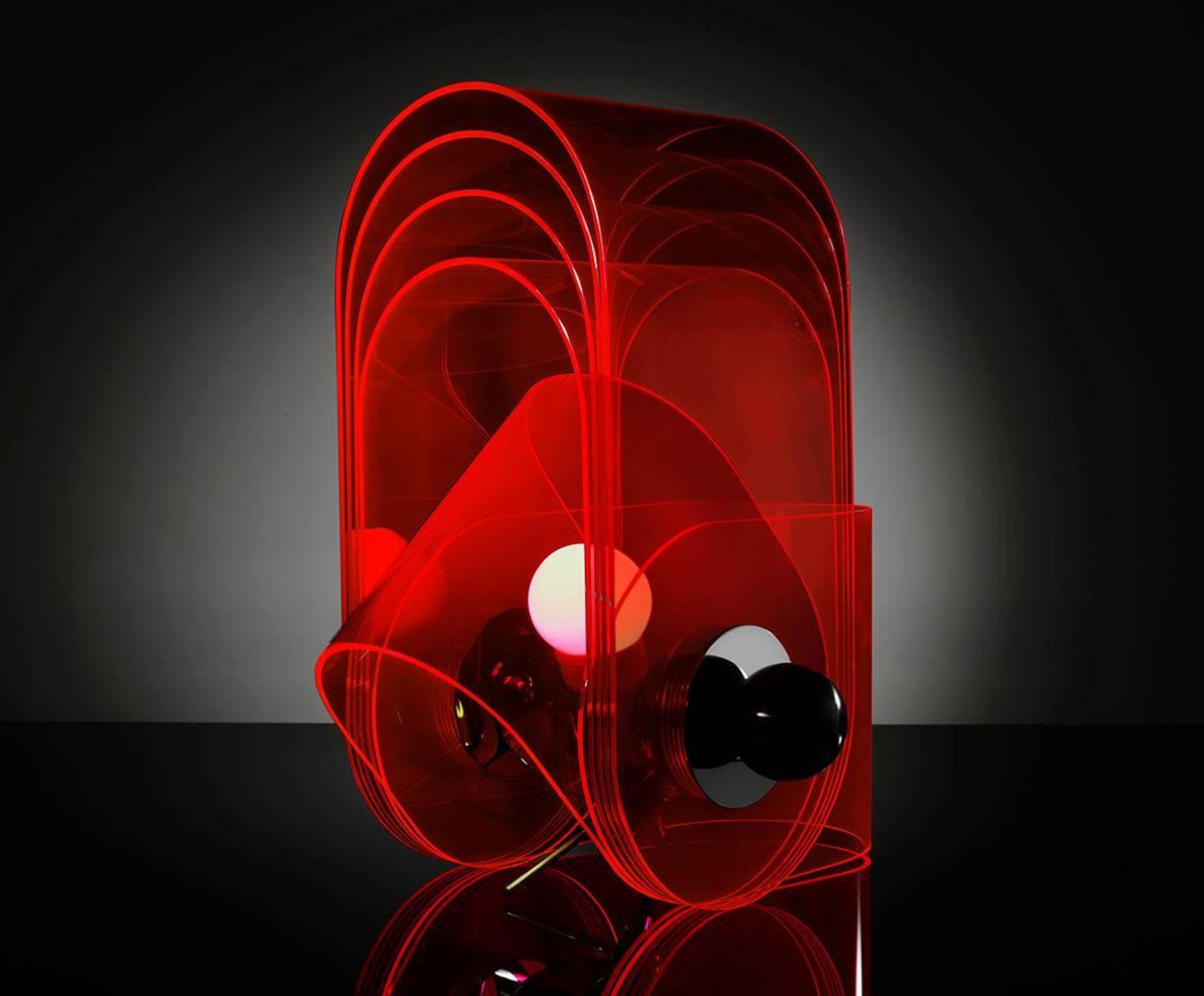 About the Design
Illumination is an interactive act with the 1967 Gherpe lamp from Superstudio. Six interlocking arcs fold out to make a shape reminiscent of a nautilus shell, albeit one far from the natural world. The overlapping layers of translucent plastic create shadows as well as project the light — a playful use of new technology to generate an unexpected visual.
Founded in Florence in 1966 by Adolfo Natalini (1941–2020) and Cristiano Torlado di Francia (1941–2019), Superstudio was a major presence in the Italian Radical design movement that emerged in the latter half of the decade. Alongside groups like Archizoom, Ziggurat and UFO, Superstudio approached design as a form of social commentary, specifically reacting to a commodification of life they perceived as having been promoted by the capitalism of 20th-century modernism. Superstudio was particularly critical of the uniformity that had arisen from an emphasis on industry, function and utility, as well as a disregard for vernacular architecture, all of which they confronted in their seminal 1969 project "Il Monumento Continuo," or "The Permanent Monument," a gridded superstructure that they envisioned would consume the whole world in blocky blandness.
The Gherpe lamp exemplifies Superstudio's provocative work in exhibitions, projects and domestic objects that challenged the dominant perspective of design and embraced the vibrancy of 1960s pop culture. Produced by Italian furniture manufacturer Poltronova, it puts the quality of light in the hands of the user. Closing the lamp's mollusk-like shell exposes the bright white of its bulb, while opening its "leaves" yields a colorful statement on how design can alter space.
Gherpe Lamps by Superstudio, Italy 'White + Red'
By Superstudio
Located in Brooklyn, NY
Gherpe table or floor mood lamp (1968). Superstudio (Italy) / Centro Studi Poltronova per il Design srl Animal-like and changeable in shape, thanks to its "scales" that revolve aro...
Category
Vintage 1960s Italian Post-Modern Table Lamps
Gherpe Lamp by Superstudio, Italy
By Superstudio
Located in Brooklyn, NY
Category
Vintage 1960s Italian Post-Modern