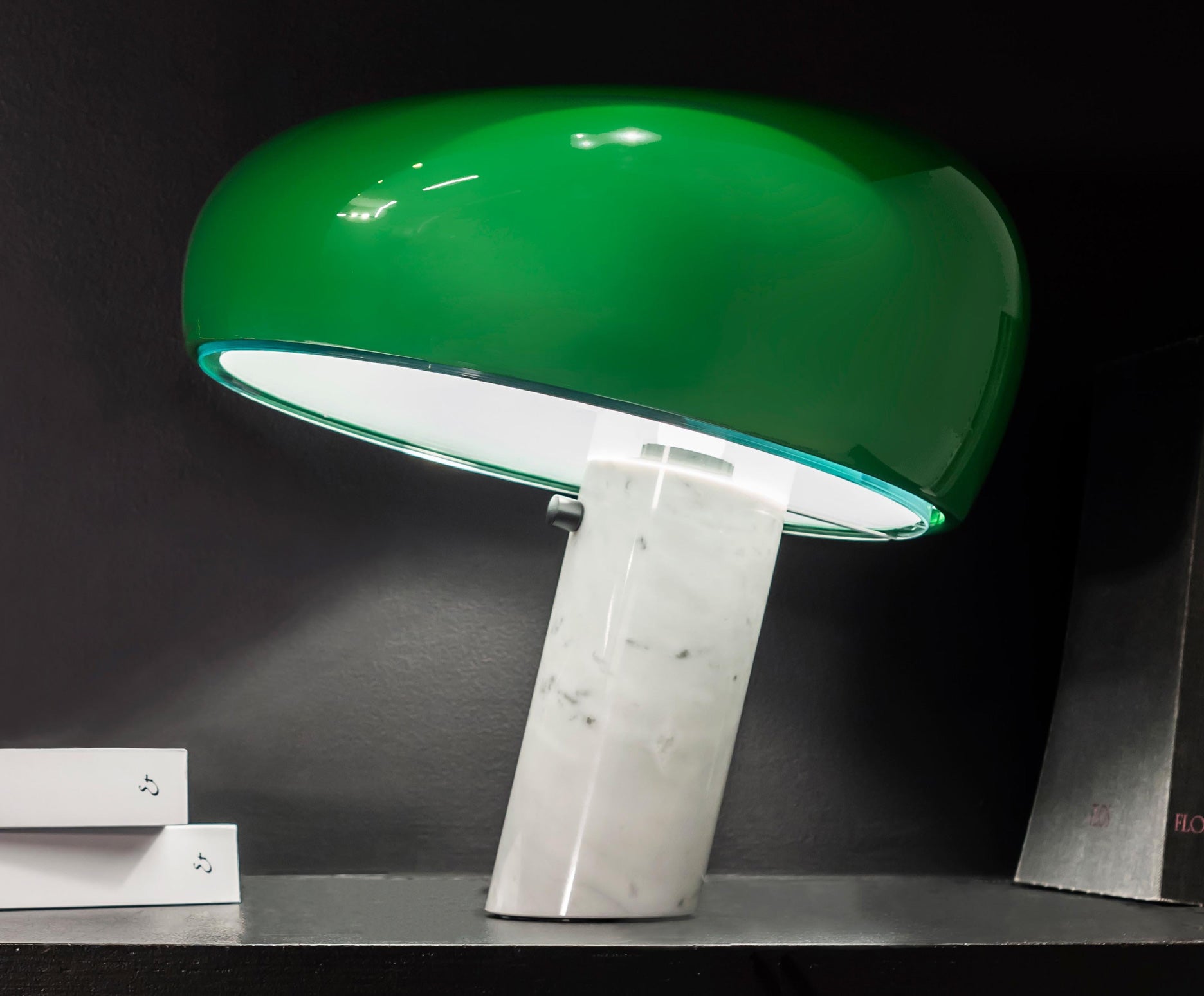 Iconic Designs
Snoopy Lamp
About the Design
With an oblong black head that sits atop a tilting white marble base, the Snoopy lamp's shape playfully brings to mind the snout of the canine main character in Charles M. Schulz's Peanuts comic strip. The design, one of many innovative collaborations by the Italian brothers Achille (1918–2002) and Pier Giacomo Castiglioni (1913–68), was introduced in 1967.
After graduating from the Polytechnic University of Milan in 1944, Achille joined the urban planning, architecture and industrial design studio of his older brothers, Livio and Pier Giacomo. Although Livio left in 1952, the partnership between Achille and Pier Giacomo flourished until Pier Giacomo's untimely death in 1968.
"I see around me a professional disease of taking everything too seriously," Achille once stated. "One of my secrets is to joke all the time." The brothers channeled that wit into objects that could bring some joy to everyday life. For instance, their 1962 Arco floor lamp, a mid-century modern classic, has a long stainless-steel stem angling off a Carrara marble base like a streetlight, offering the elevation of an overhead light without needing to drill into the ceiling. Their 1965 RR 126 stereo cabinet also instilled some spirit in its functionality, bearing an animal-like face with radio-control dials for eyes and speakers for ears. Each of these pieces displayed a timeless ingenuity for experimentation in design.
Designed for Italian lighting manufacturer FLOS as a table lamp, the Snoopy lamp, in its simplicity, manages to be both lighthearted and sophisticated as it updates the humble banker's lamp. The large enamel reflector — which suggests the long nose of a beagle and features three cooling holes that recall the grip on a bowling ball — is balanced on a sculptural base made from fine Carrara marble topped with a thick glass disk.
About 40 years after its debut, a new version of the Snoopy lamp was introduced by FLOS in 2003, a year after Achille Castiglioni's death at the age of 84 following a prolific design career. This revamp guarded the enduring design of the original — now preserved by the Achille Castiglioni Foundation — while adding updated lighting technology, such as replacing the original knob with a touch-sensor dimmer. In addition to the classic black, it was made available in other colors over the years. The cherished original design is in the Museum of Modern Art's permanent collection.
FLOS Snoopy Table Lamp in Green by Achille & Pier Giacomo Castiglioni
By
Achille & Pier Giacomo Castiglioni
,
Flos
Located in New York, NY
The masterful table lamp by Achille and Pier Giacomo Castiglioni gets a dazzling makeover. Collectors now have a new reason to cherish the Snoopy table lamp by Achille and Pier Gi...
Category
21st Century and Contemporary Italian Modern Table Lamps
Achille & Pier Giacomo Castiglioni 'Snoopy' FLOS Marble Table Lamp
By
Achille & Pier Giacomo Castiglioni
,
Achille Castiglioni
,
Flos
,
Pier Giacomo Castiglioni
Located in Madrid, ES
Snoopy table lamp from Flos, model originally designed in 1967 by Achille & Pier Giacomo Castiglioni, lamp base in white marble, shade in lacquered black metal and clear glass. Touch...
Category
Mid-20th Century Italian Modern Table Lamps
FLOS Snoopy Table Lamp in Black by Achille & Pier Giacomo Castiglioni
By
Flos
,
Achille & Pier Giacomo Castiglioni
Located in New York, NY
Category
21st Century and Contemporary Italian Modern
More Achille & Pier Giacomo Castiglioni Designs