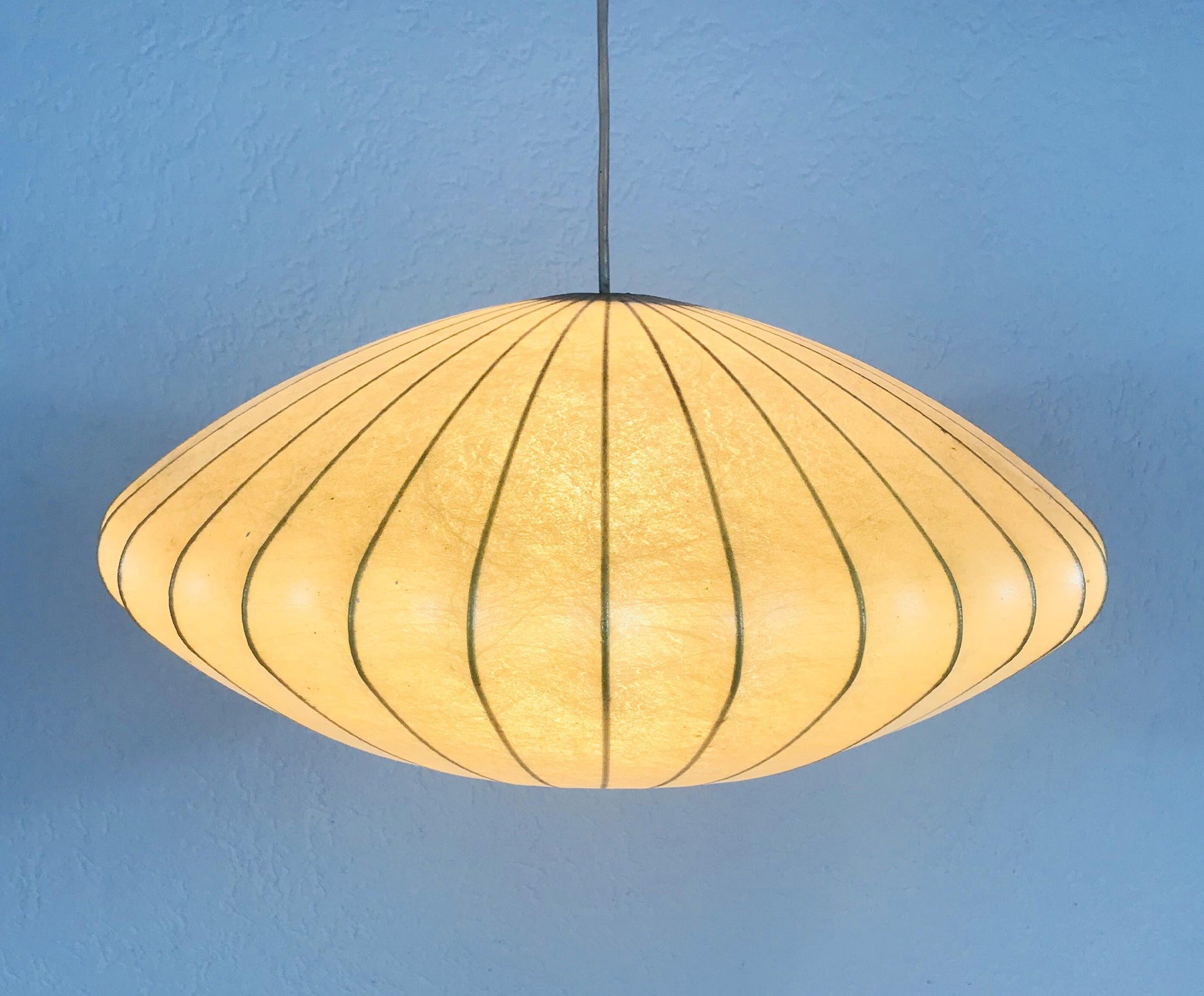 Iconic Designs
Nelson Saucer Bubble Pendant
About the Design
The Nelson Saucer Bubble Pendant ceiling lamp's design began with quite a relatable quandary. While redesigning his office at Herman Miller, George Nelson (1908–86), the American architect, writer and furniture maker who served as design director from 1945–72, found a lamp he loved. It was a Swedish design, covered in silk, and, at $125, it was very expensive. So what's cheaper and more readily available than silk? Plastic.
After reading about a method for protecting the decks of docked ships from moths, which involved spraying a self-webbing plastic onto nets, Nelson had one of his "zaps" — the term he used to describe his moments of creative inspiration. The inventive architect decided to merge that moth-preventing technique with the style of the Swedish lamp he coveted. He designed a frame of steel wire, then sprayed it with plastic to create a smooth and translucent shell. The result differed little from his original inspiration. "When you put a light in it, it glowed, and it did not cost $125," Nelson said of his 1952 Bubble lamp line and UFO-shaped Saucer Bubble Pendant. 
For Nelson, whose talents spanned a number of areas, the saucer's distinctive glow held special, holistic value. Not only did it result in an intriguing form for the lamp itself, but it also cast a flattering light on the space it occupied as well as on the furniture inside it. 
Writing in Everyday Art Quarterly in 1952, Nelson credited his associate William C. Renwick for the design — originally produced for the Howard Miller Company, once a division of Herman Miller — as well as "its successful outcome." Today, the Nelson Saucer Bubble Pendant lamp is manufactured by Herman Miller.
George Nelson Pair of Lucite /Polished Aluminum Nimbus Pendants Nessen Studio
By Nessen Studio, George Nelson
Located in Miami, FL
Space Age modern pair of model NS808 nimbus or beehive pendants for Nessen Studio. Designed by Farid Iskander for George Nelson and Associates in 1969 and looking more like UFOs, the...
Category
Vintage 1960s American Mid-Century Modern Chandeliers and Pendants
The Nelson Bubble Lamp Series
More George Nelson Designs