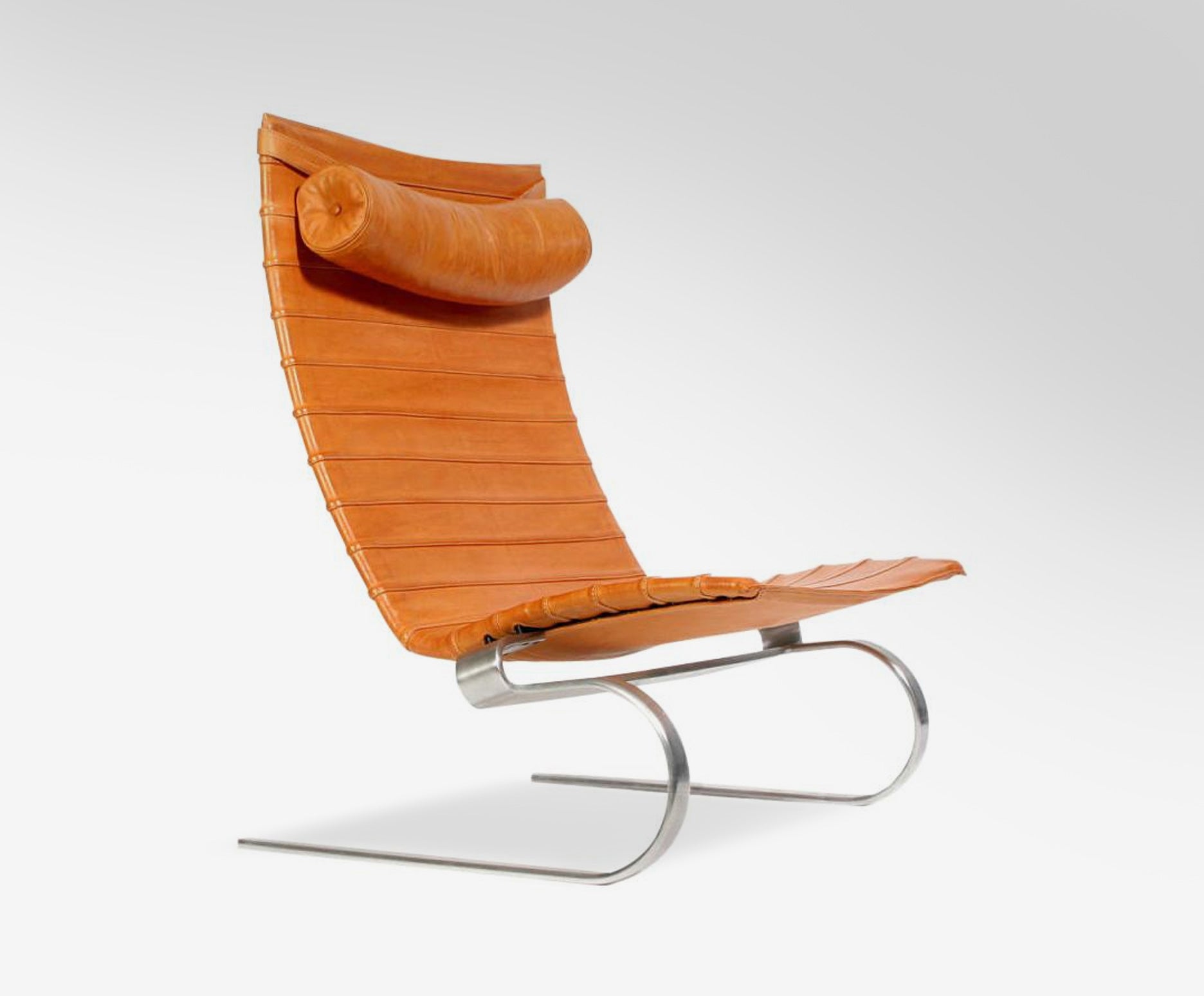 About the Design
The PK20 is everything a lounge chair should be: It is as comfortable as it is stylish, and its sleek form renders it a versatile addition to almost any room. The chair's gently curved, high-back leather-covered seat rests on a flexible, matte chromed spring steel frame. Designed by Danish furniture maker Poul Kjærholm (1929–80) for E. Kold Christensen in 1968, the PK20's clean lines represent the ideals of minimalist modern furniture, while its adjustable headrest and scoop seat plainly signal that this piece was built for comfort.
Although the Østervrå-born Kjærholm was trained as a cabinetmaker, he admired the enduring nature of metal and enjoyed working with lightweight steel over the traditional woods that his peers preferred. Indeed, Kjærholm's acclaimed designs are distinct from those of his Danish contemporaries such as Hans Wegner. He lauded steel for its "constructive potential" and recognized its "artistic merit," while a rich balance emerged in his furniture's modest melds of the alloy and natural materials like halyard rope or wicker. Similar to his well-known PK22 chair, the exposed metalwork of Kjærholm's sculptural PK20 is tempered by the inviting organic warmth of the seat's leather upholstery. 
For decades, Kjærholm designed numerous celebrated chairs, tables and more, and Danish manufacturer Fritz Hansen acquired the rights to the complete collection of his work in 2014. A milestone of material innovation in modern Danish furniture design, the PK20 lounge chair is part of the permanent collection at London's Victoria and Albert Museum and is available today in leather upholstery as well as in a pale gold wicker version.