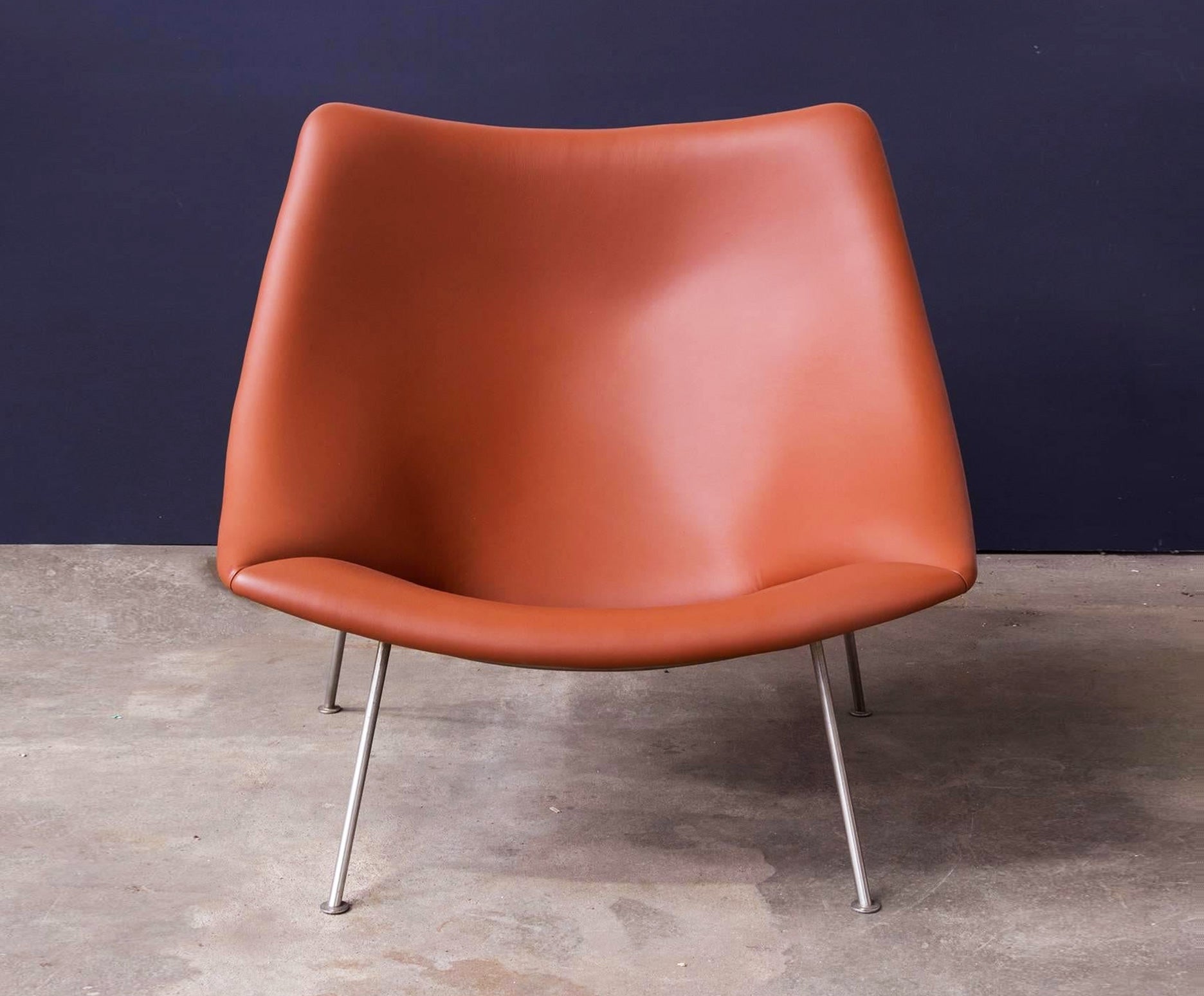 Iconic Designs
Oyster Chair
About the Design
The oblong, concave wood seating shell of the Oyster lounge chair, with its soft, form-fitting foam padding and bright fabric upholstery, rests ever so delicately in its minimalist metal underframe. Named for the freshly shucked mollusk its sculptural form resembles, the seductive seat is the work of Pierre Paulin (1927–2009). The revered French designer is perhaps best known for punchy foam chairs, each designed in conjunction with Dutch furniture manufacturer Artifort. Indeed, Paulin's sensuous, Pop Art–colored hits include the Tongue chair, the Mushroom chair and more — and the Oyster chair, of course, fits well within this group.
As a designer, Paulin had rather humble beginnings. Meeting the academic requirements necessary to pursue school at the university level proved too much for him, so he traveled from his hometown of Paris to the French Riviera. Paulin studied ceramics in Vallaurius (where Pablo Picasso once trained) and then stone carving in Burgundy. After he injured his arm and thus ended his intended career as a sculptor, he returned to Paris and enrolled at the École Comando, where he studied design. This led him to a job with renowned designer Marcel Gascoin in Le Havre. Paulin's debut exhibition was at the Salon des Arts Ménagers in Paris in 1953, after which he secured work with furniture maker Thonet-France, where Paulin became fascinated with the idea of reinventing conventional chairs. 
At Thonet, Paulin began pulling swimwear over chair frames to create comfortable, stretchy seat coverings — it was the start of what would become his bold signature style, which matured fully during his tenure at Artifort in Maastricht, the Netherlands. Using newly available materials from special foams to stretchy, rubbery fabrics, he collaborated with the manufacturing company on numerous chairs throughout the 1960s, a decade rife with sunken living rooms to design with expressive, stylish seating. 
While Paulin worked on other projects such as interiors, he is best known for his celebrated chairs. For the Oyster chair in 1960, he crafted a cocoon-like seat that would swaddle its occupant, pairing it with a matching ottoman. It was this chair and its brethren that would inspire numerous designers, including French industrial designer Olivier Mourgue, who created the Djinn chairs used in the Stanley Kubrick film 2001: A Space Odyssey. While the Oyster chair was discontinued by Artifort in 1979, it was brought back into production by popular demand 20 years later.
Pierre Paulin Oyster Chair
More Pierre Paulin Designs