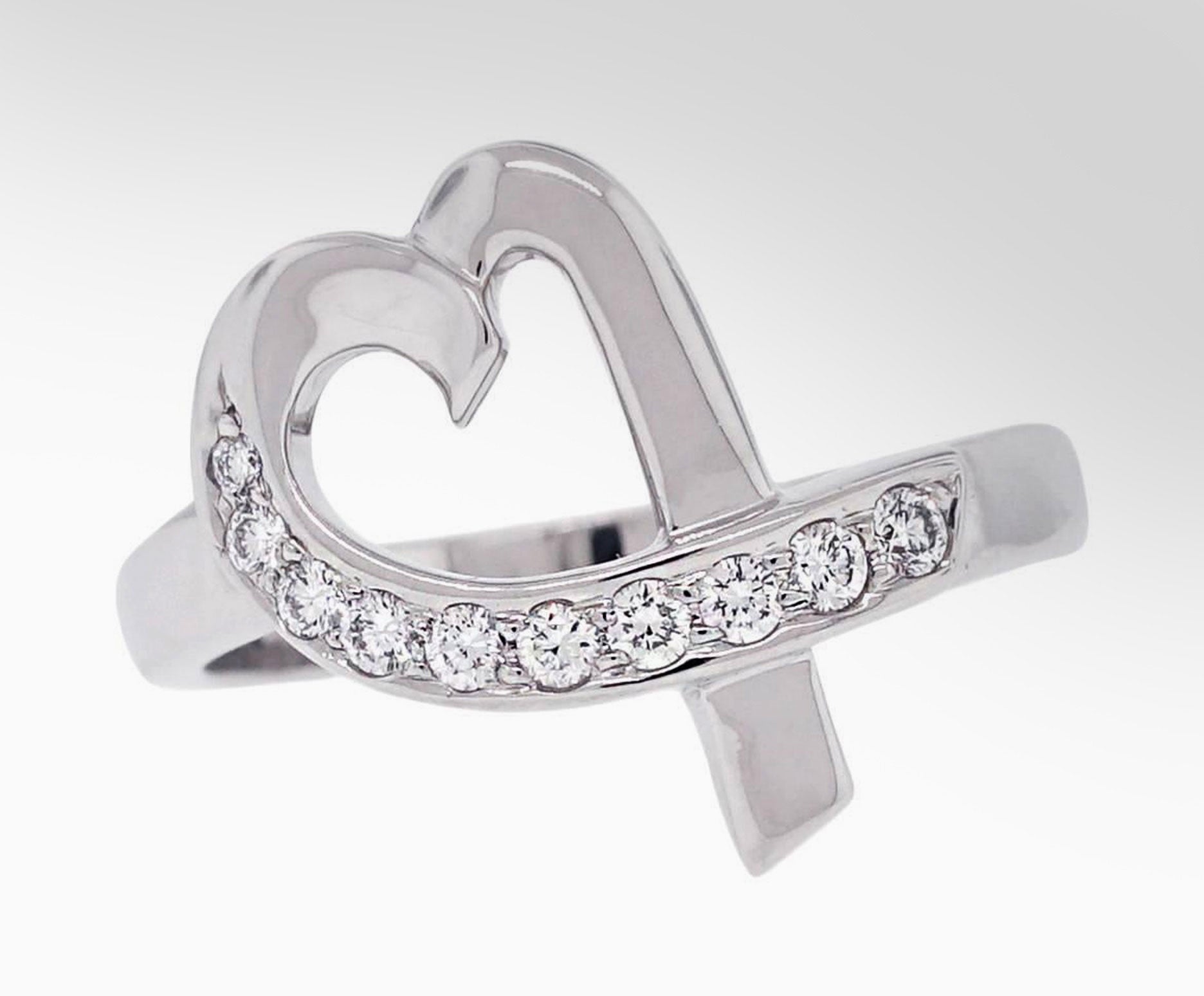 Iconic Designs
Loving Heart Ring
About the Design
The Loving Heart ring, designed for luxury jewelry house Tiffany & Co. by Paloma Picasso (b. 1949), is quintessentially '80s — that is, it blurs the line between kitsch and highbrow with a comely integration of doodle-like hearts and scribbled text.
Picasso is the daughter of artists Pablo Picasso and Françoise Gilot, so creativity was in her blood from birth. She liked to draw as a child, and as a teen and then as a young adult, she worked as a costume designer in Paris, garnering acclaim for her accessories in the buzzy French fashion world. Picasso formally studied jewelry-making in the city and found immediate success, with her friend and fashion designer Yves Saint-Laurent commissioning her to design special pieces to accompany his collections in his runway shows.
Picasso would go on to design for Tiffany & Co. in New York City in 1980. Her inaugural work was audacious and fitted with semiprecious stones, but an expressive collection called Graffiti followed in 1983, earning high praise for its unconventional aesthetic and source of inspiration.
"In the '70s, people were starting to tag subways and walls, which had everyone outraged," said Picasso. "I wanted to look at graffiti differently and try to make something positive out of it." The collection of rings, bracelets, necklaces and more features words such as "love," "rock" and "roll" and "oui" written in the designer's own handwriting, plus other drawn iconographic art like hashtags, arrows and hearts.
The Graffiti collection, indebted to Keith Haring's bold Pop art as well as the bubble-lettered tags that adorned New York City subway cars decades ago, very clearly influenced Picasso's Loving Heart ring, which also has a graphic quality.
The classic Loving Heart ring is an open ring that pairs Picasso's own handwriting — just as the Graffiti pieces do — with a universal symbol. Elegantly swirling cursive letters, mimicking the myriad folds of ribbon candy as much as they do street art, spell out the word "love" on one end of the band, while the other end assumes the form of a doodled heart icon. Picasso has continued to design for Tiffany & Co., and her jewelry now resides in the collections of the Smithsonian Institution's National Museum of Natural History and the Field Museum of Natural History in Chicago. The Loving Heart ring is part of a series that includes other rings encrusted with diamonds and more, and today it is available in 18-karat rose gold or sterling silver.
The Paloma Picasso Collection