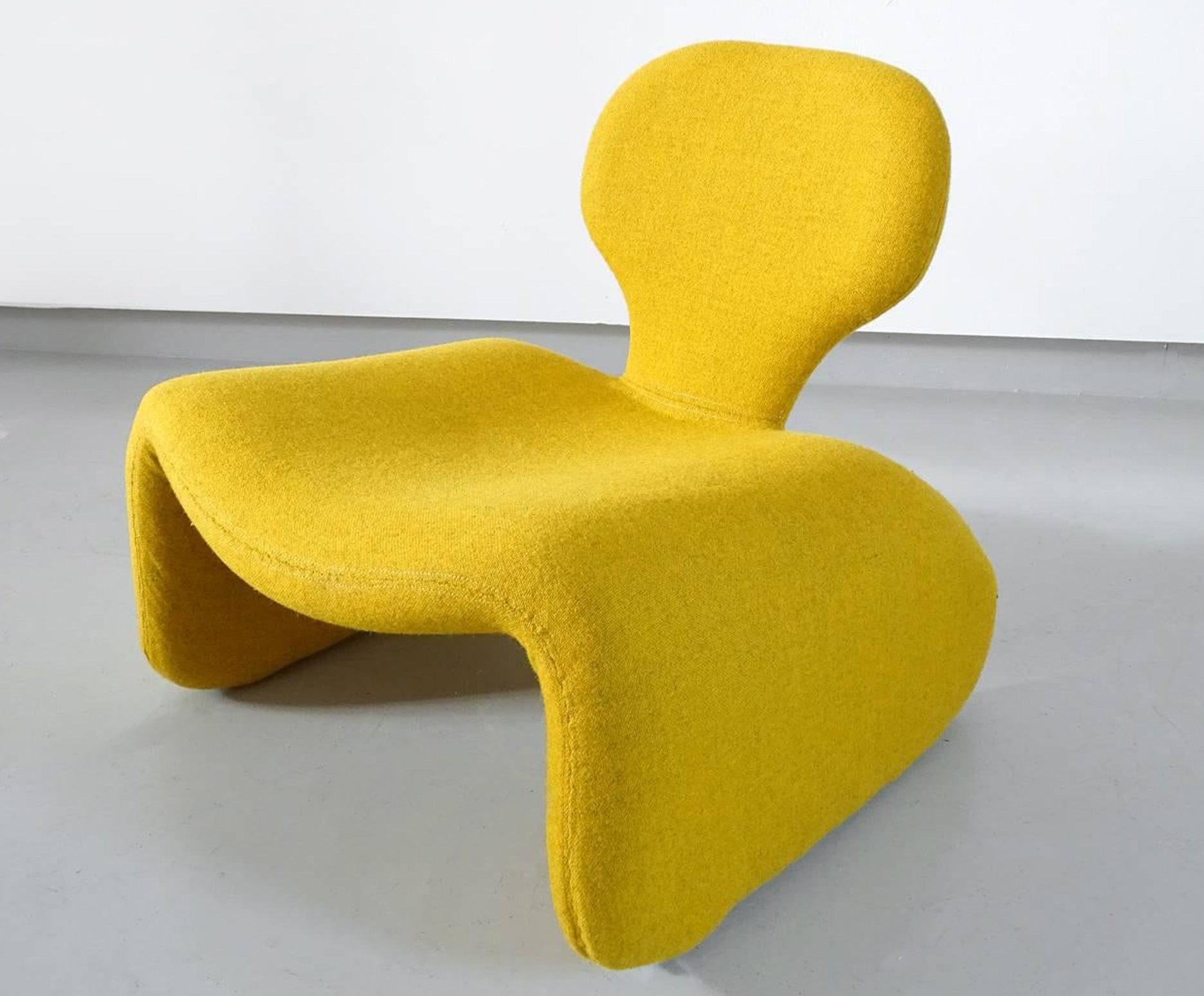 Iconic Designs
Djinn Chair
About the Design
The Djinn chair appeared so futuristic when it debuted in 1964 that red versions were used as space station seating in Stanley Kubrick's 1968 film 2001: A Space Odyssey. Created by French designer Olivier Mourgue (b. 1939), the low-slung lounge chair — named for the shapeshifting djinn, or spirits, that appear in the Koran — has an undulating seat that appears as if it were folded from a single piece of material. The illusion is an effect of its assembly, which sees curved tubular steel covered with urethane foam and jersey fabric. Despite its imposing presence, the chair is lightweight. 
"The good object is very movable and displaceable; inventions and creations are light," Mourgue wrote in an essay for the Philadelphia Museum of Art's 1983 exhibition "Design Since 1945." "It was in this spirit that I constructed my 'Djinn' seats."
Not long after the Djinn chair made its debut, most designers would use plastic instead of metal frames to build similarly flowing forms; Mourgue in the 1960s was pushing the structural limits of available materials. Released by the French manufacturer Airborne International, the chair was part of a Djinn series that included an equally sculptural chaise longue and footstool.
The chairs came in bold variations such as red, yellow, blue and green, with the idea that the jersey could be zipped off and changed seasonally or to meet shifting tastes. Because the material and foam tend to deteriorate over time, vintage versions are likely to require restoration. Mourgue said in 1965 that "things should have a short life," yet in more than 50 years since its debut, his Djinn chair remains a popular vision of a space-age future.
Olivier Mourgue Djinn Chair
Pair of Djinn Chairs in Off-White Mohair
By Olivier Mourgue
Located in London, GB
Fully restored Djinn chairs designed by French designer Olivier Mourgue for Airborne, France, circa 1965. And reupholstered in an off-white stretch 100% wool mohair These chair...
Category
Vintage 1960s European Mid-Century Modern Chairs
"Djinn" Chair, Designed by Olivier Mourgue, France, circa 1970
By Olivier Mourgue
Located in London, London
The Djinn chair is an important design of the Modernist style, created by French designer Olivier Mourgue. Originally called the "Low fireside chair", it is also commonly referred to...
Category
20th Century French Chairs
Olivier Mourgue "Djinn Settee" for Airborne, Reupholstery Needed
By Olivier Mourgue
Located in Berlin, DE
Olivier Mourgue "Djinn Settee" rare settee variation with armrests. Of wool upholstery over foam and internal steel frame. Manufactured by Airborne International in France, 1965. The...
Category
Vintage 1960s French Mid-Century Modern Settees