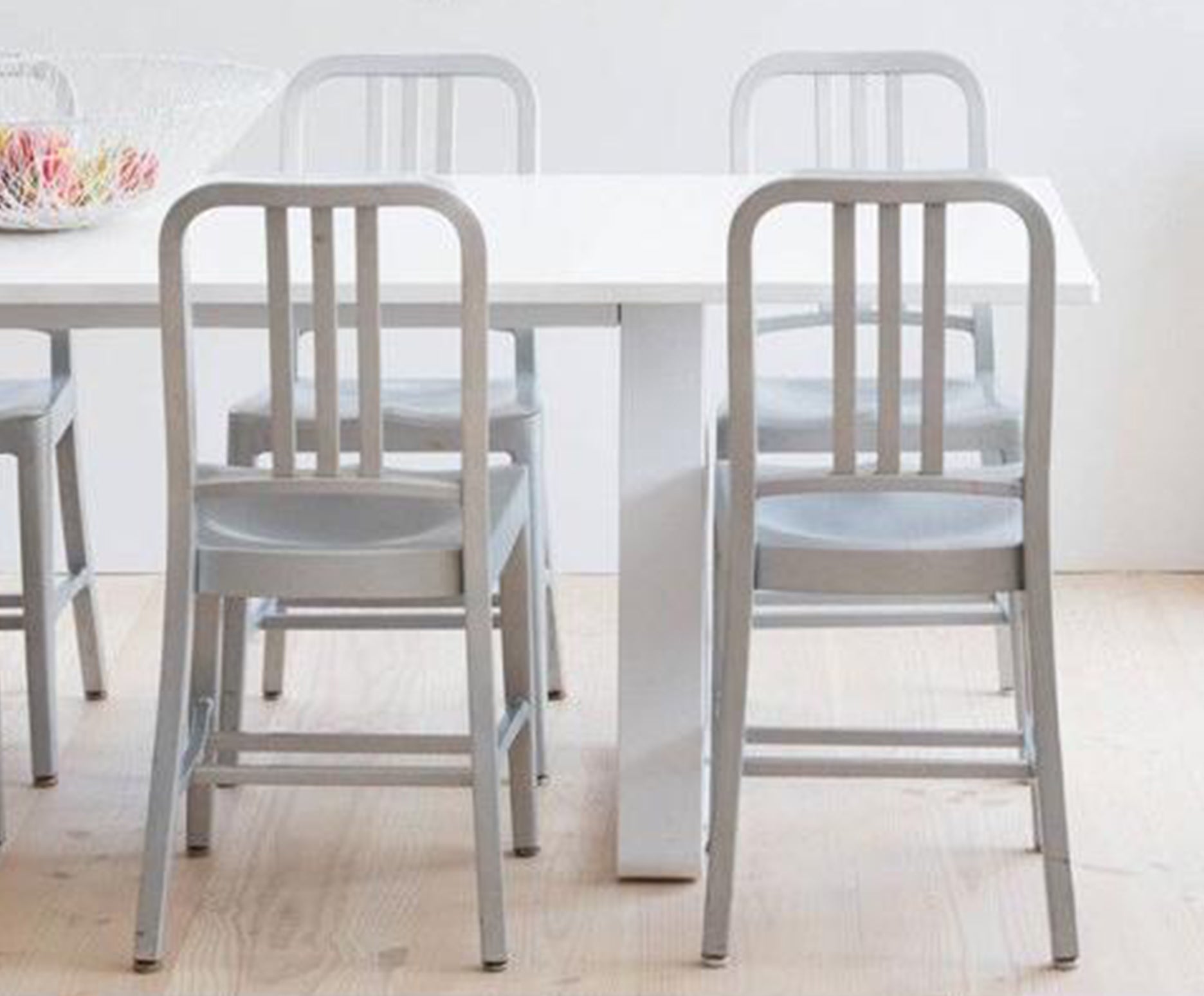 About the Design
One of the world's most recognizable chairs was originally designed by an engineer to be lightweight, fireproof, waterproof and strong enough to withstand a torpedo blast. If this sounds like the description of an industrial object and not furniture, it's because that's what the chair was meant to be. That engineer was Wilton C. Dinges (1916–74), and in 1944, in conjunction with experts from the Aluminum Company of America, he built a chair made of aluminum in response to the U.S. Navy's call for seaworthy seating, suitable for use on battleships as well as submarines during World War II. This innovation is what we now know as the Navy chair.
To prove to the Navy that his chair was indestructible, Dinges threw it from the eighth floor of a hotel in Chicago. The chair bounced but did not break or bend. He secured the contract to manufacture the piece at the Electrical Machine and Equipment Company, Emeco, the company he founded in 1940, in Hanover, Pennsylvania. Since 1944, hundreds of thousands of these chairs, known as Emeco 1006, or, simply, the Navy chair, have been produced by Emeco for use on battleships, aircraft carriers and submarines.
The Navy chair was meant to be utilitarian and functional, but it is undeniably beautiful as well. The chair's aluminum silver body and spare design are pleasing, but the three vertical back slats and distinct curved indents that characterize its seat are the piece's most recognizable features. Using soft recycled aluminum that requires a 77-step process to convert it into a material that is three times stronger than steel, the chair is also completely handmade by Emeco's team of seasoned craftsmen. The furniture manufacturer has always been focused on sustainability and creating "things that last." To that end, a single Navy chair is tested to last 150 years. 
In 1979, California businessman Jay Buchbinder purchased Emeco. In the 1990s, as the company struggled financially, Buchbinder's son Gregg noticed that influential tastemakers like Giorgio Armani and hotelier Ian Schrager had been buying the Navy chair. Emeco's legendary piece had appeared in Schrager's Paramount Hotel in New York City, thanks to architect and designer Philippe Starck. Buchbinder targeted this untapped, high-end market, and his efforts helped turn the company's fortunes around. 
The Navy chair has since found a home in a variety of spaces, from fine-dining restaurants to art galleries. Accordingly, it has also spawned countless knockoffs. The best way to identify an original? Look for a lightweight aluminum chair with three vertical back slats that could survive a fall from an eighth-story window.