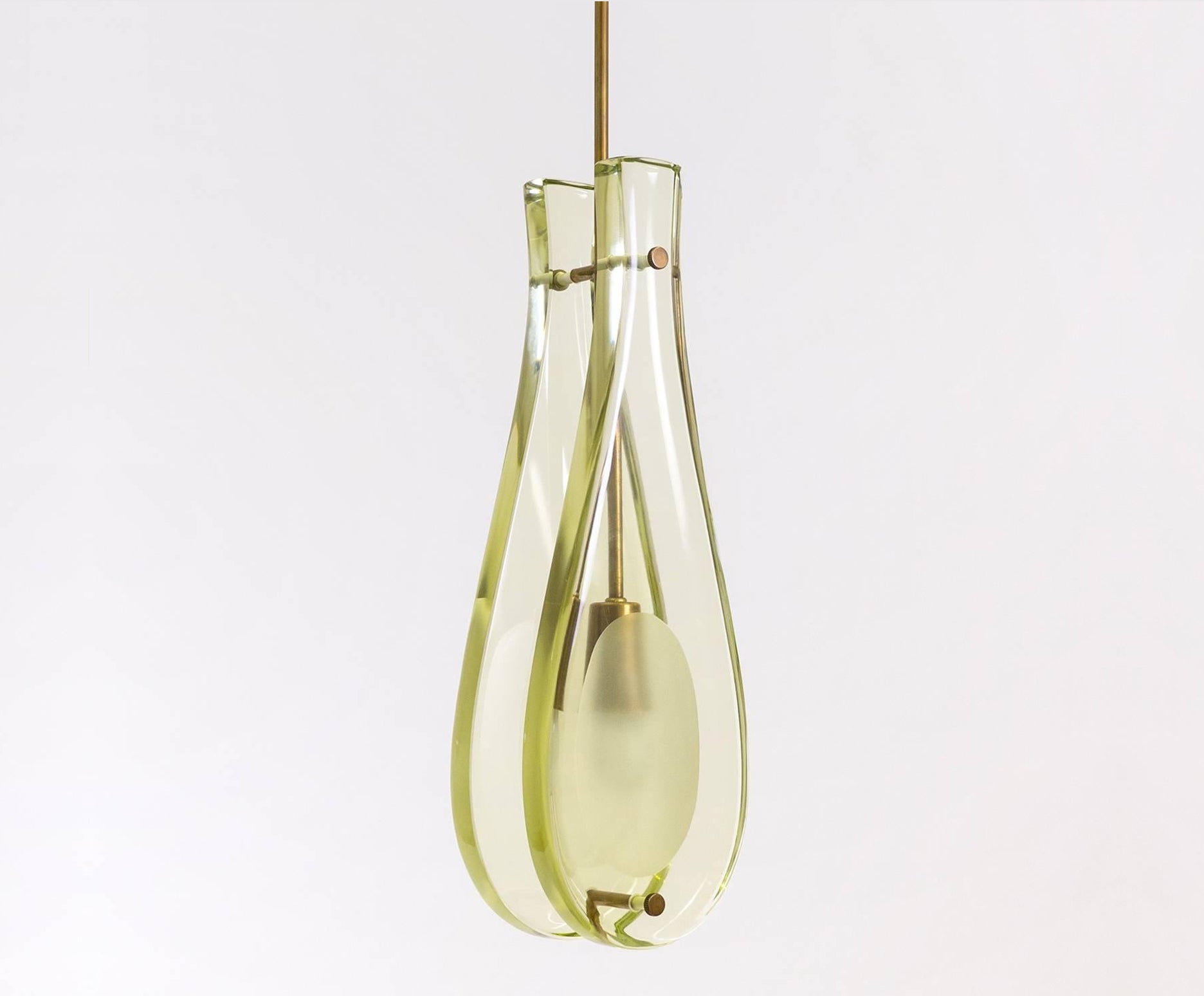 Iconic Designs
Glass Drop Pendant Model 2259
About the Design
Combat operations during World War II destroyed the stained-glass windows of churches around France. Max Ingrand (1908–69), a French designer who spent time as a POW, would become a leader in their restoration and, in turn, bring his expressive vision to some of the most inventive postwar glass objects, including the striking 1962 Glass Drop Pendant model 2259.
Born in Bressuire, Ingrand spent some of his childhood in Chartres, where he was drawn to the medieval stained glass in the city's famed cathedral. He later studied at the École nationale supérieure des beaux-arts and École nationale supérieure des arts décoratifs in Paris, training with stained-glass artist Jacques Grüber and architect Charles Lemaresquier. Inspired by the Middle Ages, Ingrand used modern materials to evoke the past while crafting fresh designs in bright colors that would stand the test of time. As his contemporaries were shifting toward abstraction, Ingrand drew on figurative traditions and new geometric forms in his dynamic windows.
World War II interrupted Ingrand's burgeoning career. Drafted into service, he was captured by the Germans and held in a prison camp. During this captivity, he met Ivan Peychès, who would go on to direct the glass manufacturer Saint-Gobain. After the war, Peychès hired Ingrand to replace and restore church windows damaged as a result of military operations. Ingrand's success led to international work in churches, hotels and other buildings.
From 1954 to 1967, Ingrand was the artistic director of Fontana Arte — founded in the 19th century by Luigi Fontana in Milan — of which Saint-Gobain was a parent company. There, he focused on a more domestic scale and brought the historic Italian glass company into the industrial age.
Ingrand's Glass Drop Pendant model 2259 — also known as the Drop Ceiling Light — features two thick slices of teardrop-shaped glass, each with a small area of frosting to diffuse the illumination from the interior bulb. The heaviness of the glass is countered by two brass pins, which elegantly connect the pieces. While he innovated with industrial production at Fontana Arte, Ingrand's attention to craft is prominent in his popular designs, such as the Fontana table lamp. Fontana Arte continues to produce and update his designs today, adding advancements such as LED lighting. As with his stained-glass windows, he viewed these objects in relation to space. For Ingrand, light was "a means to breathe life into an entire architecture."
Max Ingrand Glass Drop Pendant Model 2259
Lamp Crystal Brass Italy 1960s Max Ingrand Fontana Arte
By Max Ingrand, Fontana Arte
Located in Milano, IT
Ceiling lamp, brass frame, moulded and cut crystals with a glazed part.
Category
Vintage 1960s Italian Mid-Century Modern Chandeliers and Pendants
Max Ingrand Pendant, 1960s
By Max Ingrand, Fontana Arte
Located in Vienna, AT
Classic Max Ingrand drop-shaped pendant model 2259 for Fontana Arte, 1960s. Thick partially frosted glass on Minimalist patinated brass hardware. One brass E14 socket with new wiring...
Category
Vintage 1960s Italian Mid-Century Modern Chandeliers and Pendants
Max Ingrand "Glass Drop" Chandelier, Model 2259, Italy, 1960s
By Max Ingrand
Located in Greding, DE
Ceiling lamp made of two thick Murnao glass panes in drop form, assembled to a whole drop by two brass pins. Shown in Roberto Aloi, L'Arredamento Moderno, Modern Furnishing, Milan, 1...
Category
Vintage 1960s Italian Mid-Century Modern Chandeliers and Pendants