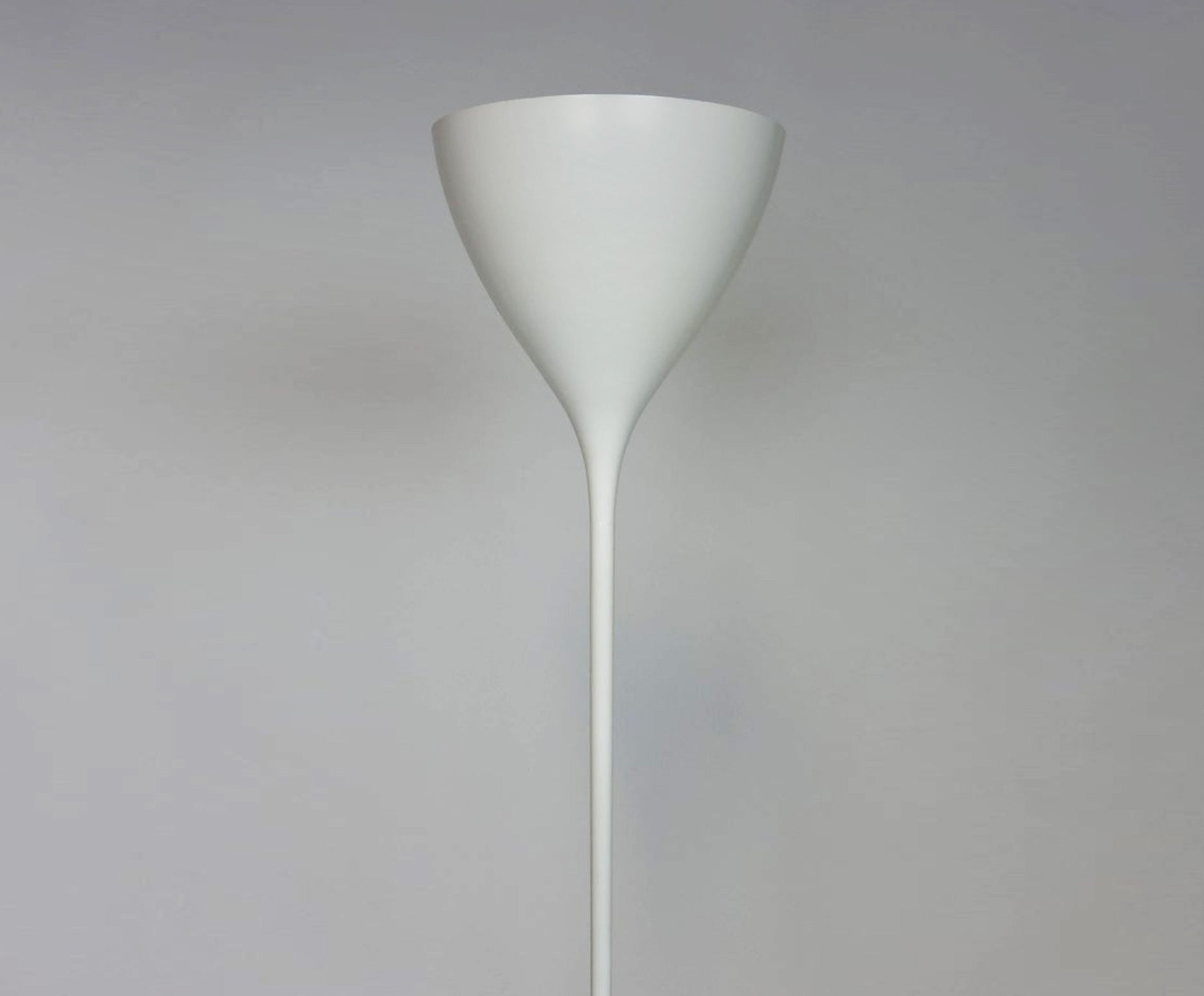 Iconic Designs
Tulip Floor Lamp
About the Design
There's a good reason that the revered Tulip floor lamp by Max Bill (1908–94) looks at once sculptural, painterly and graphic: The Swiss artist behind the elegant fixture was something of a multi-hyphenate talent. Bill was a major proponent of modernist design in Europe and a sculptor whose work has been the subject of exhibitions at the Los Angeles County Museum of Art and the Guggenheim. He also worked as an architect, painter, typeface designer and writer. Product design was just one of many things that Bill did well.
Bill created the Tulip lamp for Swiss manufacturer BAG Turgi, a renowned producer of fine lighting from the 1940s to the 1960s, when the Tulip made its debut. The fixture, which is no longer in production, is a modern and graceful interpretation of a classic torchière,an upright style of floor lamp shaped like a torch. Rendered in white, Bill's design — in which the base and lamp are a single continuous piece of enameled metal — takes on an ethereal glow when lit. When it's turned off, the lamp becomes a subtle piece of sculpture.
Bill designed the Tulip lamp after he had concluded his tenure at the Ulm School of Design, an industrial design institution where he was a cofounder, architect and the school's first rector. Inspired by the Bauhaus — where Bill studied under Wassily Kandinsky and Paul Klee in Dessau — Ulm's founders aimed to further the progressive spirit in postwar Germany through an integration of artistic and scientific practices. With its sculptural form and skillfully concealed mechanical components, the Tulip floor lamp is an apt symbol of such juxtaposition. 
Max Bill Tulip Floor Lamp
Mid-Century Modern White Ball Floor Lamp by Max Bill for Temde, Switzerland
By Temde Leuchten, Max Bill
Located in Philadelphia, PA
A vintage 1960s tulip base floor lamp designed by Max Bill and manufactured by Temde in Switzerland. Very unique looking design. The lamp has been newly rewired and lacquered. Ready ...
Category
Vintage 1960s Swiss Mid-Century Modern Floor Lamps