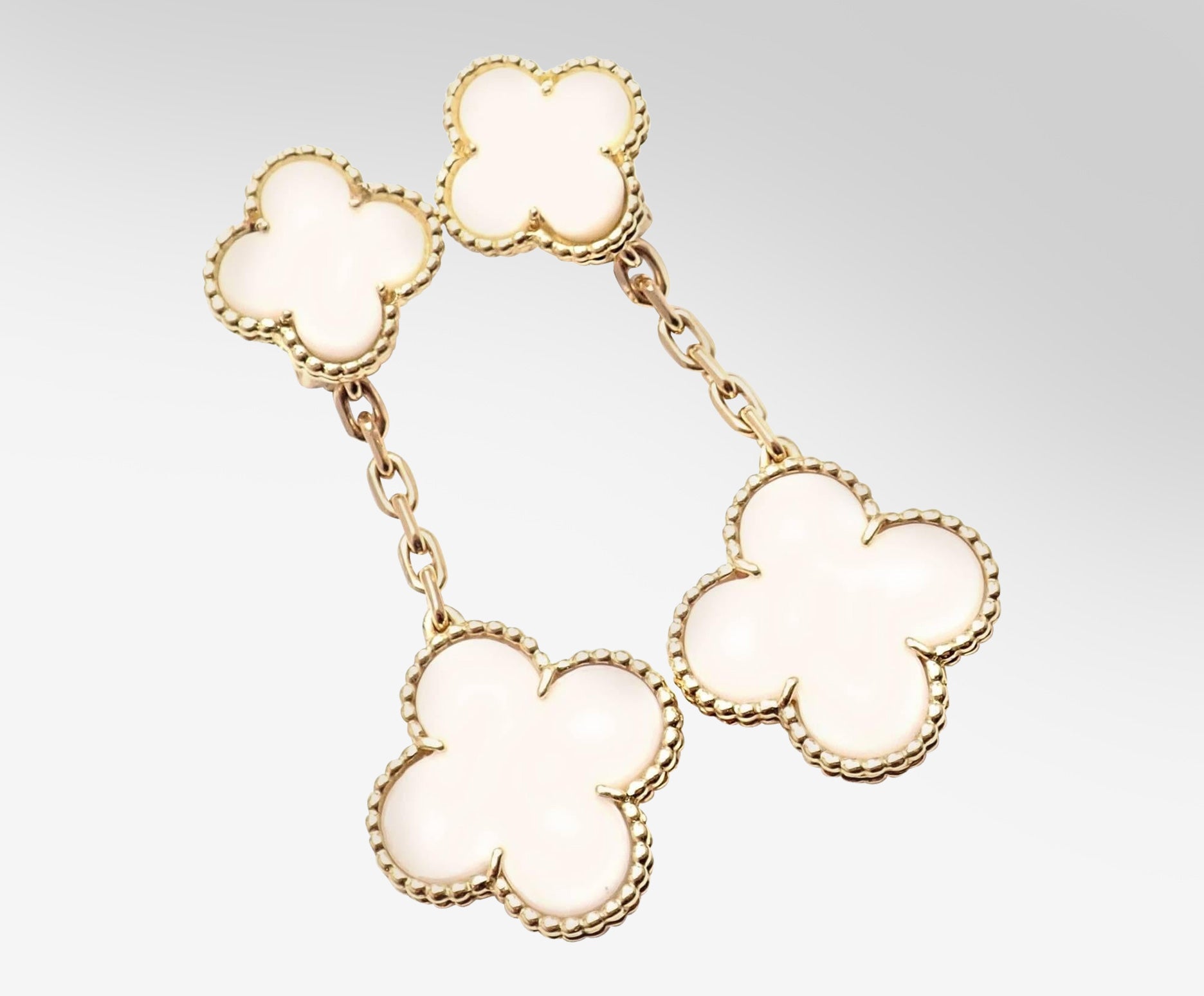 Iconic Designs
Magic Alhambra Earrings
About the Design
Suspended from the Magic Alhambra earrings are symmetric shapes in the motif that, since it was introduced in 1968, have become the signature design of Van Cleef & Arpels. The first Alhambra piece was a necklace — a long yellow-gold chain with 20 creased gold motifs, the border of each dotted with golden beads, all appearing as if a four-leaf clover had been touched by King Midas.
In 1895, Estelle Arpels, whose family was in the precious-stones business, married a stonecutter's son named Alfred Van Cleef, and their union led to the founding of the maison of Van Cleef & Arpels in 1906. It was Estelle's nephew Jacques Arpels (1914–2008) whose vision guided the creation of the Alhambra motif. Arpels enjoyed seeking out the rare four-leaf clovers growing in the garden of his home in Germigny-l'Évêque. He envisioned the Alhambra motif as a symbol of harmony and good fortune, its form inspired by both the clover and the quatrefoils of Moorish architecture. The design proved perfect for the "La Boutique" collection Van Cleef & Arpels had launched in 1954. Opened at its 22 Place Vendôme flagship in Paris, La Boutique offered more accessible pieces aimed at younger customers who wanted jewelry for everyday wear. Later, stemming from this innovative collection, Alhambra was the biggest hit.
The Alhambra motif, with its name evoking the Moorish palace in Granada, Spain, resonated with a 1960s-era exoticism for styles derived from the Middle East. The talisman of good luck quickly became a popular design, worn with bohemian flair by fashion icons like Princess Grace of Monaco, Elizabeth Taylor and Françoise Hardy. Along with the Magic Alhambra necklace, Van Cleef & Arpels added earrings, rings and even watches that incorporate the emblem's curves. While a Van Cleef & Arpels aficionado would instantly recognize the motif in any iteration, the Alhambra designs are not showy in their branding and are easily paired with any outfit on any occasion.
The beauty of the Magic Alhambra design is in its refinement and its meticulous craftsmanship, from the selection of high-quality materials to the setting of the stones. For the Magic Alhambra earrings, there are numerous variations that include white gold paired with diamonds or yellow or rose gold paired with black onyx, malachite, mother-of-pearl and more. The Magic Alhambra earrings remain as sought after as the original necklace was in 1968. Van Cleef & Arpels continues to create pieces in the motif that respond to evolving tastes, and as the enthusiasm for Magic Alhambra jewelry grows, so too does the house's universal renown.
More Van Cleef & Arpels Designs