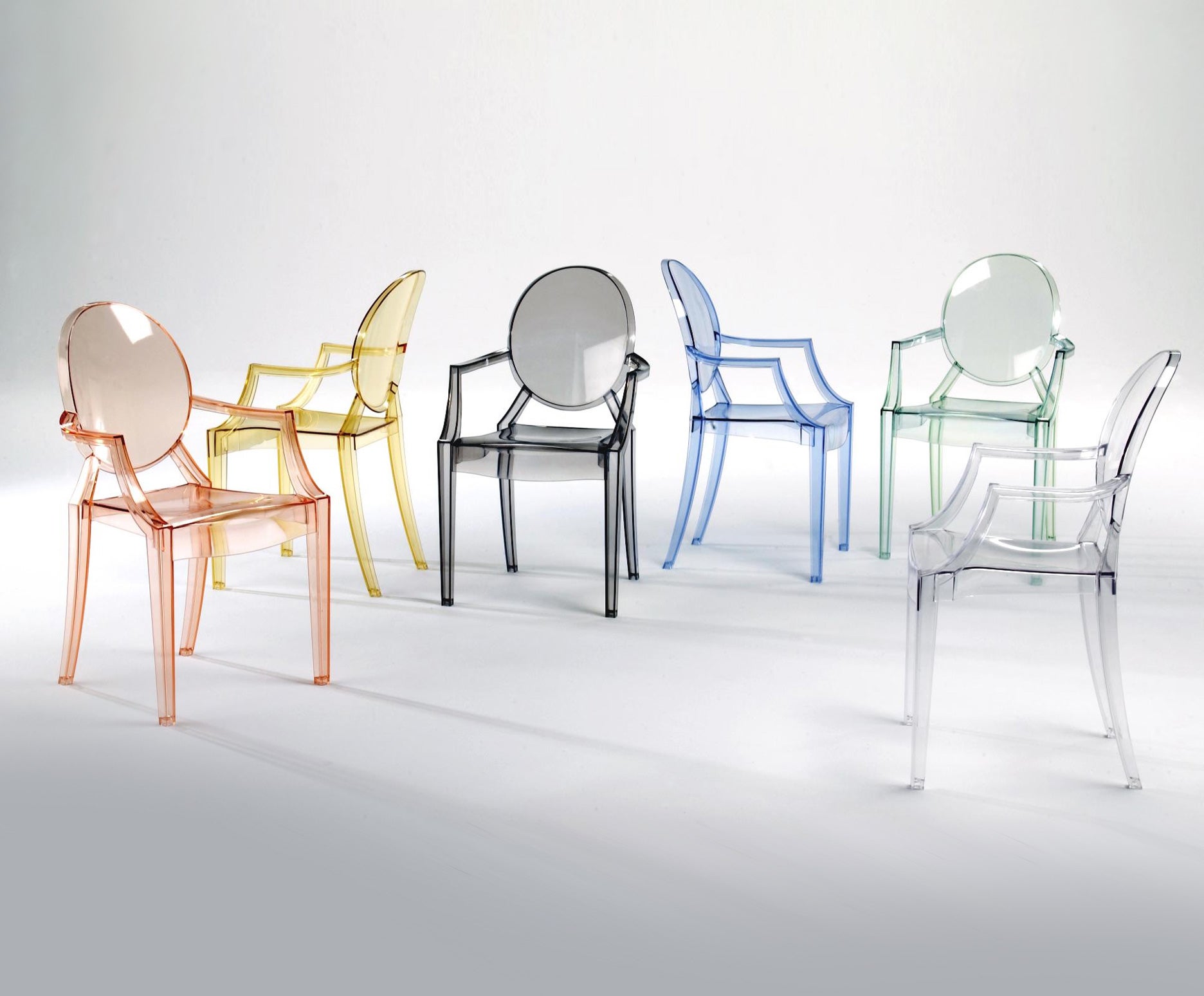 Iconic Designs
Louis Ghost Chair
About the Design
It's perhaps surprising that the Louis Ghost chair by Philippe Starck (b. 1949) has been around for less than two decades when you consider its impressive international stature. When Starck introduced the design for Kartell in 2002, it became an instant icon. Now it's easily one of the most recognized (and copied) designs in the world.
The prolific designer started his own company in 1968 and subsequently secured an art director role with fashion designer Pierre Cardin, for whom he designed furniture. In the 1970s, interior design projects for nightclubs and more led to his being commissioned to design the private quarters in the Élysée Palace of President François Mitterrand in 1982. Starck soon began to produce a wide range of housewares and furniture for manufacturers like Vitra, Alessi and Kartell. His collaborations with the latter are particularly notable for the company's innovative approach to utilizing plastic, which Starck has long championed as part of his philosophy of "democratic design" — high-quality products, accessible to many people at affordable prices.
The Louis Ghost chair is a postmodern take on the classic Louis XVI armchair, a style that emerged under the fraught reign of King Louis-Auguste and Queen Marie Antoinette. This style represents the birth of neoclassicism in France and was characterized by a relative restraint compared to the Rococo flourishes of previous eras. It was also called the goût grec ("Greek taste"). The second half of the chair's name refers to its materiality. It wasn't Starck's first plastic chair for Kartell (that would be the La Marie chair) but it was the first time that it was able to use a single polycarbonate plastic mold in the process, creating a structure completely free of joints. Formally, Starck distilled the geometry of his antique reference to its main elements: the oval-shaped backrest, curved armrests and straight legs.
The Louis Ghost chair's "ghostly" silhouette renders it a versatile fit for any environment, while its sturdy, weather-resistant body makes it a good option for outdoor spaces. The chair became so popular that it spawned a series of related designs, including the Victoria Ghost chair, the One More barstool and a counter stool. While the original — and arguably, most revered — version is clear, Kartell has since expanded its offerings to include a variety of soft translucent shades alongside two opaque options, black and white. It may be relatively young, but Starck's beloved Louis Ghost chair is here for the long haul.
More Philippe Starck Designs