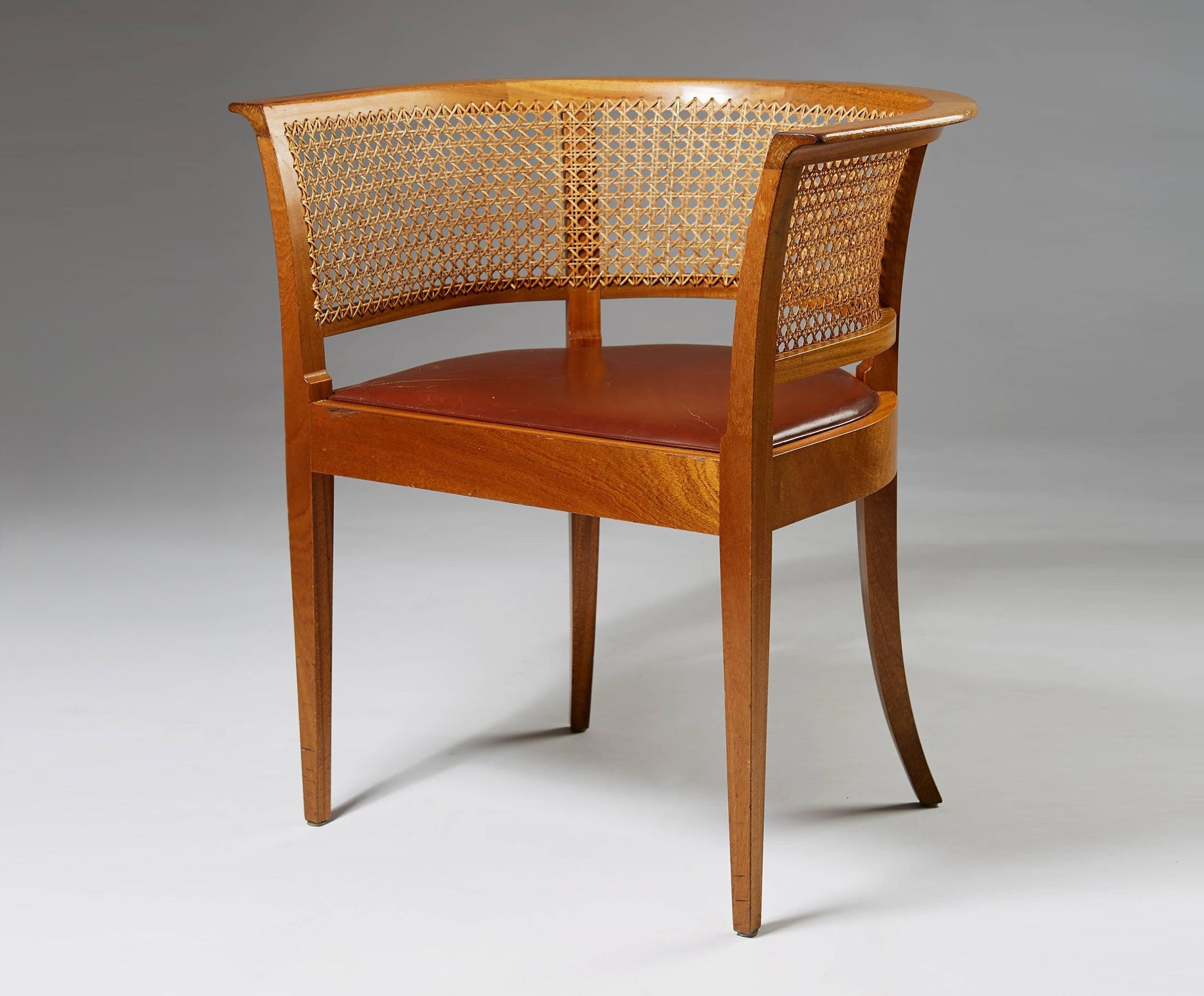 About the Design
A bridge between classical furniture and functionalism that ushered in Danish modern design, the 1915 Faaborg chair was the first major work by Kaare Klint (1888–1954). The chair, which was created for Denmark's Faaborg Museum, typified the marriage of practicality and form that would come to occupy Klint's modernist peers. The design combined old world materials and craftsmanship with a pared-down, simple approach. Klint was tasked with producing a light chair that could be moved around by museum visitors and placed in front of paintings. With the Faaborg, the Copenhagen-born designer did exactly that, and his striking work garnered immediate international recognition.
The son of prominent architect Peder Vilhelm Jensen-Klint, Kaare Klint apprenticed as an architect for his father but eventually turned to furniture, later working with cabinetmakers at his own design firm. A known perfectionist, Klint focused on the interrelationship between people and furniture. He was deeply invested in creating furniture that responded to the movements of the human body and applied a knowledge of mathematics to his work. As a professor at the Royal Danish Academy of Fine Arts beginning in the mid-1920s, Klint helped establish the Furniture and Spatial Design department at the school, and taught generations of students who would go on to significantly impact the field, among them Poul Kjaerholm, Ole Wanscher and others.
Klint's Faaborg chair was simple and rigorous, taking cues from Greek and Roman forms while dispensing with extraneous lines and detail. Originally manufactured by Rud. Rasmussen, it is currently produced by Carl Hansen. Wholly modern but openly reverent of an earlier era, this piece is portable and stable, with curved back legs and a round back borne out of Klint's distinctive mathematical problem-solving framework.
Kaare Klint Faaborg Chair
Kaare Klint, Rare Armchairs with Back Wood Panels, 1916
By Rud Rasmussen, Kaare Klint
Located in New York, NY
Kaare Klint (1888 Frederksberg, Copenhagen 1954) A very rare, early set of "Faaborg" armchairs, with wooden panel backs, four (4) available, designed in 1916, manufactured by Rud. Ra...
Category
20th Century Danish Scandinavian Modern Armchairs
Kaare Klint The Faaborg Chair of Mahogany
By Rud Rasmussen, Kaare Klint
Located in Copenhagen, DK
Kaare Klint "The Faaborg Chair". Armchairs with frame of mahogany. Sides and back with woven cane. Seat upholstered with black leather. Executed by Rud. Rasmussen Cabinetmakers, ...
Category
Mid-20th Century Danish Scandinavian Modern Armchairs
Materials
Leather, Mahogany
Faaborg Chair Designed by Kaare Klint for Rud. Rasmussen, Denmark, 1914
By Kaare Klint
Located in Stockholm, SE
Mahogany, cane and leather. This example made in the 1950s. Measure: H 73 cm/ 2' 5 1/4'' W 70 cm/2' 4'' D 54,5 cm/ 21 1/2'' SH 45 cm/ 17 3/4'' In the history of Danish ...
Category
Vintage 1910s Danish Scandinavian Modern Chairs
Materials
Leather, Cane, Mahogany