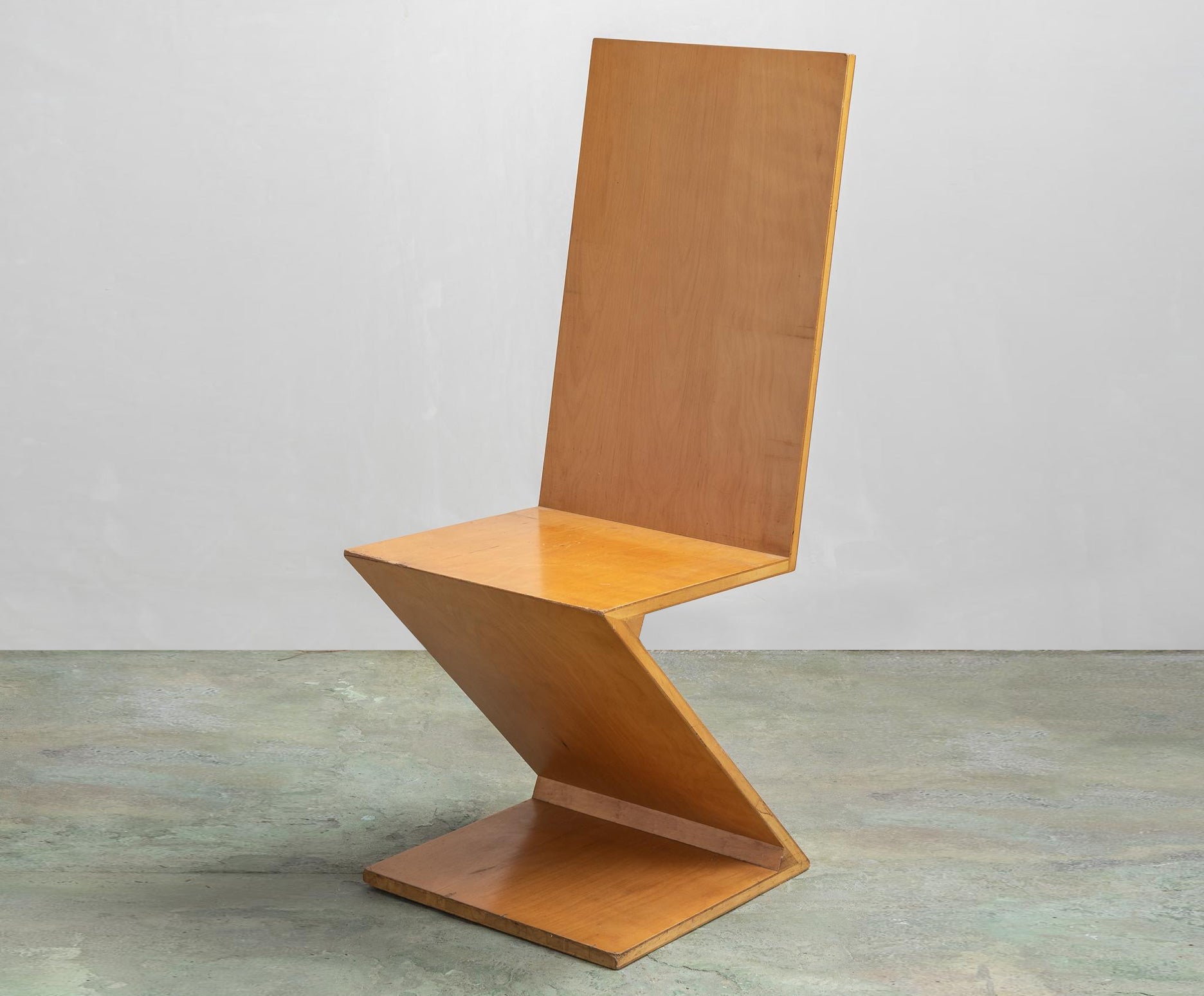 Iconic Designs
Zig-Zag Chair
About the Design
"It is not a chair but a designer joke," Gerrit Rietveld (1888–1964) famously said of the piece that would, ironically, become perhaps his most recognizable chair design. Introduced in 1934, the Zig-Zag chair was the result of Dutch department store Metz & Co having enlisted Rietveld to create a chair for mass production.
By this time, Rietveld had gained international acclaim for designs like his famous Red and Blue chair as well as the groundbreaking Rietveld Schröder House (1924) in his native Utrecht (now a UNESCO World Heritage Site), where he had brought to life many of the ideals of abstraction espoused in the De Stijl ("the Style") movement. By the late 1920s, though, the designer had largely abandoned De Stijl in favor of a new movement, Nieuwe Zakelijkheid, or "New Pragmatism," which aligned with other modernist movements for its emphasis on functionality and eschewing of ornamentation. Rietveld began experimenting with alternative, inexpensive materials like plywood and concrete. Metz & Co's request for a simple seat, then, would seem a good fit.
In the form of the Zig-Zag chair, Rietveld delivered one of the earliest examples of a cantilevered seat. Unlike cantilevered models by Ludwig Mies van der Rohe and Marcel Breuer, however, Rietveld's didn't rely on a metal frame. In fact, the Zig-Zag chair is constructed completely from wood, its graphic shape a result of exceptionally precise craftsmanship. Rietveld hoped to produce a chair from one continuous piece of material; while the Zig-Zag doesn't quite achieve that, it appears to: The seat's four parts are connected by dovetail joints made from the same wood as the rest of the chair. As a result, the final product appears deceptively simple — despite the carefully calibrated measurement and engineering that goes into its shape, it has the semblance of precariousness.
Rietveld would go on to devise various versions of the seat — including a beloved high chair for children — and used it in many of the subsequent interiors he designed as his career developed into more of an architect's than that of a furniture designer. In 1971, Italian manufacturer Cassina bought the rights to the Zig-Zag chair and has been producing it ever since, even offering it in a selection of primary colored finishes, which harken back to Rietveld's De Stijl days. The chair's famous fans include artist Donald Judd and designer Karl Lagerfeld, and it sits in the permanent collection of the Museum of Modern Art.
Gerrit Rietveld Zigzag Chair
Rare Set of Ten "Zig - Zag" Chairs, Gerrit Rietveld for Cassina, 1973
By Gerrit Rietveld
Located in New York, NY
Set of ten first edition for Cassina, 1973 Gerrit Rietveld Zig Zag chairs. The chairs are in completely original condition, sturdy and solid. Each one is marked with an early Cassin...
Category
Vintage 1970s Italian Mid-Century Modern Chairs
Gerrit Thomas Rietveld Zig Zag chair Gerard van de Groenekan, 1960
By Gerard van de Groenekan, Gerrit Rietveld
Located in Roosendaal, Noord Brabant
Design iconic chair of all design chairs, this rare and worldwide known Zig Zag chair designed by one of the most important architects and designers Holland has ever known. The zig z...
Category
Vintage 1960s De Stijl Chairs
More Gerrit Rietveld Designs