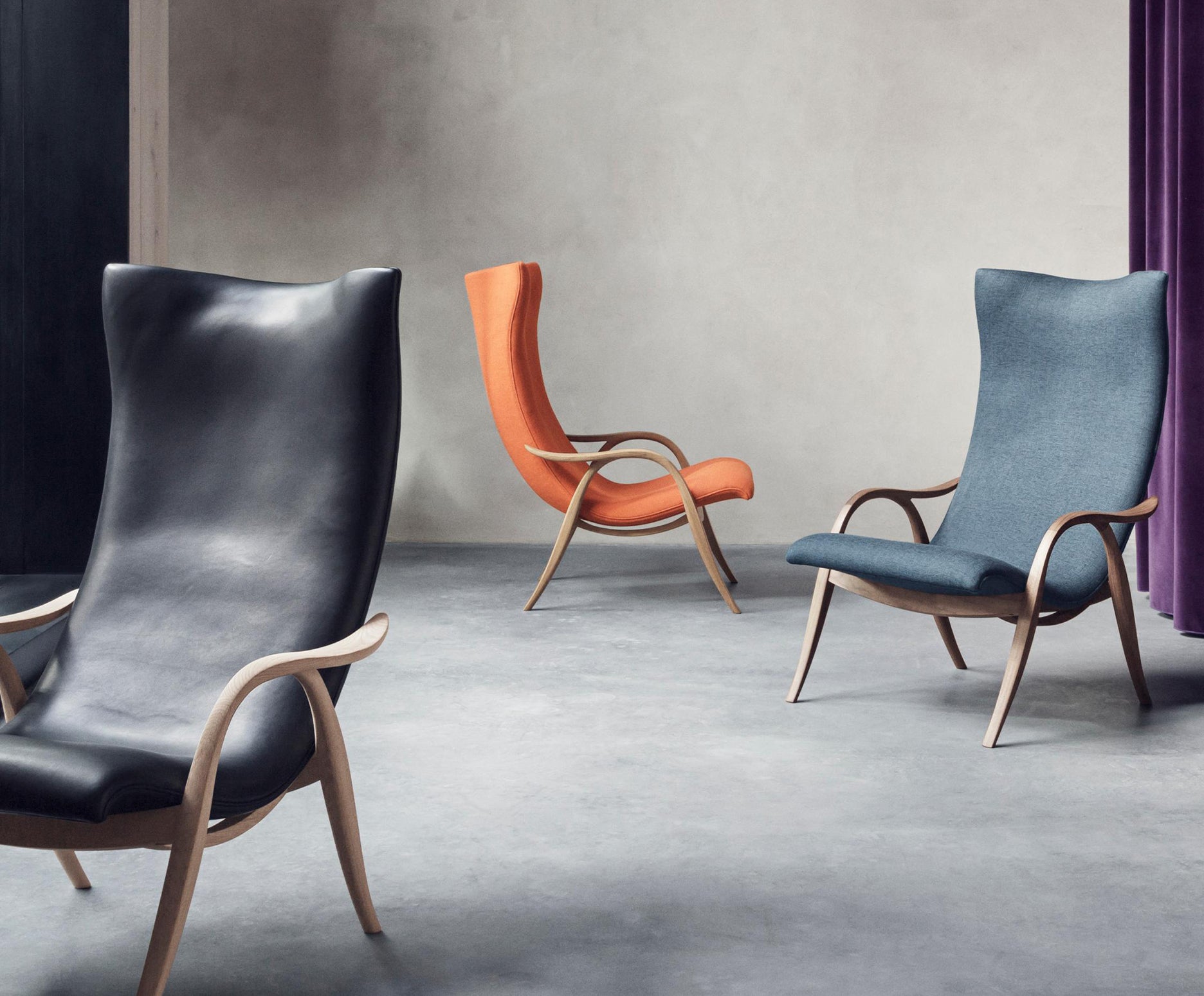 Iconic Designs
Signature Chair
About the Design
Designed in 1952 by Frits Henningsen (1889–1965), the simple and elegant Signature chair is demonstrative of the meticulous attention to craftsmanship for which the Danish furniture maker is primarily known. Henningsen began his career as a cabinetmaker — he apprenticed in the early 1900s under I.P. Mørck, a leading figure in the industry, and eventually studied under architect and designer Kaare Klint at the Klint-founded Royal Danish Academy of Fine Arts, where many of his peers in the Danish design community would also train. Under Mørck and Klint, Henningsen developed a deep appreciation for handmade work, and he reportedly found in Klint a competitor who challenged him to spend countless hours refining and perfecting the furniture he made.
Henningsen opened his own workshop in central Copenhagen in 1915 after having worked in Germany, France and elsewhere for some time following the completion of his apprenticeship with Mørck. The cabinetmaker wasn't just the proprietor of the retail space, he was also a designer and frequently spent time interacting with his clientele, learning about the consumer needs of the day and integrating their feedback into his processes. Henningsen always manufactured his own handmade designs — usually with exotic woods and drawing on methods that date back to the 19th century — which was rare for cabinetmakers of the era. The Signature chair began as a model made from putty-like modeling clay and toothpicks before large-scale construction materialized in his workshop. 
While many young Danish designers at the time began to shift toward the incorporation of more geometric, angular contours in their work, Henningsen maintained an interest in curved forms. Atop slim U-shaped legs, the seat and high backrest of the minimal Signature chair were made from one single curved piece of wood, the top of which gently folds in toward the sitter, creating understated winged sections that contribute to its distinctive and inviting form. 
Months of testing and careful adjustments ensued before the designer was convinced that the Signature chair was ready for manufacturing. Even then, less than 20 editions of the now-classic piece were ever made available to the public, ensuring that original versions remain increasingly tantalizing to collectors. It was the last piece of furniture that Henningsen produced. 
In 2013, Carl Hansen & Son reintroduced the Signature chair and paired it with a footstool. It is available in various finishes and with leather or fabric upholstery.
Frits Henningsen Signature Chair
FH429 Signature Chair in Oiled Oak by Frits Henningsen
By Carl Hansen & Søn, Frits Henningsen
Located in New York, NY
The FH429 Signature chair was designed by Frits Henningsen, a cabinetmaker who held his profession to very high standards. Henningsen always manufactured his own designs and often be...
Category
21st Century and Contemporary Danish Modern Lounge Chairs
FH429 Signature Chair in Walnut Oil by Frits Henningsen
By Carl Hansen & Søn, Frits Henningsen
Located in New York, NY
Category
21st Century and Contemporary Danish Modern
More Frits Henningsen Designs