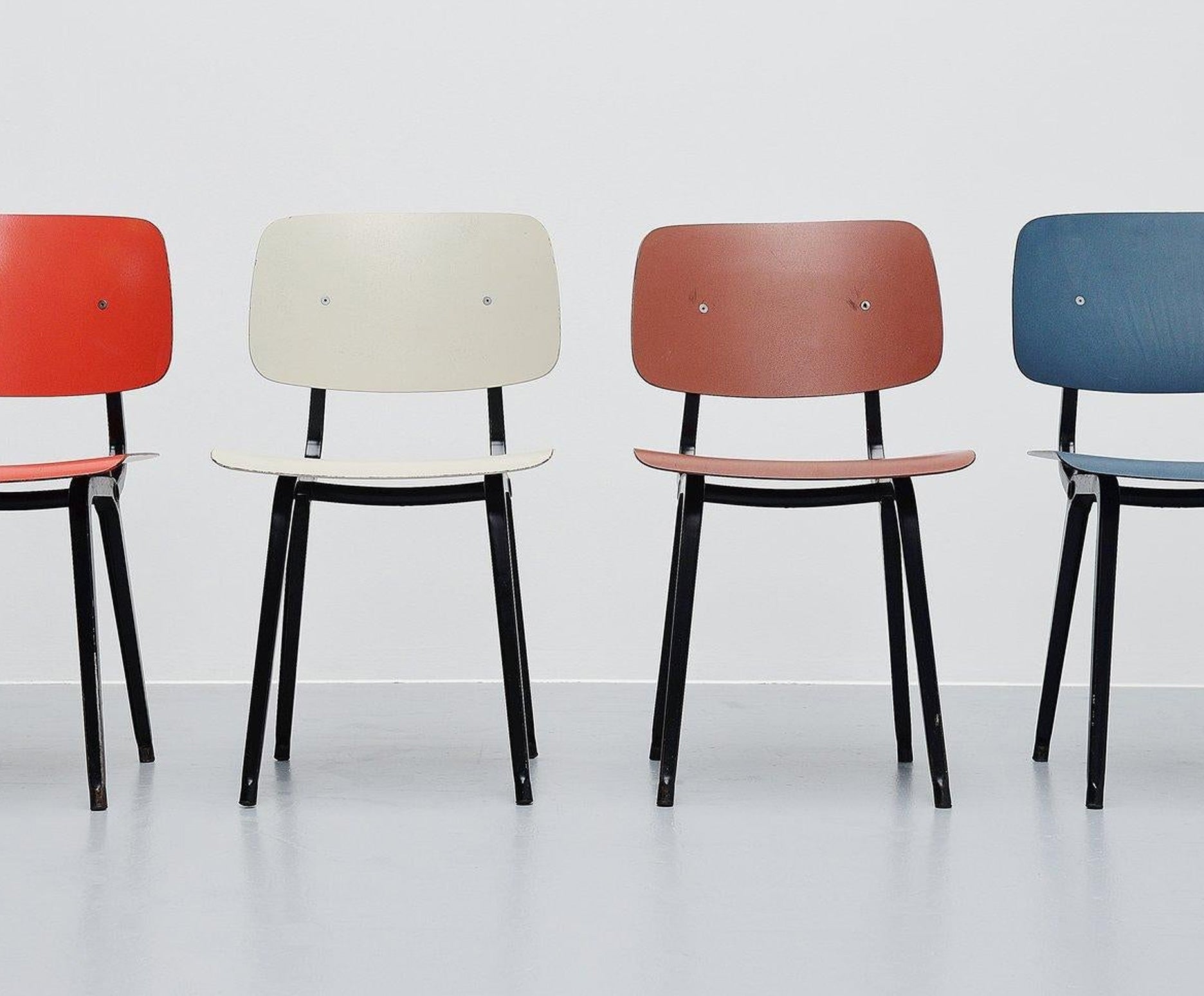 About the Design
Created by Dutch industrial designer Friso Kramer (1922–2019) in 1953, the lightweight, simple, curved sheet steel and plastic four-legged Revolt chair is among the Netherlands' most revered pieces of furniture, and yet its author remains relatively unknown. Kramer's works shaped many different spheres of Dutch life, from mailboxes to streetlights to furniture, and revolutionized postwar design. According to him, "If form does not contribute to function, it has no right to exist."
Friso Kramer was the son of famous architect Piet Kramer and got his own start studying architecture and interior design at Amsterdam's Institute of Applied Art. After 1948, Kramer worked as a designer at furniture manufacturer Ahrend de Cirkel and later cofounded the highly influential design studio Total Design. In the 1950s, Kramer became involved in the Stichting Goed Wonen (Good Living Foundation), whose mission was to aid with reconstruction after the war and to improve the general lack of style and materials during this time. It was also during this time that he began designing several metal and plastic chairs, among them the Revolt chair, which became one of the first mass-produced pieces of furniture and a darling of Dutch mid-century modernism.
The Revolt chair was exhibited at the Milan Triennial in 1954. Its construction reflected modern-day research in ergonomics and was widely used in private homes as well as public spaces. Over time, the versatile Revolt chair has become one of Kramer's most recognizable designs. Following a couple of relaunches, it is still in production today by Royal Ahrend.
Examples of the Revolt chair are in the permanent collection of the Stedelijk Museum in Amsterdam and the Museum Boijmans van Beuningen in Rotterdam, which devoted an exhibition to Kramer's work in 1991. Kramer's contribution to postwar design was honored with the title Royal Designer for Industry by the Royal Society of Arts in London in 1979.
Friso Kramer Revolt Chair
More Friso Kramer Designs