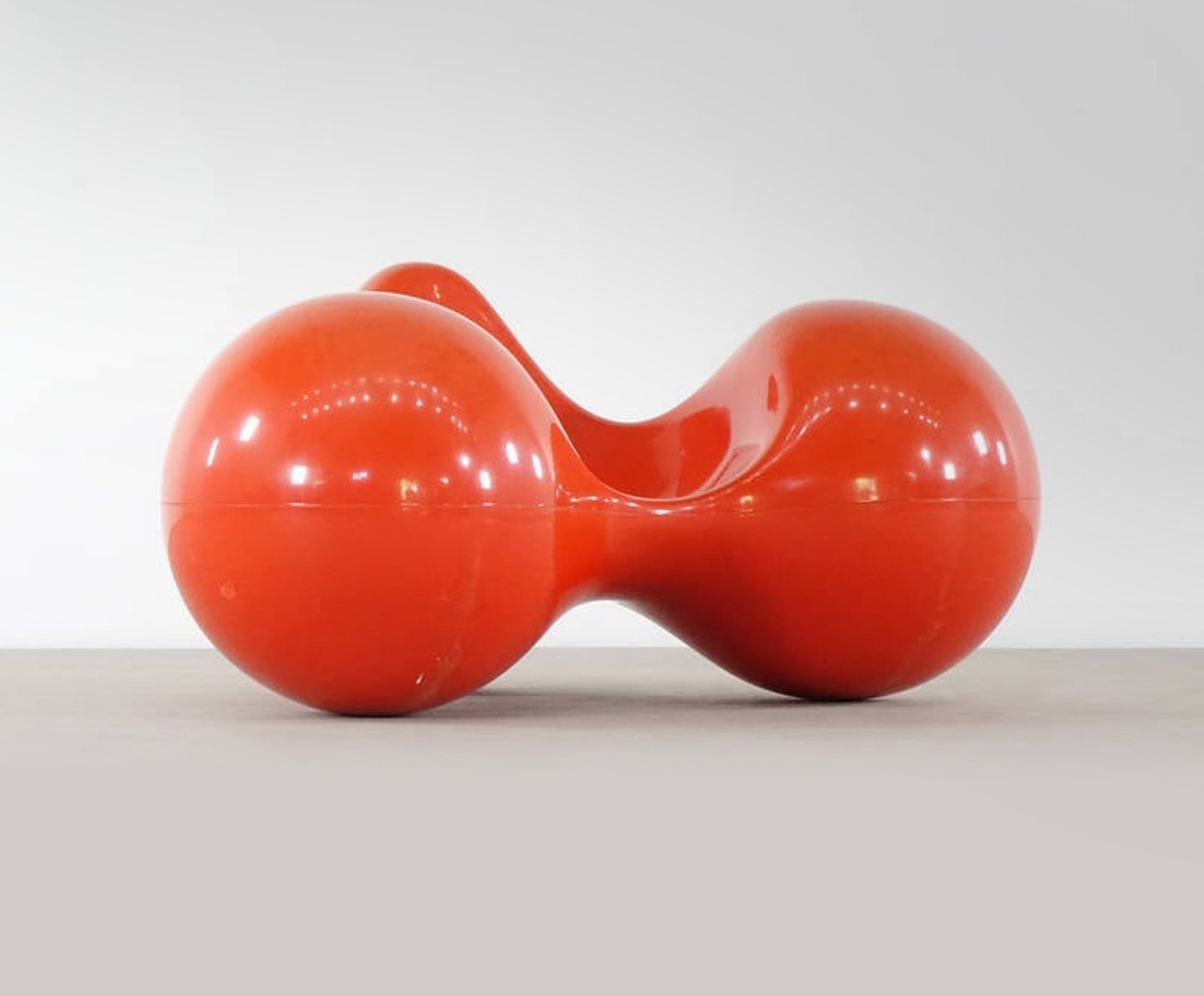 About the Design
In looking at Finnish designer Eero Aarnio's (b. 1932) big red fiberglass Tomato chair, you can see how it got its name, and it's not just due to its buoyantly crimson color. As Aarnio explained: "It is named to reflect the two round shapes when you look from the front: like the two circles in the word tOmatO."
The 1971 chair was one of several in his explorations of circular forms, or designs "without edges" as he put it. It also exemplifies his radical departure from Scandinavian modernism, a movement centered on natural materials and minimalist forms promoted by designers including Alvar Aalto and Aarnio's mentor, Ilmari Tapiovaara. Aarnio instead preferred the sculptural possibilities of synthetic materials and the use of fiberglass and plastic to create brilliantly colored furniture and design objects.
After studying at Helsinki's Institute of Industrial Arts, Aarnio opened his own studio in 1962. A year later, he designed the Ball chair. A hollowed-out, molded fiberglass orb set upon an aluminum base, the Ball chair is one of his most revered designs. Aarnio followed this with a suspended version: the 1968 Bubble chair, which is made from transparent plastic. The Tomato chair would take this circle-based seating still further.

The Tomato chair brings together three spheres — all with the same diameter — to make a balanced piece. Two large orbs are used as armrests and one is the back in a form similar to Aarnio's curvy 1967 Pastil chair. He imagined that the durable piece could not only be used indoors and outdoors but also on the water: "For this I thought 'a-ha!' — the Pastil chair floats, it can carry a person across water, but it is not completely stable for this purpose. If I added armrests and a more defined chair back then it would be fun for the water."
Aarnio continues to find new ways to create playful objects that make fresh statements on design, and today, Eero Aarnio Originals manufactures the Tomato chair. A 2016 Design Museum Helsinki retrospective featured the piece alongside his cactus-like 2001 Double Bubble lamp (cast in plastic) and his 2003 abstracted Puppy, a polyethylene toy, stool and sculpture. Although each offers a spirited take on structure and color, Aarnio has always prioritized function. With its bold silhouette and fire-hydrant hue, the Tomato chair is both a welcoming seat and an expression of how simple shapes can be endlessly innovated.
Iconic Eero Aarnio White Tomato Chair
By Eero Aarnio
Located in New York, NY
Eero has always been drawn to the circular form and is perhaps best known for his designs 'without edges'. The Tomato chair combines three circles on a basic seat, with two as armres...
Category
2010s Finnish Modern Lounge Chairs
Iconic Eero Aarnio Red Tomato Chair
By Eero Aarnio
Located in New York, NY
Category
2010s Finnish Modern