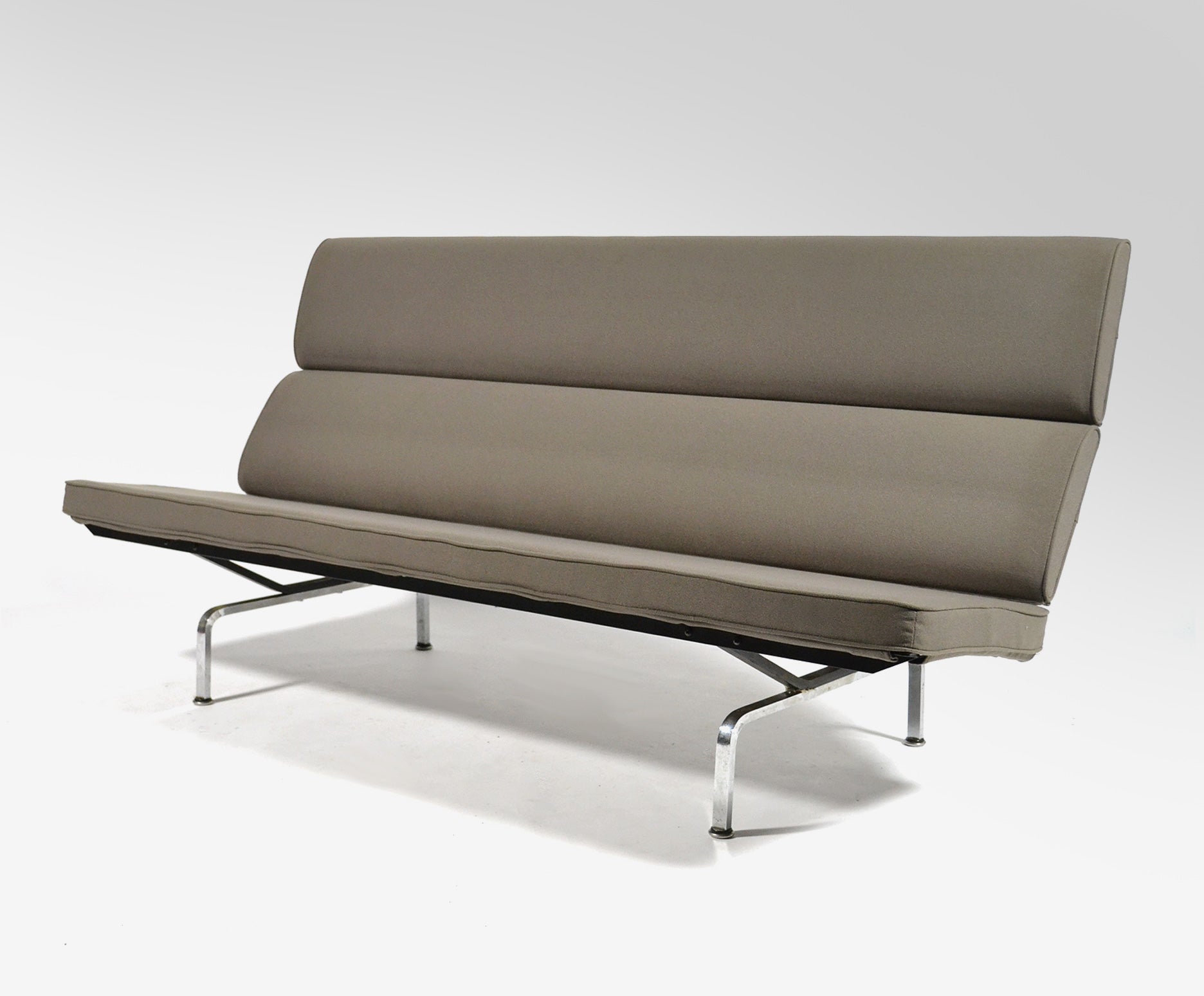 Iconic Designs
Eames Sofa Compact
About the Design
Set on a simple metal frame with a seat that extends just 2.5 feet from the wall — yet comfortably seats three adults — the Eames Sofa Compact, created by visionary American designers Charles and Ray Eames (1907–78; 1912–88), is a prime example of the pair's continual exploration of new ways to achieve comfort with minimal materials. 
In 1949, the Eameses built the Eames House, their Pacific Palisades home and studio and a building that would become both a breeding ground for fresh design ideas and a real-time example of modern living. The home was conceived as part of a challenge put forth by Arts & Architecture magazine to develop low-cost modern housing in Los Angeles, an idea that aligned nicely with the efforts the Eameses had been making in affordable furniture for mass production. The sofa they designed to fit neatly into an alcove in the house would serve as a model for the Eames Sofa Compact, which would be manufactured by Herman Miller within the subsequent several years.
By the time the Eameses moved into Case Study House No. 8, as it is officially known, they had both graduated from Cranbrook Academy of Art, the esteemed art school and launching pad for a multitude of design luminaries (their peers included Florence Knoll and Eero Saarinen), and moved to Los Angeles. In their first apartment there, the couple began experimenting with bent and molded plywood using their "Kazam! Machine," a device that pressed strips of wood into moldable pieces, allowing for increased flexibility in shape for wood furniture, such as their DCW dining chair.
In the decades that followed, the Eameses continued to experiment with new methods for producing furniture quickly and cheaply. The first prototype for the Sofa Compact was completed in 1951 with a metal frame and folding back. It was designed to pack flat for easy shipping. In 1954, the final version of the sofa went into production through Herman Miller, which offered it in a variety of upholstery options.
Although the sofa's seat is thin, its ergonomic shape and firm pads of urethane foam make it feel much more plush than it appears. Today the Eameses are among Herman Miller's best-known furniture designers, and the manufacturer offers the Sofa Compact in three colors. An early version of the sofa still sits in the Eames House, now a National Historic Landmark. It's draped in a blanket — an apt metaphor for the Eameses' creation of modernism that was never cold.
Eames Mid-Century Modern Compact Sofa by Herman Miller
By Charles and Ray Eames, Herman Miller
Located in Chesterfield, NJ
Sleek and handsome iconic compact sofa designed by Charles and Ray Eames and manufactured by Herman Miller. Upholstered in a dark red Naugahyde, this very comfortable sofa does not f...
Category
Vintage 1980s American Mid-Century Modern Sofas
Eames Compact Sofa for Herman Miller with Alexander Girard Fabric
By Charles and Ray Eames, Herman Miller
Located in Chicago, IL
Eames compact sofa designed by Charles and Ray Eames for Herman Miller USA, circa 1950s Metal and upholstered in Arabesque fabric by Alexander Girard Measures: 36" H x 71...
Category
Mid-20th Century American Mid-Century Modern Sofas
Iconic Signed Charles and Ray Eames Compact Sofa by Herman Miller Midcentury
By Charles and Ray Eames, Herman Miller
Located in West Hartford, CT
The signed, iconic, clean-lined sofa design by Charles and Ray Eames upholstered in a wonderful whimsical fabric. This piece comes from the Avon Corporation headquarters in Rye, NY.
Category
Late 20th Century American Mid-Century Modern Sofas