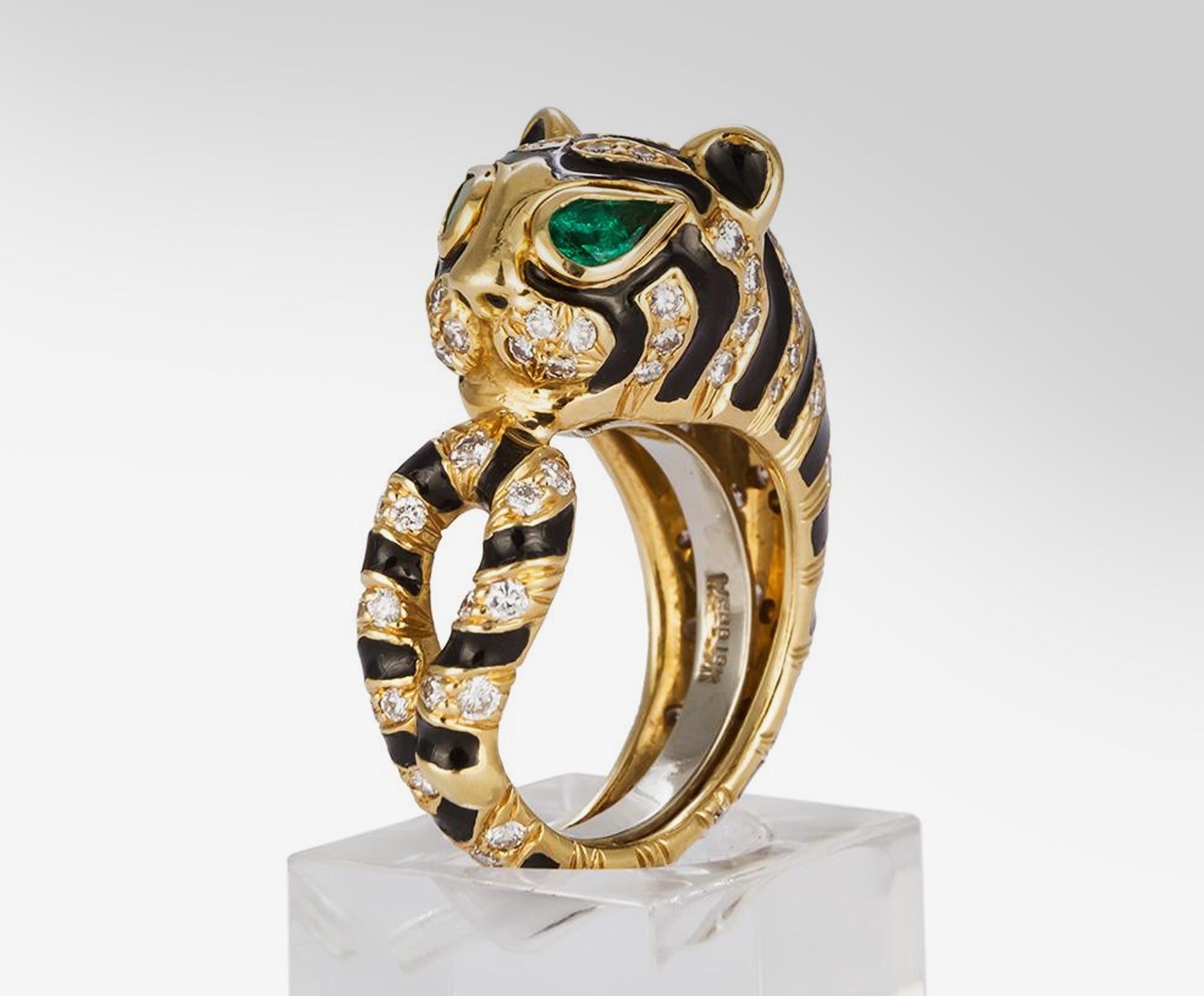 About the Design
Owing to its luminous amber-brown fur, dark stripes and lithe form, the tiger is arguably one of the most majestic wild beasts, both in the jungles of Asia and in the wearable Animal Kingdom created by jewelry designer David Webb (1925–75). Webb's Tiger ring is truly an example of art-as-apparel — it's adorned with enamel engraving and emeralds embedded into 18-karat gold and is a striking example of his ability to transform animal motifs into bold statement pieces.
Webb had a flair for the dramatic, and he chose materials and forms to emphasize this inclination. Many of his nature-inspired pieces were made of gold, coral and turquoise and decorated with enamel and rubies, amethysts, emeralds and diamonds. In the Tiger ring, the fearsome predator's eyes are made of brilliant green emeralds or blood-red rubies, and some versions of the ring even feature a diamond and emerald crown on the tiger's head, rendering the ring even richer and more flamboyant. Webb's other animal forms — his inspirations include zebras, frogs, lions and elephants — are similarly crafted in his exquisite signature style. He looked to Art Deco's opulence and greatly admired designers like Fabergé and Cellini and their approach to creating wearable art.
David Webb started as an apprentice in his uncle's jewelry-manufacturing shop but moved to New York at the young age of 17. In 1948, with his business partner Nina Silberstein — as well as the support of a wealthy socialite he befriended named Antoinette Quilleret — he established the David Webb store on West 46th Street in Manhattan. For the young designer, the glamour and rampant rule-breaking that defined fashion in 1960s' America rendered it an ideal era for Webb to enter the scene. He rapidly rose to fame, and his pieces were highly sought after by celebrities and royals from across the world. 
Introduced in 1957, Webb's Kingdom collection, with its drama and visual impact, cemented his position as one of the icons of jewelry design to this day. While he went on to create other series themed around gardens, seashells and the zodiac, it is his Animal Kingdom that has come to define his unmistakable style. Still available from David Webb Inc. today, the Tiger ring's graceful form and striking elements make it one of the grandest pieces in the collection. 

David Webb 18 Karat Yellow Gold Diamond and Emerald Tiger Ring
By David Webb
Located in Tustin, CA
We are pleased to offer this David Webb 18k Yellow Gold Diamond & Emerald Tiger Ring. This stunning ring features an 18k yellow gold & black enamel Tiger motif set with an estimated ...
Category
21st Century and Contemporary Contemporary Fashion Rings
Materials
White Diamond, Emerald, 18k Gold, Yellow Gold