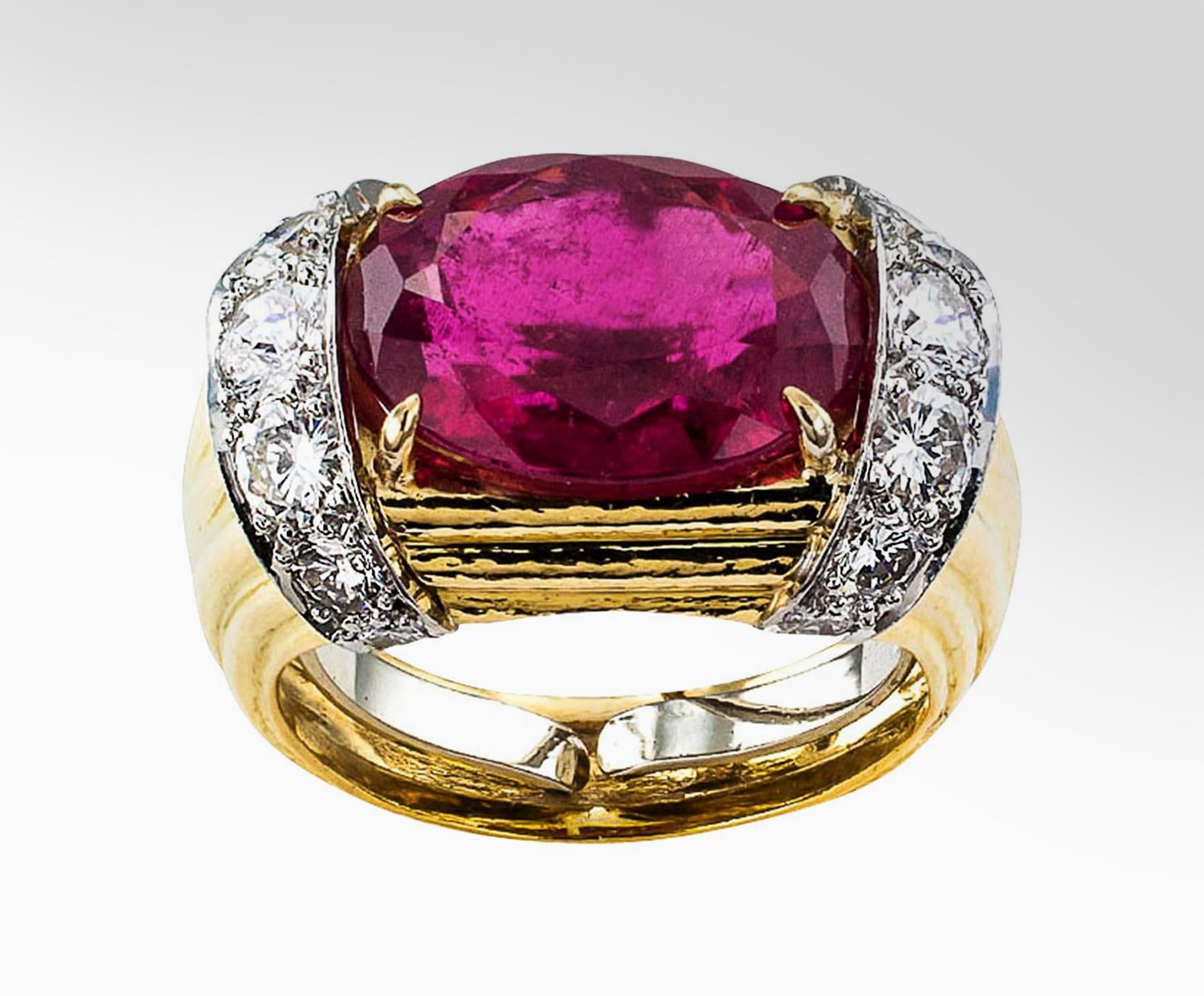 About the Design
Bold, artful, modern and dazzling, the Rubellite ring exemplifies the best of David Webb (1925–75), the North Carolina–born jeweler who arrived in New York City in the 1940s determined to make his mark in a city where Tiffany & Co., Cartier and Harry Winston were already draping the wrists and collarbones of well-heeled clients. But where many of his competitors offered delicate, intricate fittings, Webb quickly established himself with a unique style. Informed by history in both symbolism and technique, Webb's jewelry designs are strikingly modern, making use of mixed textures and methods, vibrant colors and graphic designs — attributes that quickly earned the jeweler a loyal following.
The Rubellite ring embodies all that made Webb a success. Its centerpiece and namesake is the rubellite, the most treasured (and valued) of the tourmaline family. Its name is a derivation of the Latin word rubellus, or red, a nod to the crimson hue that often sees it mistaken for a ruby. But the rubellite offers more variation than its similarly hued gemstone, an element that makes for a more interesting incorporation in Webb's creation.
Many of Webb's most famous rings — like the Peridot ring, for example — pair graphic, Art Deco–inspired shapes with textural surfaces for pieces that are more art object than jewelry, fascinating from all angles. "I believe the things I make have museum quality and, hopefully, will last as long as the originals that inspired them," Webb once said of his designs.
In the Rubellite ring, Webb pairs the glittering, rectangular-cut stone in a bed of hammered gold, which provides a soft, textured juxtaposition to the geometric lines of the ring. On each side of the rectangle is a platinum band of brilliant-cut diamonds set in platinum, which runs from the edges of the rubellite down to the base of the ring. Their shape echoes the oversized rings on each corner of the central stone and adds another layer to the bauble. The Rubellite ring is part of Webb's Colors Collection, which features some of the most saturated, striking gems and precious stones in nature, all reimagined in ways that pay homage to their natural beauty while presenting them in wonderfully unique ways.