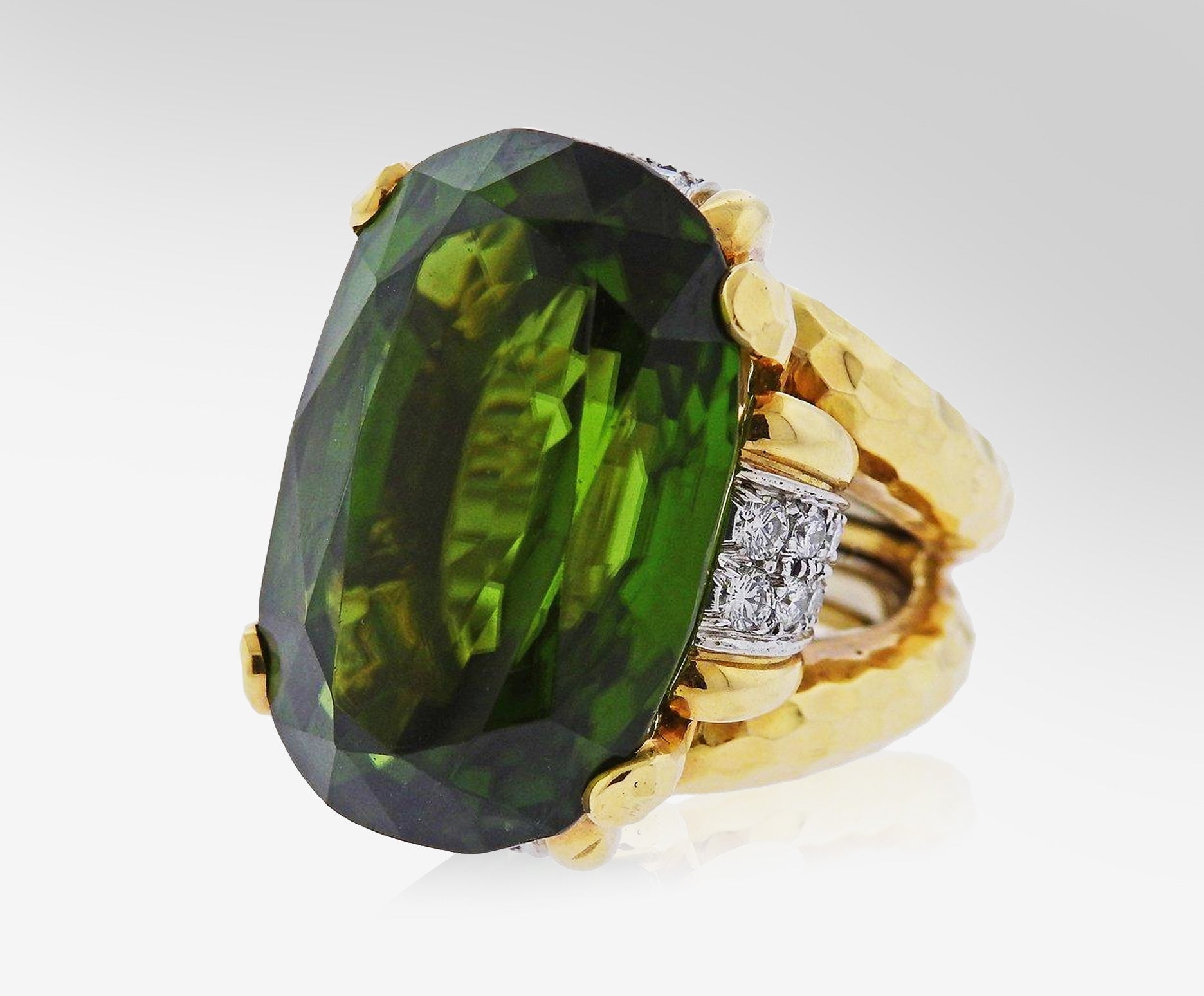 About the Design
It might come as little surprise that a jeweler who has counted Elizabeth Taylor, Jacqueline Kennedy and Barbra Streisand as clients isn't exactly known for understated glamour. When North Carolina–born David Webb (1925–75) founded his eponymous company with his business partner Nina Silberstein in Manhattan in 1948, he was an unknown, having entered the industry in a city where Tiffany & Co. and Harry Winston were already trusted names. Webb was determined to make his mark as a jeweler and set himself apart by largely eschewing delicate, subtle pieces in favor of bold, colorful baubles featuring creative combinations of metals and gems. His Peridot ring is no exception. 
Although he'd apprenticed at his uncle's jewelry-manufacturing company back home and had taken an art metalworking course, Webb was entirely self-taught. He headed to New York as a teenager, and by the time he was in his 20s, he found himself working in the Diamond District and making important connections — such as with French socialite Antoinette Quilleret, who would back him in opening his shop. He found inspiration for his work in a myriad of sources, immersing himself in the wonders of the Metropolitan Museum of Art and studying books on the natural world that would later inform the Tiger ring and Curly Lion bracelet designs in his Animal Kingdom collection. Webb was also very interested in arts and cultures from around the world. 
The Peridot ring's centerpiece is its namesake's stone, which dates back to ancient Egypt. It's rectangular cut and set in a base of hammered, 18-karat gold. The stone is surrounded on all four sides by platinum flutes inset with brilliant-cut diamonds. The hammered gold, dazzling diamonds and faceted cut of the peridot merge to lend the piece a unique texture. A beguiling combination of modern and classic elements — like the various setting styles, split band and Webb's signature hammered gold — make it fascinating from any vantage point, the ultimate conversation piece.
The peridot stone was mined from the island of Topazios in the Red Sea and appears in papyrus writings from as early as 1500 B.C. Many modern-day scholars suspect that some of the emeralds Cleopatra famously adorned herself with might have been peridot, the color of which ranges from emerald to olive green. Such a heritage for the Peridot ring seems apropos given Webb's own fascination with foreign cultures and deep love of history. "Jewelry and objects of art 4,000 years old are newer than anything we have today," he once said.
David Webb Shelter Island Peridot Diamond Gold Platinum Ring
By David Webb
Located in Boca Raton, FL
Large 18k gold and platinum cocktail ring, crafted by David Webb , set with an approx. 44.73ct (measures 27.5mm x 18.5mm x 13.2mm), surrounded with approx. 1.50ctw in H/VS diamonds. ...
Category
21st Century and Contemporary More Rings
Materials
Diamond, Peridot, 18k Gold