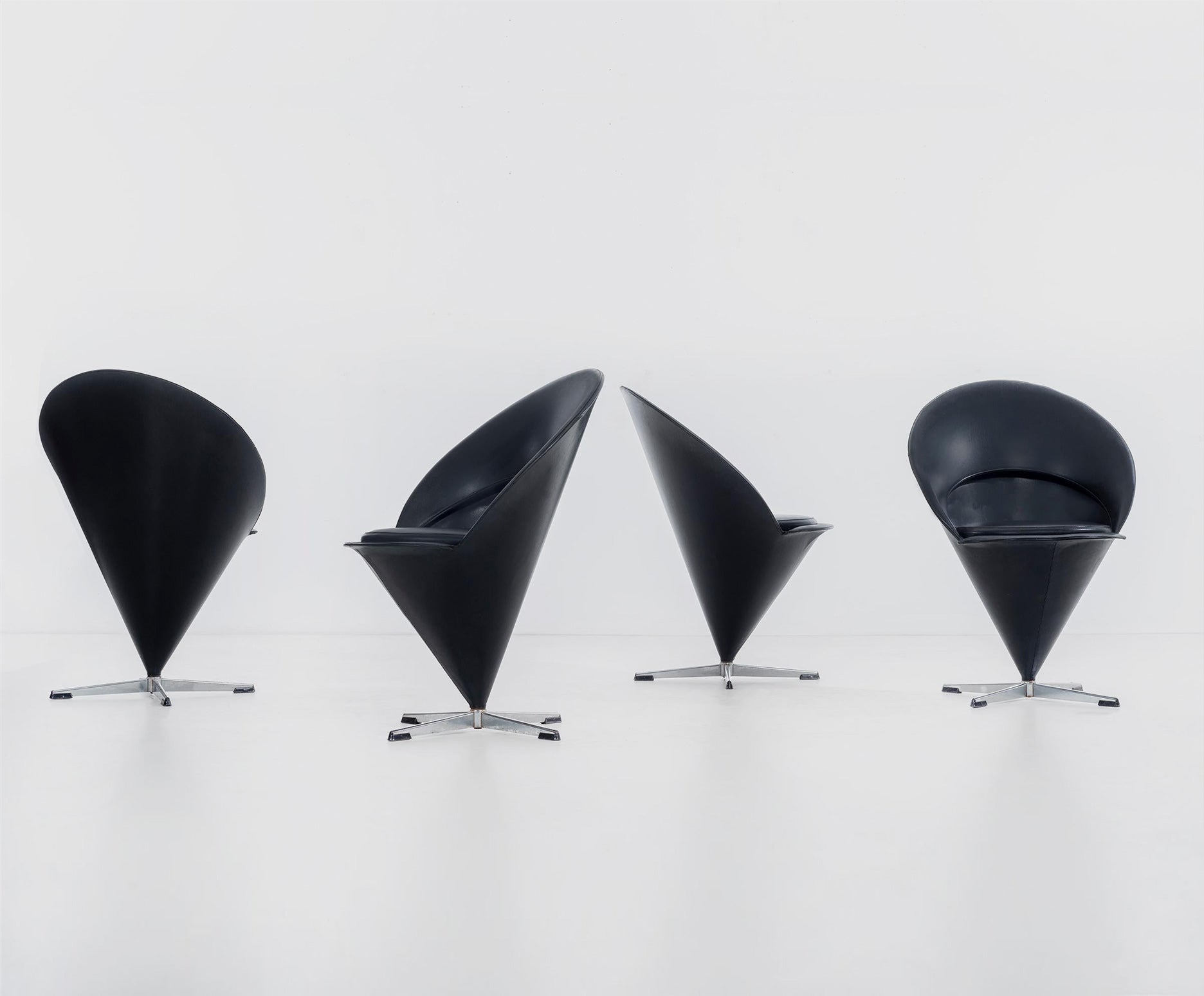 About the Design
Simple geometric shapes don't often cause seismic shifts in furniture design. The bold Cone chair, conceived by mid-century Danish architect and designer Verner Panton (1926–98), however, brought about just such a transformation. After graduating from Copenhagen's Royal Danish Academy of Fine Arts in 1951, Panton secured a mentorship in the office of renowned architect Arne Jacobsen. There, he contributed to the development of Jacobsen's revolutionary Ant chair. Slender, lightweight and stackable, with a one-piece laminated-veneer seat that rested on three plastic legs, the 1952 design mirrored the elegant form of its insect namesake. The Ant chair had a significant effect on Panton, who went on to explore the possibilities of Plexiglas and synthetics, rather than working in the solid teak and oak that occupied his contemporaries.
The influence of Jacobsen's work is also evident in Panton's Cone chair, which he debuted at his father's restaurant in southern Denmark in 1958, six years after leaving the architect's office. The designer was revamping the eatery, and the chair — with its artful, pod-like shell set upon a stainless-steel swivel base and its comfortable seat upholstered in soft red fabric to comfort hungry diners — was a key element in his (typically radiant) overhauled interiors.
Panton's renovation dazzled reporters and patrons, including entrepreneur Percy von Halling-Koch, who created a company to produce the Cone chair. Its unusual form — an inverted cone seeming to balance on its point — caused a sensation in Denmark and beyond. Displayed in a Manhattan store window, the chair incited such a furor on the city's crowded streets that the police had the shop owners remove it from public view. Today, the Cone chair is manufactured by Swiss furniture company Vitra and continues to delight design connoisseurs.
More Verner Panton Designs