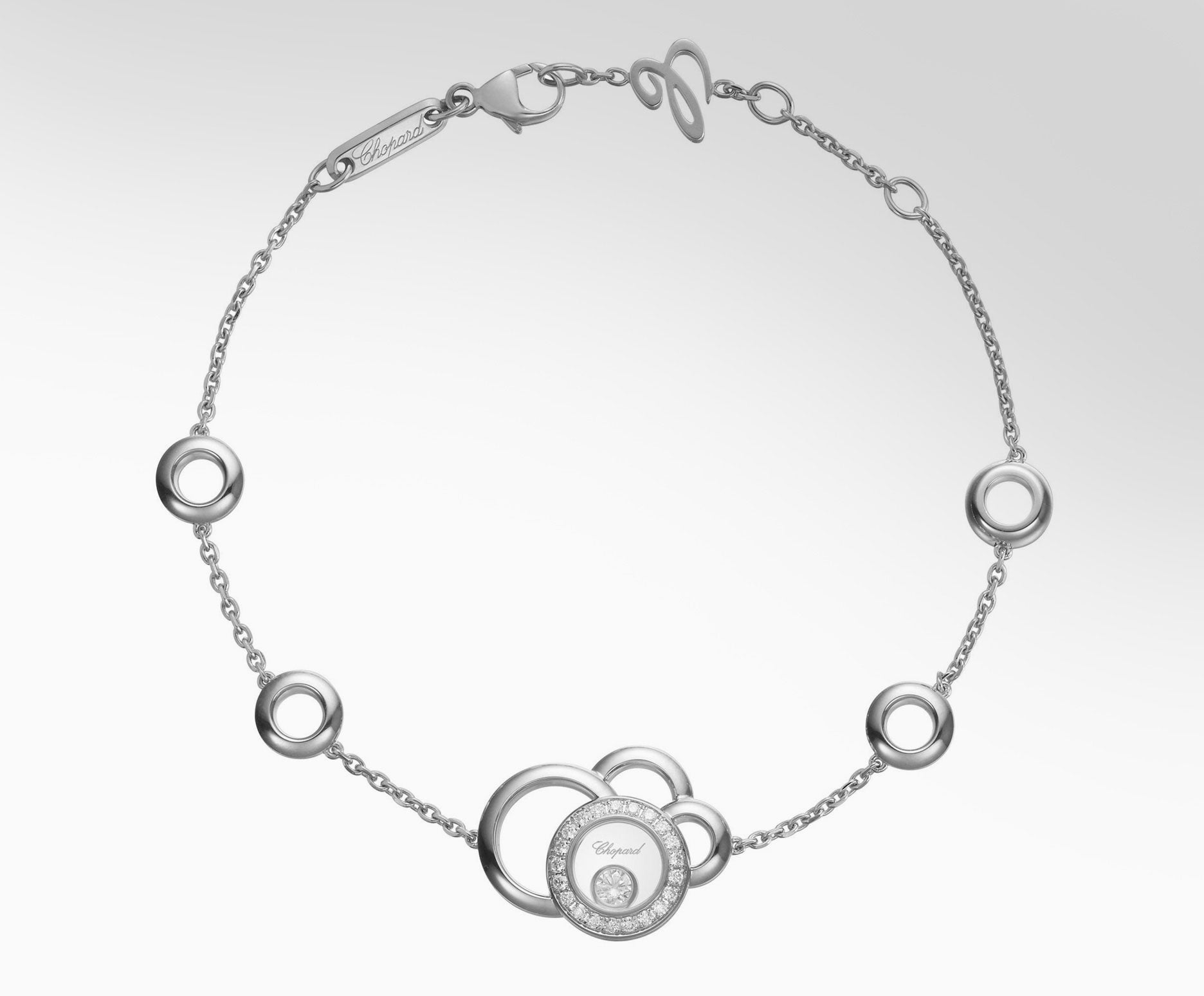 Iconic Designs
Happy Dreams Bracelet
About the Design
It was originally inspired by daydreams and the soft, undulating curves of cloud formations.
The intertwining circles of Chopard's Happy Dreams bracelet evoke buoyancy and motion — attributes that have long been central to the designs produced by the legendary Swiss jeweler. Although the accessory was introduced in 2016, the Happy Dreams bracelet has roots in a hike that took place 40 years earlier. That's when Ronald Kurowski, designer for Chopard — which, at that time, was primarily a precision watchmaker — came across a majestic waterfall, its sparkling, playful droplets of water shimmering in the bright sun, during a walk in the Black Forest of Germany. He wondered: Could such a moment of joy be re-created in a timepiece? Would diamonds, freed from their settings, sparkle with similar radiance?
Upon first observing this idea realized in a large watch for men — wherein 30 free-floating diamonds moved gingerly across the dial according to the movement of one's wrist — Chopard co-owner Karin Scheufele noted, "Diamonds are happiest when they're free." Thus the Happy Diamonds watch was launched in 1976, and since then diamonds and gemstones, loosed from their settings, have become a signature for Chopard, which began in 1860 as a provider of high-precision pocket watches and chronometers. The brand's entrée into the jewelry market capitalized on the legacy of the celebrated Happy Diamonds watch. Its first jewelry design, 1985's Happy Clown pendant, was a rose-gold jester with a midsection of floating jewels. This was followed by an elephant, a ladybird, a teddy bear and a heart. Each piece was characterized by its distinctive "loose stones" feature.
The Happy Dreams bracelet was created as part of a collection that marked the 40-year anniversary of the Happy Diamonds jewelry. However, unlike the free-form diamonds set loose in the Happy Diamonds collection, the Happy Dreams bracelet features a single diamond, prong-set and floating above a background of mother-of-pearl. This setting highlights the pristine stone and creates a striking effect that pairs with the graceful form of the cluster of 18-karat white- or rose-gold interwoven circles of different sizes. In its focus on such joyous designs as the Happy Dreams bracelet over the years, Chopard has secured its role as "the artisan of emotions."
Chopard Happy Dreams Bracelet
Chopard La Strada 12 Carat Pave-Set Diamond 18 Karat White Gold Link Bracelet
By Chopard
Located in Miami, FL
Decorate your wrist extravagantly with this impressive Chopard Diamond 18K White Gold 12ct Pave Link Bracelet. This designer bracelet is crafted in 18 karat white gold and has appro...
Category
1990s Modern Modern Bracelets
Materials
Diamond, White Gold
Chopard Happy Dreams Bracelet 859888-1002
By Chopard
Located in Wilmington, DE
Chopard HAPPY DREAMS BRACELET with 18-carat white gold and diamonds. This elegant bracelet features four 18-carat white gold circles of varying sizes that appear irregularly superim...
Category
2010s Chain Bracelets