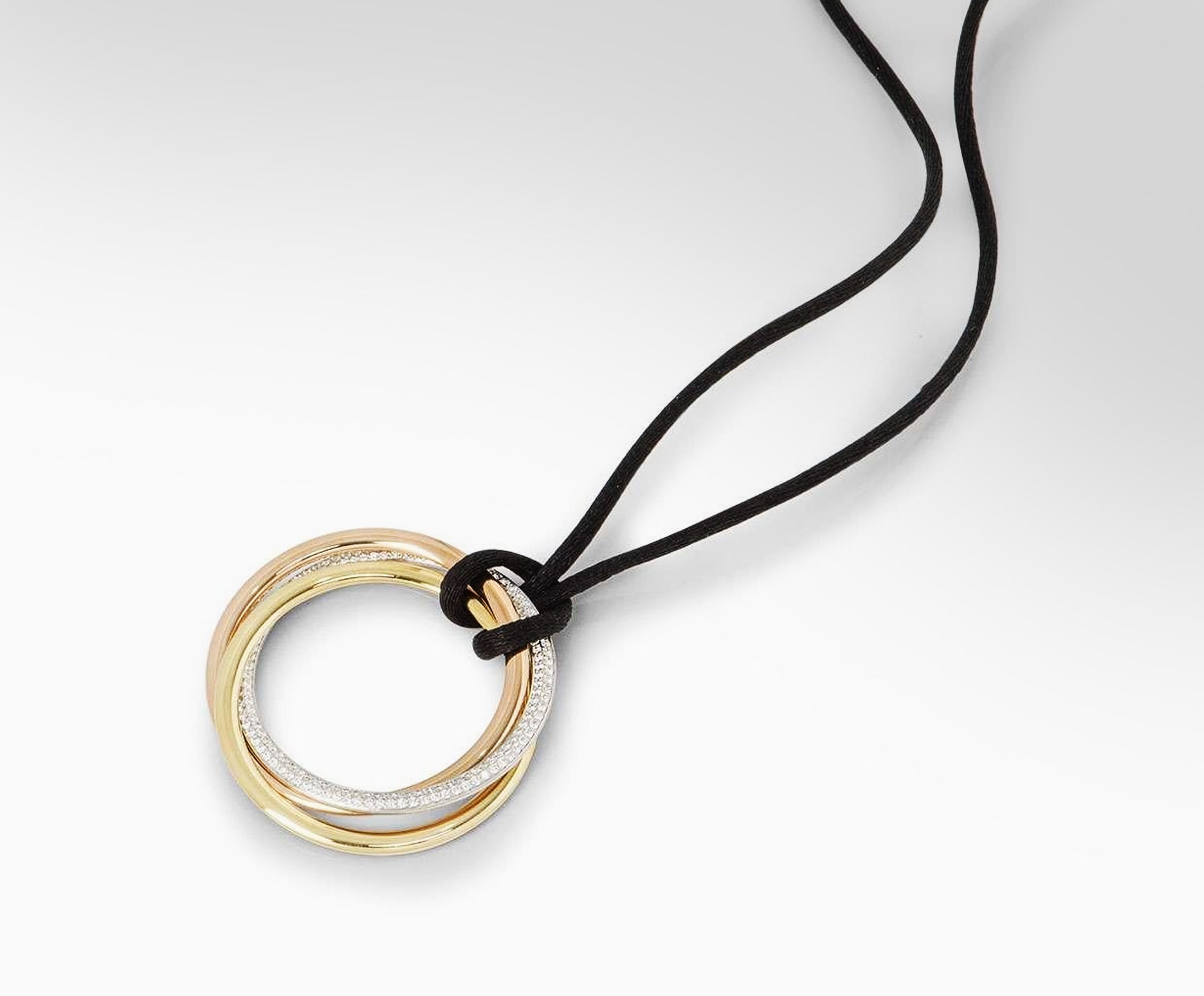 Iconic Designs
Trinity Necklace
About the Design
Love, fidelity and friendship: the three principles that inspired Louis Cartier  (1875–1942) — grandson of Cartier founder Louis-François Cartier — to design the intertwined Trinity ring in 1924, with pink, yellow and white bands to signify each tenet, respectively. And, in the same way that some of the most effortlessly chic of style icons will throw a wedding band on a chain and wear it around their neck, the legendary French jewelry house has since then presented the beloved ring as the Trinity necklace, where it makes a symbolic and elegant statement against the wearer's neckline.
Legend has it that the Trinity was born of a request from the French writer and artist Jean Cocteau, who challenged Louis Cartier to devise a ring based on Saturn's celestial ones. Cocteau would go on to wear a pair of them on his pinkie. (In 2010, Cartier honored Cocteau with a new six-banded ring in homage to his original look.) For Louis Cartier, the Trinity was a triumphant exercise in simplicity, an icon born of a stunningly understated premise: an unadorned gold band. Looping three of them together — in the maison's three colors of 18-karat gold — Cartier created a now-legendary accessory that is enduring in its appeal.
The Trinity necklace is proof of that timelessness, a new riff on a beloved design. Much like the vintage Cartier Trinity rings that garner attention from collectors and admirers alike, it has been interpreted in a myriad of ways: In addition to the classic tricolor ring secured by a delicate double chain on either side, Cartier has released versions topped with solitaire diamonds, tied with cord, hanging on double or triple chains and with rings rendered in diamond-encrusted platinum to name a few.
In 2012, Kate Middleton, Duchess of Cambridge (wife to England's Prince William), wore an elongated iteration of Cartier's Trinity necklace featuring three sets of Trinity rings — one diamond-studded oversize version flanked by two smaller side rings — connected by a bundle of gold chains. The piece was rumored to be worth upward of $70,000 and was the subject of much media coverage. But, like the best designs, Cartier's Trinity necklace doesn't need much added flair — it's just as stunning at its most simple.