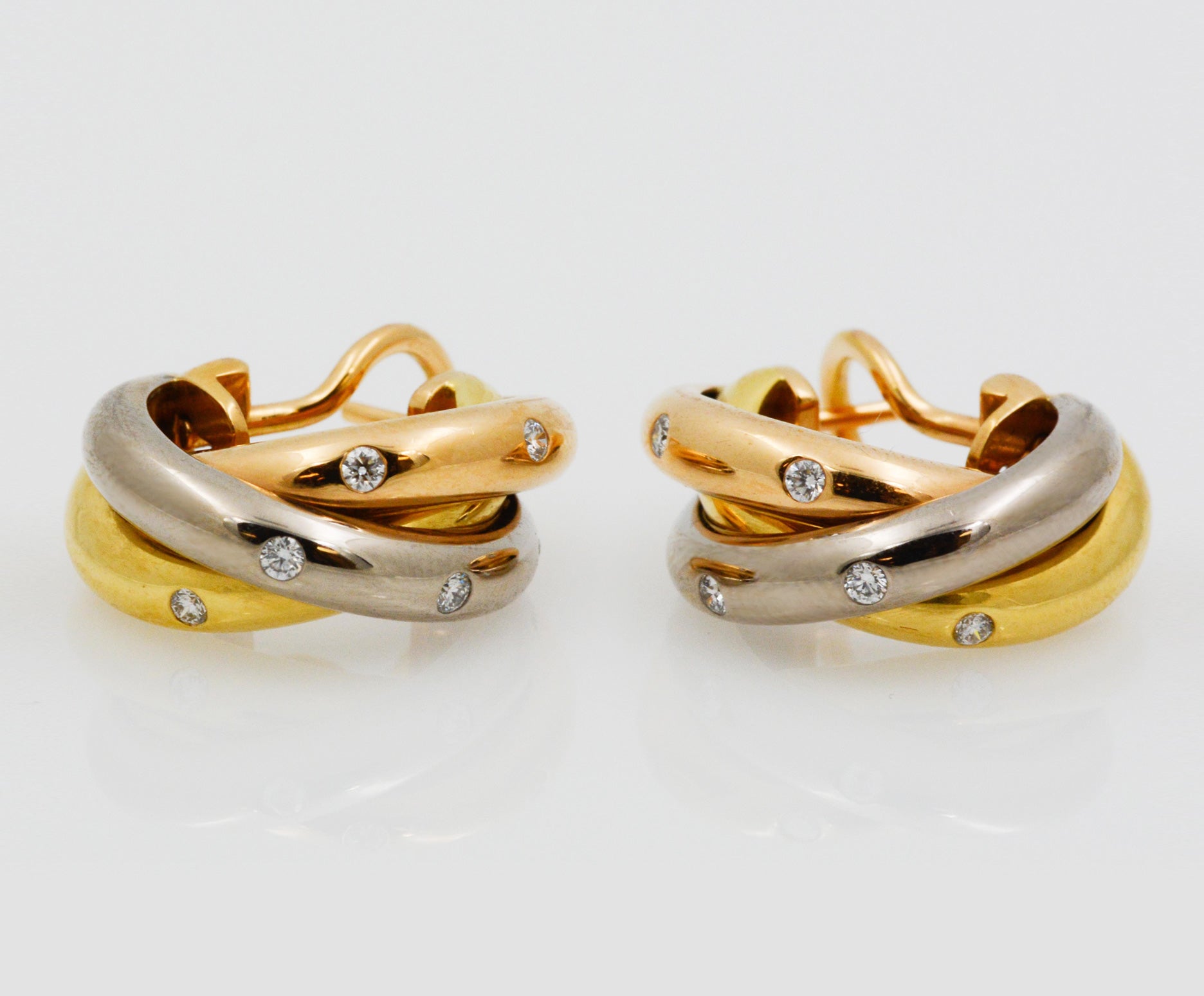 Iconic Designs
Trinity Earrings
About the Design
The Art Deco movement was in full swing and the seductively opulent flapper style was at its peak when Cartier introduced its Trinity collection, a line of minimalist jewelry that now includes Trinity earrings. Although the line broke with the decorative trends in jewelry at the time — the era's designers looked to African art, crafted geometrically rich diamond brooches and opted to set rings with colorful stones such as coral and turquoise — the Trinity earrings and other pieces in the collection are an example of French elegance, interlacing naturalism and classicism in a simple and timeless way.
Designed in 1924 by Louis Cartier (1875–1942), the grandson of the heritage jewelry house's founder, the Trinity earrings share the same simple aesthetic as the tricolored Trinity ring. Like the ring's bands, the earrings consist of three connected hoops, each a different type of gold to represent the three phases of a relationship: the white stands for friendship, the pink for love and the yellow for fidelity. The Trinity collection may have debuted with the ring, its three bands forever joined in embrace, but in the decades since its original design, the ring has given way to a broader beloved series of Trinity jewels, including the Trinity necklace, Trinity wedding band, Trinity earrings and more.
While the original Trinity earrings are still in production and the most popular, variations on the motif have yielded a bold reshaping of the hoops, so much so that they've ended in a knot on occasion. The jewelry house has also introduced versions that outfit the three hoops with diamonds or colored gemstones. Some iterations are adorned with so many pavé diamonds that the metal beneath is barely visible.
While the Trinity knot itself has appeared in Irish jewelry and has roots in other cultures, Louis Cartier reportedly crafted the now classic and instantly recognizable Trinity ring at the request of his friend Jean Cocteau. The French poet, novelist and Surrealist filmmaker dreamed of Saturn's rings in his slumber — some several hundred years after they were first observed by Galileo through his telescope — and hoped to see the otherworldly visions brought to life as jewelry. Cocteau was understandably impressed with the modern and richly symbolic accessory that followed.
Trinity earrings have been a staple of Cartier's collection since they were added to the original, and marquee admirers such as Princess Diana and Gary Cooper contributed to the line's fame. But thanks to Cocteau's dream, the design has always had "star power" in the most literal sense.