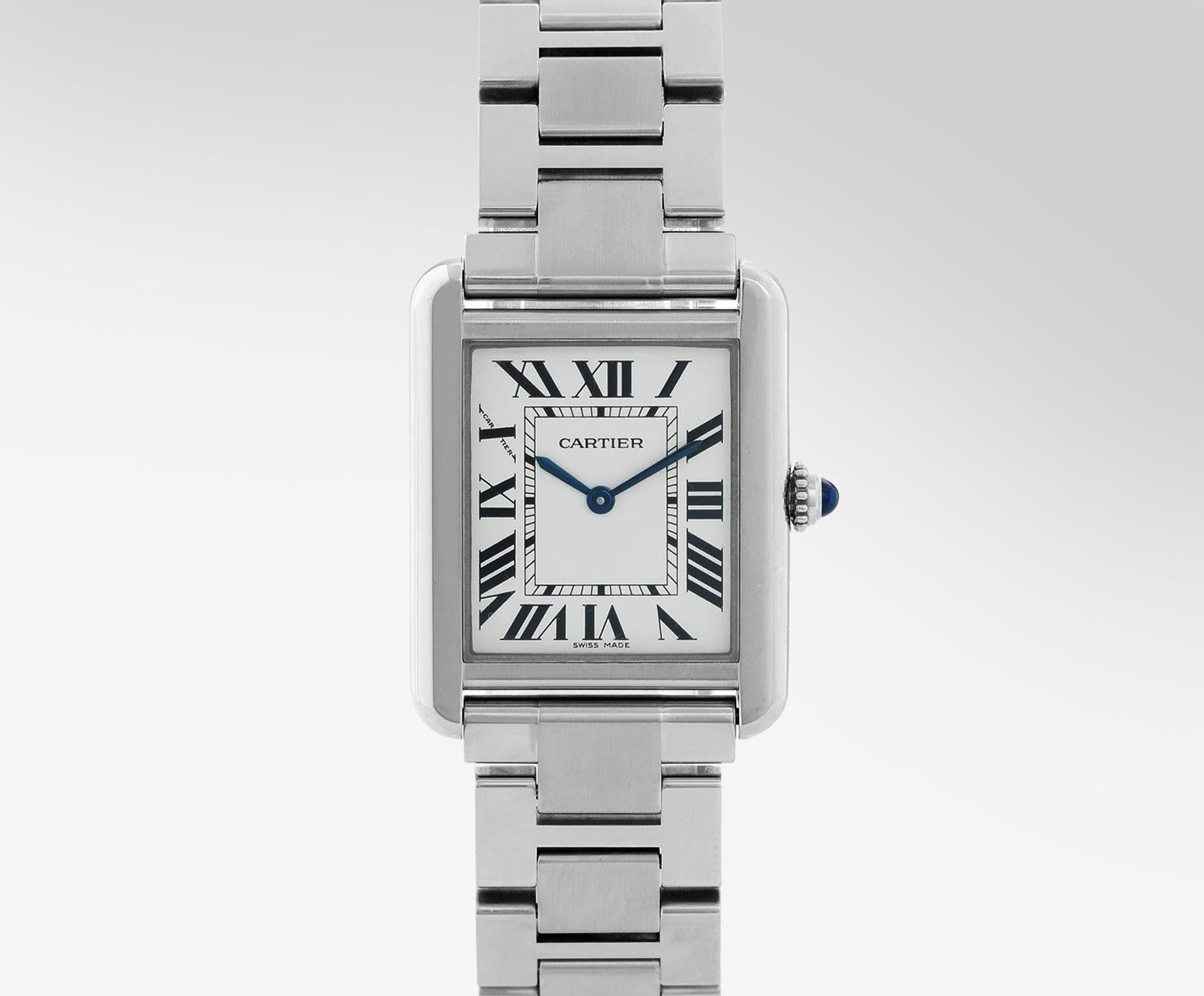 Iconic Designs
Tank Solo Watch
About the Design
It has graced the wrist of Andy Warhol, Princess Diana and Yves Saint Laurent, not to mention decorated American war generals. Designed in 1917, Cartier's Tank watch just may be one of the most famous — and beloved — timepieces in history. In 2004, Cartier introduced the Tank Solo watch, which, according to the company's description, "honors the unique aesthetic of the original Tank" with its "simple but contemporary design."
The roots of Cartier's Tank watch run back to the end of the first World War. Louis Cartier (1875–1942), grandson of the legendary French jewelry house's founder Louis-François Cartier, was reportedly inspired by the shape of the French Renault FT-17 light tanks used on the Western Front and designed a timepiece whose shape mimicked the silhouette of the tank from above (and whose small-but-powerful movement paid homage to the compact power of the FT-17). Cartier presented the prototype of the Tank watch to General John Pershing of the American Expeditionary Force.
Despite its massive popularity now, over a century later, the Cartier Tank watch was quite a niche item for many years. In its inaugural year, only six were made, and for many years after that annual production was around 100 watches or less. But by the mid-20th century, it had become a popular timepiece for men and women alike: In 1963, Prince Stanisław Radziwiłł gifted one to his sister-in-law, Jacqueline Kennedy. That watch, which bears an inscription in Radziwiłł's own handwriting, would go on to sell for $379,500 at auction — to a modern-day icon of sorts, Kim Kardashian.
In the years since its introduction, Cartier has expanded the Tank collection to include such versions as the Tank Louis Cartier, Tank Americaine and Tank Française, each of which riff in different ways on the original design. 
Much like the first Tank models, the Tank Solo watch is characterized by its rectangular case with rounded, metal edges (which seamlessly incorporate its lugs), a dial with serifed Roman numerals, blued-steel sword-shaped hands and a Cartier signature — the iconic crown of sapphire cabochon. Cartier now offers 11 models of the Tank Solo watch, including options in leather, stainless steel, yellow gold and rose gold, as well as a variety of sizes. It remains a favorite timepiece for its elegant, understated design — and perhaps a bit for its cachet, too.