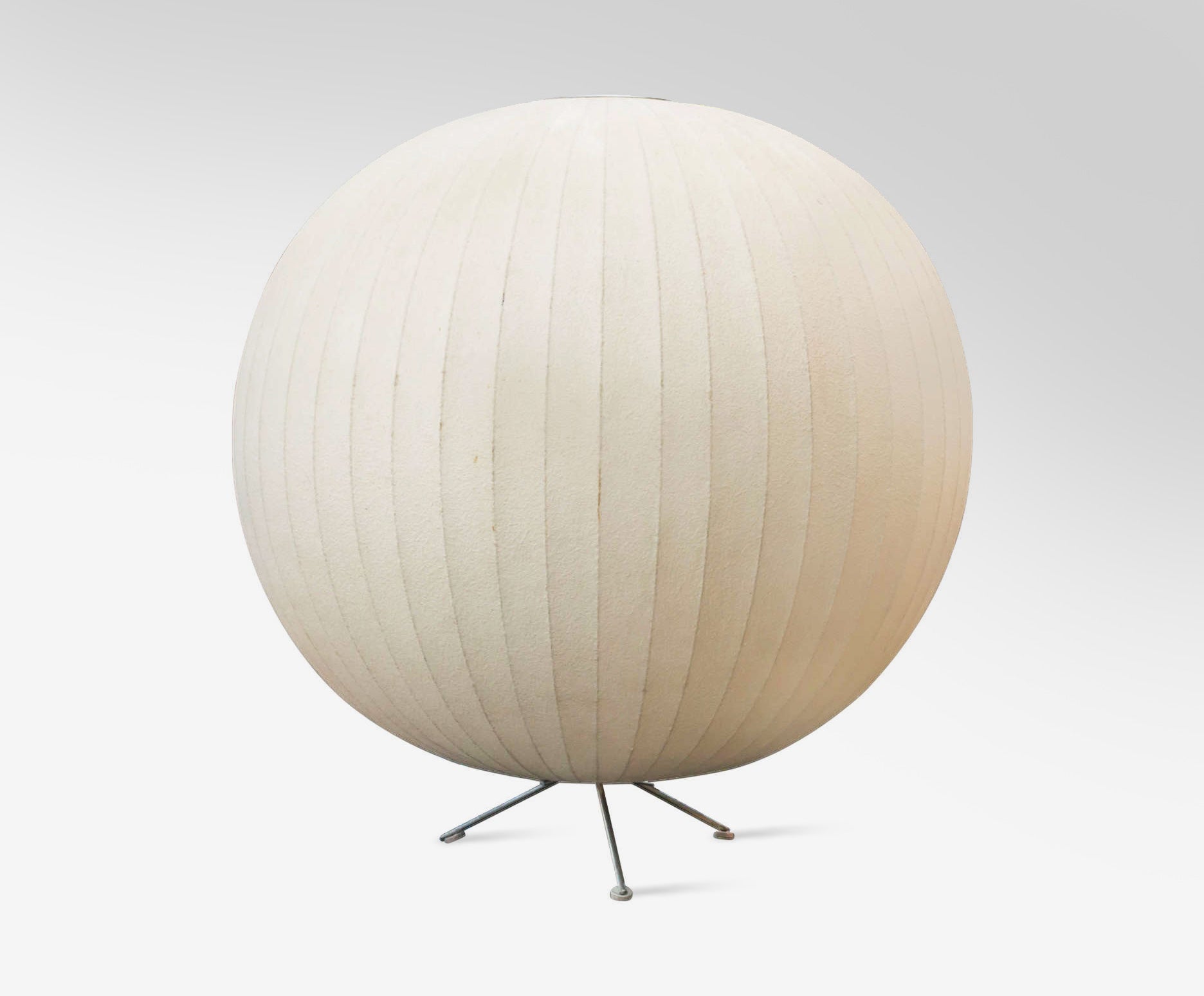 Iconic Designs
Nelson Ball Tripod Lamp
About the Design
The Nelson Ball Tripod lamp is a standard of modern design ideals. Created by American architect, furniture maker and writer George Nelson (1908–86), it is part of the Bubble lamps collection, which includes his Saucer Bubble Pendant, first launched in 1952. Inspired by Swedish pendant lights — and officially credited to designer William Renwick, who worked in Nelson's studio — these silk-covered hanging lamps were status symbols in the mid-20th century, an era in American history that saw Nelson playing a role in some of the country's most revered furnishings, lighting and other enduring designs.
In addition to running his own design studio in Manhattan, Nelson was the director of design at Herman Miller from 1947 until 1972. A graduate of Yale School of Architecture, Nelson and the designers who worked for his firm created hundreds of furnishings, from the Ball clock to a celebrated daybed, and his designs are in the permanent collections of the Museum of Modern Art, the Brooklyn Museum and elsewhere. Nelson was the winner of the gold medal from the Art Directors Club of New York in 1953 and the Good Design Award from the Museum of Modern Art in 1954. He was also a prolific journalist who edited Architecture Forum and Fortune magazines and authored books and countless articles about design.
Having a sophisticated Swedish hanging lamp in his office "would show that I was really with it, a pillar of contemporary design," Nelson recalled in his 1979 book, George Nelson On Design. His hopes of procuring a model of the fixture were dashed when, at a sale, he could do no better than a "shopworn sample with thumbmarks on it and a price of $125" — a prohibitive cost at the time. Frustrated, Nelson recalled reading about docked U.S. ships being protected from moths "by having the decks covered with netting and then being sprayed with a self-webbing plastic." Returning to his office, Nelson constructed a steel wire spherical frame, located the manufacturer of the resinous spray and soon completed a prototype of his Bubble lamp by spraying the frame and then applying a final coat of plastic. The resulting fixtures are simple, sculptural and produce abundant yet diffuse light.
Initially designed for the Howard Miller Company, which was once a division of Herman Miller, the Nelson Ball Tripod lamp is still available through Herman Miller. Set upon a three-pronged steel base, the piece's low profile is perfect for creating ambience with soft uplighting in any room. The Nelson Ball Tripod lamp offers a still stylish example of one of the most recognizable designs in mid-century American furniture.
The Nelson Bubble Lamp Series
More George Nelson Designs