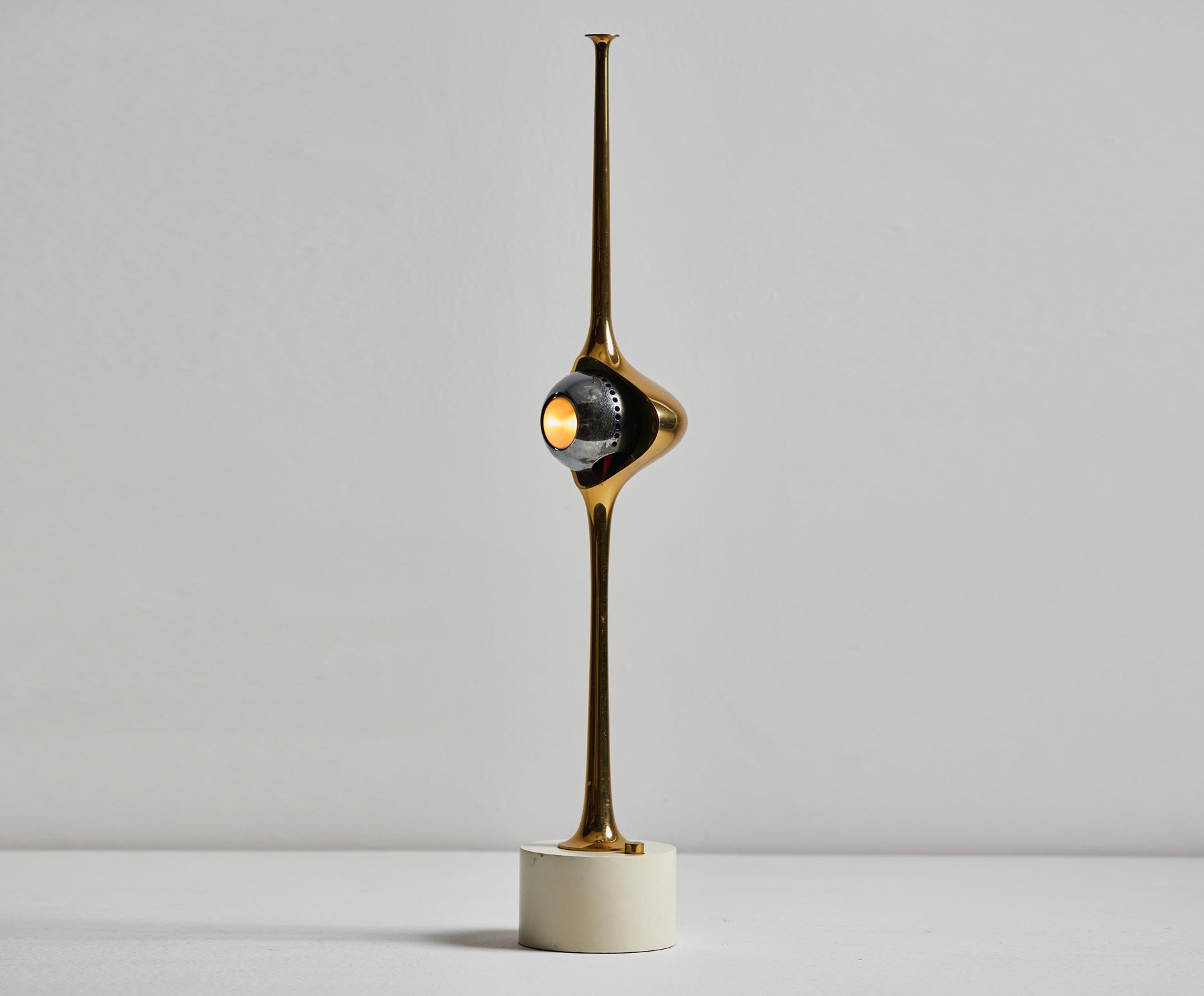 Iconic Designs
Cobra Table Lamp
About the Design
Recalling sculptor Constantin Brancusi's audacious forms, the brass stem of the Cobra table lamp, created by Italian designer Angelo Lelii (1911–79), casts a long and slender shadow beneath a magnetized adjustable sphere, or "socket," where the bulb is positioned. The curious socket fixture is tucked inside a cobra-like "hood" that gave the lamp its name. Lelii's revolutionary 1962 design allowed for light to be directed according to preference, and a dimming switch controls the intensity of the light. It was among the first lamps to use low voltage, thanks to the transformer housed in its base. As one of the best-known examples of postwar Italian lighting, it encapsulated the design ethos and emphasis on innovation long associated with Arredoluce, the lighting company Lelii founded in 1943.
Raised in Monza — where he would also begin to work with lighting in the late 1930s — Lelii encountered considerable success as a designer after several of his lamps appeared in Domus, the design journal cofounded by Giò Ponti. Arredoluce was a prolific firm, and counted Ponti, Ettore Sottsass Jr. and other well-known figures as designers, with many contributions coming from Lelii himself. Famous for a free-flowing exchange between factory workers and designers, Arredoluce helped define Italy's modernist lighting industry, alongside companies such as Arteluce and Oluce.
Lelii's simple and spare Cobra fell out of production, as did the company's other designs, after Arredoluce shuttered following the maker's death. Today, the lamp remains a striking encapsulation of the minimalist, technically advanced design principles he cultivated there. Demand for Lelii's provocative and sculptural work has only increased over the years.
Angelo Lelii Cobra Table Lamp