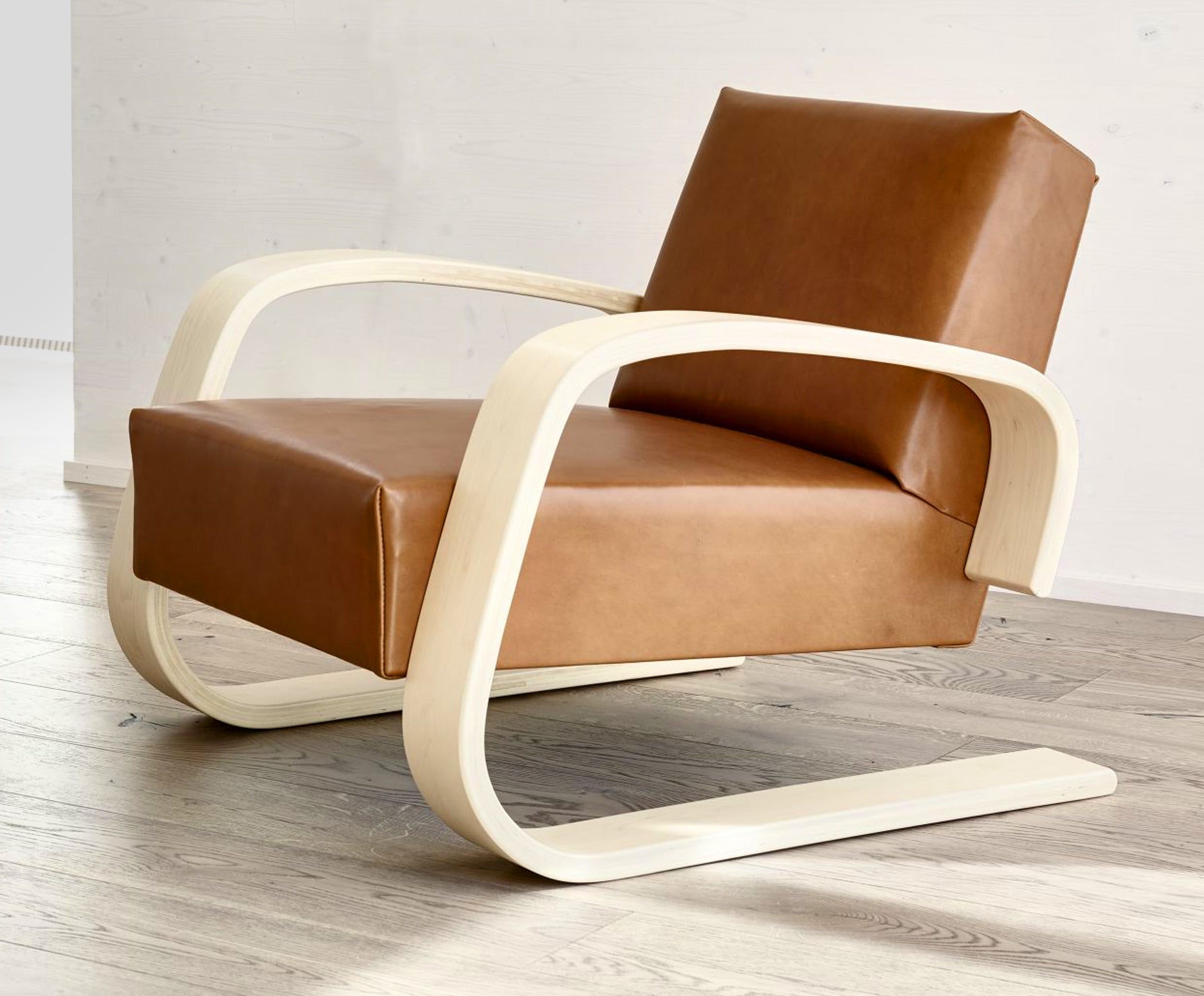 About the Design
In 1936, Finnish designer Alvar Aalto (1898–1976), a graduate of the Helsinki University of Technology who had just moved the practice he ran with his first wife, Aino, from the Finnish city of Turku to Helsinki, presented a new chair at the Milan Triennale. Compared to Aalto's previous furniture designs, the Armchair 400, or Tank armchair, was robust, with a wide and sturdy shape that earned it its name.
Prior to this, Aalto had seen success in 1933 for his Stool 60, a simple wood design that remains one of the most celebrated seats in design history. Next to the Stool 60, the Tank armchair was, well, a tank. But the cantilevered seat garnered widespread approval in Milan, even earning Aalto a prize from the fair. Like the Stool 60, though, the Tank armchair makes use of gracefully bent birchwood. Much of Aalto's work involved native birch, which he referred to as a "form-inspiring, deeply human material." This attitude speaks to the designer's approach, which was always to integrate architecture and design both with its surroundings and the movements of its users.
With the Tank, Aalto created what he saw as the ideal chair: Its upholstered seat offers comfort, but the cantilevered form ensures it remains elegant, as do the sculptural, curving armrests, each cut from a single piece of birch. The shape also gives it flexibility, making it suitable for both leaning back and relaxing or sitting upright for conversation.
The continued popularity of the Tank armchair — and the increase in popularity in cantilevered seats in the years following its release — speaks to the importance of Aalto's early experiments in bentwood, a material that would come to be a defining aspect of mid-century furniture design. Years later, for example, American designers Charles and Ray Eames would begin producing pieces in bent and molded plywood created with their famous homemade "Kazam! Machine." In 1939, upon seeing Aalto's work for the Finnish Pavilion at the World's Fair, Frank Lloyd Wright (who also had a certain love affair with wood, although the renowned architect's species of choice was mahogany) reportedly called Aalto a "genius."
The Tank armchair is produced by Artek, which the Aaltos helped cofound. It is available in a wide variety of upholstery and wood-stain options, including the eye-catching zebra pattern, an unexpected offering from a company whose palette tends to be more muted but a popular version of the chair since its early days.
Alvar Aalto Tank Armchair