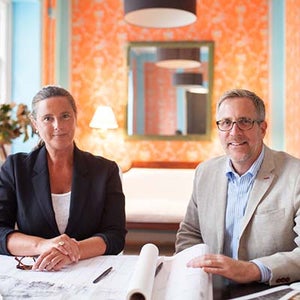 ;
Brockschmidt & Coleman LLC
Bill Brockschmidt and Courtney Coleman bring to their work a focus on traditional detailing, proportion, materials, and craftsmanship in both architectural elements and in furnishings. Whether designing a stylish library in a Park Avenue duplex or specifying intricate upholstery details for a 17th century wing chair for a Pennsylvania horse farm, the two emphasize appropriateness and clarity in their work, bringing a modern sensibility to historical references. The two formed Brockschmidt & Coleman, LLC, in February of 2001. From their office in the Flatiron District of Manhattan, a staff of seven manages projects in locations ranging from New York and the Northeast to Florida, Texas, Virginia, Delaware, Bermuda, Sicily, and the Dalmatian coast of Croatia. Their work has been featured in Elle Decor, House Beautiful, Architectural Digest, Traditional Home, Quest, Period Homes, The Classicist, The New York Observer, and on HGTV.
In 2012 Brockschmidt & Coleman was named to Elle Decor's A-List. In addition, they have lectured at Winterthur, The Institute of Classical Architecture & Art, Zone Chelsea, and the University of Notre Dame. Courtney received her degree in architecture from Mississippi State University, and worked as an architect with Ferguson & Shamamian Architects, then as a designer with David Easton, Inc. Following his architectural studies at University of Virginia and the University of Illinois at Chicago, Bill worked for several years as an architect in the office of Eric J. Smith in New York. Bill and Courtney are Fellows Emeritus of the Institute of Classical Architecture & Art for their service organizing public programs and travel programs for many years.
Read More +
Rooms We Love: Libraries & Studies
The library. It sounds like one of those formal, antiquated spaces — akin to the conservatory or the drawing room — that one associates with, say, BBC programs or the board game Clue. Yet unlike such relics, home libraries still proliferate in a rich variety of styles, as demonstrated by the examples here.
Read More