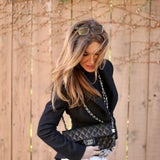 About To Be Continued...
To Be Continued.. has become a must stop shop for fashion lovers and collectors of the most coveted luxury designer pieces from Hermes, Chanel, Dior, Louis Vuitton and more since opening our first boutique in Scottsdale, AZ in 2014. Today, with three stores between Scottsdale and Dallas and a showroom in Paris, sophisticated shoppers find the most coveted designer items sources form well-heeled fashionistas and boutiques as far away as Singapore, Hong Kong, Dubai and Paris. Co-owner Chrissy Sayare spent most of her adult life between Boston and Paris before moving with her husband (and business partner) Mitch to Paradise Valley, AZ. Inspired by the well-heeled women of Scottsdale and eager to merge her love of fashion and their entrepreneurial backgrounds, Chrissy and Mitch set out to create a truly unique experience in luxury consignment shopping. After opening in the heart of Scottsdale in January 2014 and the Dallas Park Cities in November 2015 they are delighted to report that they are opening a showroom in Paris in February of 2019 and plans to expand into Los Angeles are underway. The mantra Chrissy has created for the boutiques is the one she has always lived by: Dress for the life you want to live, take some risks, think outside the box, have the courage to be different and buy it when you see i
Get weekly alerts when there are new arrivals for

To Be Continued...