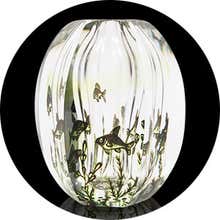 The Swedish design philosophy of "beautiful things for everyday life" is actualized in the vintage glassware of Orrefors. Founded in 1898, this glass manufacturer was one of the leading companies in the Scandinavian modernism movement and is revered by collectors for the fine craftsmanship and innovation of its superlative art glass.
Orrefors began making art glass — works that, distinct from mass-production pieces, are made in small numbers to showcase the skills and talents of artists and artisans — in 1913. Two of the first artists hired by the firm were Simon Gate and Edward Hald, who worked initially in the organic Art Nouveau style, and later proved adept with the geometric imagery of the Art Deco period.
Hald and Gate worked closely with glassblowers to refine traditional glassmaking methods, creating new materials such as "graal" glass. In the graal technique a design made with colored glass is encased in layers of transparent glass, preserving the image while the overall glass form is worked and shaped. Orrefors won an international following when it presented such pieces in Paris in 1925 at the Exposition Internationale des Arts Décoratifs et Industriels Modernes — the design fair whose name gave rise to the term Art Deco.
In the years following that success, Orrefors attracted more dynamic and experimental artists such as Vicke Lindstrand and Edvin Ohrström, who joined the company in the 1930s. Lindstrand and Ohstrom worked with glassblowers to create the "ariel" glass technique, an innovation that produces deeper, richer imagery that seems to morph and flow as light is refracted by the glass.
As you will see from the items offered on 1stDibs, there is a special aesthetic quality to vintage Orrefors glass. Whether a vase or a set of wine goblets, the work of this premier Swedish company represents the apex of functional artistry.
Applied Filters
542 results
Orrefors Furniture for sale on 1stDibs.
Orrefors Furniture are available on 1stDibs for sale. These distinctive objects are often made of
glass
and are designed with extraordinary care. In our Orrefors Furniture collection there are many options to choose from, although
beige
editions of this piece are particularly popular. Many of Orrefors' original furniture was created in the
Mid-Century Modern
style in
Europe
during the
18th century and earlier
. Many customers also consider furniture by
Carl Fagerlund Furniture
,
Hans-Agne Jakobsson Furniture
and
AB Markaryd Furniture
if you are looking for additional options. The prices for Orrefors furniture can vary depending upon size, time period and other attributes. The price for these items starts at US$125 and tops out at US$24,058, while pieces like these can sell for US$2,298 on average.
Creators Similar to Orrefors