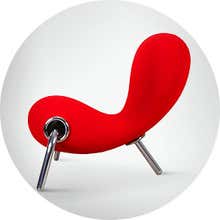 Australian, b. 1963
With his sleek, glossy and dynamic designs, Marc Newson creates cutting-edge work that embodies notions of speed, luxury and progress. His work—be it his now-iconic Event Horizon table, an Italian speed boat, Nike shoes, or an Ikepod wristwatch—manifests a jet-set lifestyle redefined for the 21st-century.
     A Sydney native, he lived in Tokyo for several years, and currently resides in London. Newson has created everything from furniture and jewelry to sneakers and dish racks. Given his globetrotting lifestyle, it's easy to see why one of his best-known designs is the Lockheed lounge chair—a curvy, pod-shaped piece crafted from the same riveted aluminum that encases airplanes. You may also have spotted one of Newson's many collaborations with luxury fashion houses—such as Louis Vuitton and Hermès—in a first-class departure lounge.
     One of the most influential (and certainly one of the most prolific) industrial designers of the late 20th and early 21st centuries, Newson preaches the gospel of good design with messianic fervor. His work appears in dozens of museum collections around the world, and consistently fetches high prices at auction. Newson has long been captivated by the space-age modernism of the early sixties—indeed, his famed Embryo chair would fit right into the Jetsons' living room. With such a long and impressive list of futuristic design bona fides, as you will see on these pages, Marc Newson is clearly a designer on the move.
Applied Filters
33 results
Marc Newson Furniture for sale on 1stDibs.
Marc Newson Furniture is available for sale on 1stDibs. These distinctive objects are frequently made of
metal
and designed with extraordinary care. In our Marc Newson Furniture collection there are many options to choose from, although
black
editions of this piece are particularly popular. There are currently 13 vintage editions of these items in stock, while there are also 17
modern
editions to choose from. Many of Marc Newson's original furniture was created in
modern
style in
Europe
during the
21st Century and Contemporary
. If you're looking for additional options, many customers also consider Furniture by
Fasem International
,
Edra
and
Toshiyuki Kita
. Prices for Marc Newson furniture can vary depending on size, time period and other attributes. Price for these items starts at $280 and tops out at $700,000, while pieces like these can sell for $5,270 on average.
Interiors Featuring Marc Newson
Explore the work of the world's best interior designers
Creators Similar to Marc Newson