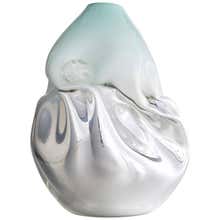 Jeff Zimmerman is a contemporary sculptor whose primary medium is glass. He often makes use of the vessel form, creating pieces with mirrored, sometimes colorful surfaces and billowy forms that suggest movement.
Zimmerman grew up at the Anderson Ranch Arts Center in Colorado, where he lived with his mother, a painter, and his stepfather, a sculptor. He enrolled at the University of California, Santa Barbara, in 1988 planning to major in anthropology, but a glassblowing class inspired him to change course. He switched to the BFA program at the Appalachian Center for Craft in Tennessee, spending hise summers working as an apprentice at Pilchuck Glass School, in Washington State, where he observed the studio practices of Lino Tagliapietra and Pino Signoretto . After completing his studies, he worked as a master glassblower at CIRVA, the International Center of Research on Glass and Visual Arts, in Marseille, France.
In 1994, Zimmerman became part of the B Team, an avant-garde glassblowing collaborative founded by Zesty Meyers and Evan Snyderman of R & Company gallery, which now represents Zimmerman's work. The group conducted glassblowing-related performances at colleges and universities and exhibited its work at the New Museum for Contemporary Art in New York.
Zimmerman's first solo exhibition was the 1999 "Anthropology Museum of the Future," at UrbanGlass's Robert Lehman Gallery. He has gained wide acclaim for his series of "Crumpled" vessels, which resemble deflated jars with reflective surfaces that gradually fade into opaque hues. The effect is surreal and dazzling. Using the most enchanting property of glass — its malleability at high temperatures — the sculptor breathes new life into an ancient form, the container.
Zimmerman's work has been exhibited in New York at Sean Kelly Gallery, the Museum of Arts and Design and the Brooklyn Museum; and in Paris at Emmanuel Perrotin Gallery It can also be found in the permanent collections of the Boghossian Foundation, in Belgium, and in the Corning Museum of Glass, in New York.
Applied Filters
39 results
Jeff Zimmerman Lighting for sale on 1stDibs.
Jeffrey Zimmerman Lighting is now available for sale on 1stDibs. These distinctive objects are often made of
glass
and are designed with extraordinary care. There are many options in our Jeff Zimmerman Lighting collection, although
blue
editions of this piece are particularly popular. 0 vintage editions of these items are in stock, while there are 8
modern
editions to choose from as well. Many of Jeff Zimmerman's original lighting was created in the
Modern
style in
North America
during the
21st Century and Contemporary
. If you're looking for additional options, many customers also consider lighting by
Allied Maker Lighting
,
Bec Brittain Lighting
and
Kalin Asenov Lighting
. The prices for Jeff Zimmerman Lighting can vary depending on size, time period and other attributes.
Creators Similar to Jeff Zimmerman