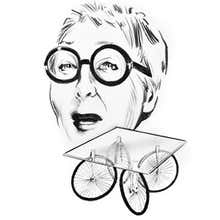 Italian, 1927-2012
The Italian architect and designer Gae Aulenti will forever be best remembered for her work with museums, in particular her 1980–86 renovation of a Beaux Arts Paris train station to create the galleries of the Musée d'Orsay. Aulenti — whose first name, short for Gaetana, is pronounced "guy" — should also be recalled for her tough intellectual spirit and for working steadily when few women found successful architectural careers in postwar Italy.
After she graduated from the Milan Polytechic in 1954, Aulenti opened an architectural office. She also joined the staff of the progressive architectural magazine Casabella, whose editorial line was that the establishment, orthodox modernism of Le Corbusier and the Bauhaus, had outlived it usefulness. When their movement for fresh approaches to architecture and design received a sympathetic hearing, Aulenti found patrons — most prominently Gianni Agnelli, of Fiat, who later employed her to renovate the Palazzo Grassi in Venice for use as an arts exhibition space.
Commissions for showrooms and other corporate spaces brought Aulenti to furniture design. She felt that furniture should never dominate a room. Her chairs and sofas — low-slung, with rounded enameled metal frames and ample seats — and tables, particularly her 1972 marble Jumbo coffee table for Knoll, project solidity and sturdiness. In lighting design, however, Aulenti is bravura. Each work has a marvelous sculptural presence. Pieces such as her Pipistrello table lamp and Quadrifoglio pendant are a perfect marriage of organically shaped glass and high-tech fixtures. Others have a futuristic elegance — and some even have a touch of personality. Aulenti's Pileino and La Ruspa table lamps each look almost like little robots. Her lighting pieces are an artful grace note in the career of a woman who believed in strength.
Applied Filters
35 results
Gae Aulenti Tables for sale on 1stDibs.
Gae Aulenti tables are available on 1stDibs for sale. These distinctive objects are frequently made of
metal
and designed with extraordinary care. In our collection of Gae Aulenti tables, there are many options to choose from, although
gray
editions of this piece are particularly popular. 22 vintage editions of these items are in stock, while there are 13 modern editions to choose from as well. Many of the original tables by Gae Aulenti were created in
Europe
during the
20th century
in the
Mid-Century Modern
style. Many customers also consider Tables by Afra & Tobia Scarpa, Paolo Piva, and B & B Italia Tables if you're looking for additional options. The prices for Gae Aulenti tables can vary depending on size, time period and other attributes. On 1stDibs, the price for these items starts at US$1,230 and tops out at US$29,800, while pieces like these, on average, can sell for US$2,325.
Creators Similar to Gae Aulenti