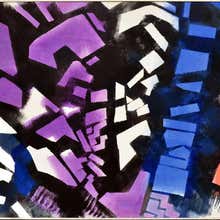 ERLE LORAN (USA, 1905–99)
Erle Loran was born in Minneapolis, Minnesota, in 1905. He attended the University of Minnesota for a while before studying at the Minneapolis School of Art, under Cameron Booth, and graduated in 1926. Loran was awarded a traveling scholarship from the Chaloner Foundation (Paris Prize) after graduation and spent the next four years in Europe, living in Cézanne's studio. Loran had always been fascinated by the work of the artist Paul Cézanne, and it motivated him throughout his life both in his painting and writing. He would later pen several books and articles based on his time spent in what was once Cézanne's world. Once he returned home, Loran moved to California and began not only painting and continuing his art career, but also took up teaching at the University of California, Berkeley. He served as chairman of the art department from 1952–56 and continued teaching there until his retirement in 1973, where he was awarded a University Citation. Berkeley once again awarded Loran, this time in 1981, declaring him an Emeritus Professor.
During the 1940s, Loran belonged to a group of some 20 artists that produced lithographs for the "Chronicle Contemporary Graphics" project. Around the same time, he published two books (one of which was the successful Cézanne Composition) and two articles in art magazines the following decade. By the late 1960s, Loran had changed focus and began painting more abstract images, fusing Op Art, Pop Art and Hard Edge. Perhaps his new direction was influenced by his time spent in New York learning under the artist Hans Hoffman, an artist from Europe who was heavily interested in bringing modern European techniques and philosophies to America. Loran was eventually hindered by visual impairment but continued painting until about a year before his death. He passed away in Berkeley, California, in 1999.
(Biography provided by Robert Azensky Fine Art)
Applied Filters
59 results
Artists Similar to Erle Loran