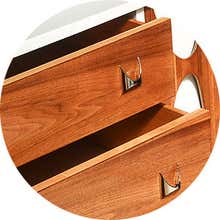 The Broyhill Furniture Company — owned by Ohio retailer Big Lots as of 2019 — is one of the stalwart North Carolina makers of mid-priced, traditional wooden furnishings, and it has been serving American families well since the 1920s. The Colonial Revival style — chairs with turned legs; beds with split pediment headboards — has always been the company's stock in trade. But among fans of mid-century modern design — particularly those who enjoy more flamboyant stylings, such as those of Adrian Pearsall — Broyhill is most admired for its brief foray into the contemporary furnishings of the late 1950s and '60s.
In 1957, responding to changing tastes, the firm launched its Broyhill Premium line with the Sculptra series. Sculptra pieces featured decorative molding with a square-within-a-square motif and horizontal cat's eye-shaped drawer pulls. Five years later, Broyhill introduced the Brasilia furniture group, inspired by the Oscar Niemeyer architecture for the brand-new Brazilian capital.
The cabinet door fronts of Brasilia pieces feature moldings based on the sweeping colonnades and parabolic curves of such buildings as the Palácio da Alvorada ( "Palace of the Dawn"), the presidential residence. As you will see on 1stDibs, Broyhill created a striking and spirited line of furnishings that will make a happy keynote in an Atomic Age decor.
Applied Filters
51 results
Broyhill Furniture for sale on 1stDibs.
Broyhill Furniture is available on 1stDibs for sale. These distinctive objects are often made of
wood
and designed with extraordinary care. There are many choices in our Broyhill Furniture collection, although
brown
editions of this piece are particularly popular. There are 40 vintage versions of these items in stock, while there is also 0 modern edition to choose from. Many of the original Broyhill furniture was created in the
Mid-Century Modern
style in
North America
during the
20th century
. Many customers also consider Furniture by United Furniture Corporation,
Kipp Stewart & Stewart MacDougall Furniture
and
Conant Ball Furniture
if you are looking for additional options. The prices for Broyhill furniture can vary depending on size, time period and other attributes. Priced at $595 on 1stDibs, these items top out at $4,800, while pieces like these can sell for $1,895.
Creators Similar to Broyhill