Angelo Mangiarotti Furniture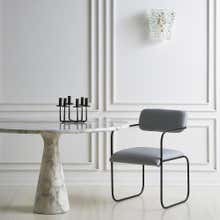 Italian, 1921-2012
Italian architect, designer, teacher and urban planner Angelo Mangiarotti was a leading light in the international design community from the 1960s onward. While he was an adherent of the rationalist principles of purity of line and simplicity of construction, he sought to imbue his designs with a sense of character and lightness of spirit that was often lacking in late-20th-century modernist architecture and design. 
Born in Milan, Mangiarotti studied architecture at Milan Polytechnic, graduating in 1948. Five years later, he won a visiting professorship at the Illinois Institute of Technology — beginning a peripatetic academic career that would see him teaching in numerous Italian institutions as well as in schools as far afield as Hawaii and Australia. He worked with Bauhaus eminences Ludwig Mies van der Rohe and met such greats as Frank Lloyd Wright and Walter Gropius. He returned to Italy in 1955 and would go on to work on numerous industrial, residential, commercial and civic projects in his home country, most notably a group of six railway stations in Milan.
As a designer, Mangiarotti and the development of his career embodies the evolution of modernism in the latter decades of the 20th century. In the late 1950s and early '60s, after early experiments in plywood furniture and one-piece foam-core seating — including the 1110 lounge chair for Cassina — Mangiarotti began to design using more classic materials, from delicate, curvaceous blown-glass table lamps for Artemide to chandeliers with crystal links for Vistosi. In 1971, Mangiarotti introduced what became his signature designs: a series of tables in marble and other stones that featured "gravity joints," their legs held in place by the weight of the tabletop. Tables in his Eros collection (1971) have muscular proportions that anticipate the robust, overscaled lines of postmodern works that would appear 10 years later: His Eccentrico table, for example, is a striking assemblage in marble featuring a top that is cantilevered dramatically on a canted columnar base. 
But simplicity and practicality were consistently the primary watchwords of Mangiarotti's designs. The purity and elegance of the objects he created offer a graceful counterpoint to a traditional decor, yet they have a singular sculptural presence that allows them to stand out powerfully in a modern interior.
Applied Filters
287 results
Creator
:
Angelo Mangiarotti
Angelo Mangiarotti Furniture for sale on 1stDibs.
Angelo Mangiarotti Furniture is available for sale on 1stDibs. These distinctive objects are often made of
glass
and are designed with extraordinary care. There are many options in our Angelo Mangiarotti collection of furniture, although
brown
editions of this piece are particularly popular. We stock 242 vintage editions of these items, while there are 42 modern editions to choose from as well. Many original furniture by Angelo Mangiarotti were created in
Europe
during the
18th century and earlier
in the
Mid-Century Modern
style. If you're looking for additional options, many customers also consider furniture by
Willy Rizzo Furniture
,
Ico Parisi Furniture
and
Osvaldo Borsani Furniture
. The prices for Angelo Mangiarotti furniture can vary depending on size, time period and other attributes. On Amazon, the price for these items starts at $77 and tops out at $75,000, while pieces like these can sell for $4,738 on average.
Interiors Featuring Angelo Mangiarotti
Explore the work of the world's best interior designers
Creators Similar to Angelo Mangiarotti